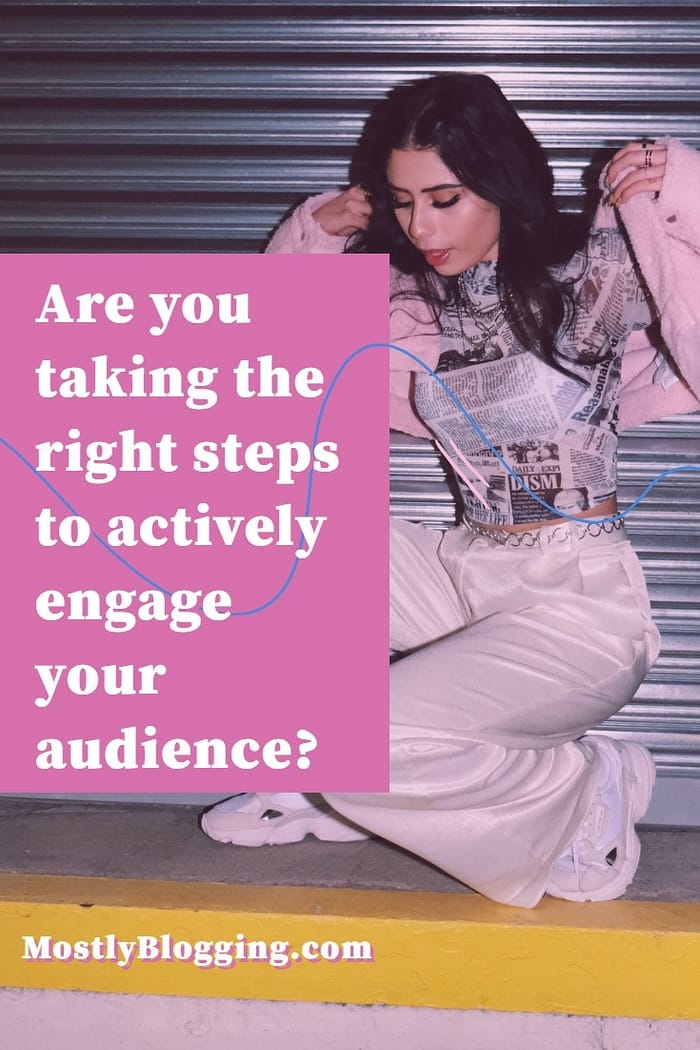 Engaging your audience on your website is a great way to boost your business.
However, capturing the attention of an audience is not an easy task.
You will have to create new website tricks to make people engaged.
Engage your audience on a regular basis to keep your website on top of the Search Engine Results Pages (SERPs) and increase SEO for your website.
There are many tactics to keep the audience busy on your website. For instance, you can make your website attractive by showing a picture or asking a question.
Merely sharing information will not influence people or take them through your sales funnel.
Offering presentations, making an infographic, and giving an inspiring quote is known to connect people and engage them.
Many people do not think about making their information creative, and their lack of creativity shows.
Sharing information or merely posting your blog posts on your website can't influence the audience or keep them engaged.
Why is engaging your audience important?
Engaging your audience keeps your website content on top of the Search Engine Results Pages.
Engaging your audience inspires and informs your website visitors.
Engaging your audience boosts sales.
There are many ways to keep people engaged on your website: Ask them a question, lead them in a game, use short videos, challenge them with puzzles, or provide some quiz. Oh, and if you need some ideas to get started with puzzles, check out these animalistic wooden jigsaws from Unidragon!"
By the time you are done reading, you will know nine effective ways to engage your website visitors.
Here is more information about engaging your audience.
9 Top Ideas to Engage Your Audience
Make it a visual – Visuals always looks more attractive than anything written verbally. You will have to think about making your information valuable and exciting that can enhance the audience. Information can be presented with a diagram or other type of visual.
Tell a story – Storytelling works to engage the audience. Storytelling is an effective way for management, engagement, and boosting the business strategy. Storytelling can lead to change. The method of expressing your story can impress the audience. Storytelling can be on any topic related to business, studies, marketing, fun, and many more.
Ask a question – This can be a linguistic question, but you can ask a question and have some answers from the audience. It's sure that everyone will not respond to the question, but most of them will read the answers in the comment, which will attract them to respond. You can frame the question on the topic you want to discuss effectively.
Conduct a poll – You can make your questions answered with multiple choice or true or false. Conducting a poll will help you in counting the answers and polling your question. Polling attracts the audience to respond and keep engaged. You can ask different questions through polling. You can add a poll for the audience and ask what they want next.
Conduct a quiz- The quiz can be one of the top ideas to engage your audience. Most marketing companies make interactive content like quiz ideas, polling, and sharing to boost their brand and generate leads. Offering quizzes on your website will engage the audience, and there will be no going back. Easy and satisfying content makes the users feel happy and more informed by your website. As with many quizzes, the audience will see the return of the investment will increase.
Get more leads with an online quiz. Here is a quiz maker website named AidaForm on which you can make your interactive quiz without HTML coding. Whether you are a marketer or teacher, you can make your quiz to check your students and clients.
AidaForm is a free online quiz website in which you can create your quizzes. This website is beneficial both for studying purposes and marketing. AidaForm is multifaceted as you can use it to entertain, educate, check the knowledge of competency, and many more. It is effortless to make your quiz with the AidaForm software service. Choose one of the ready-made quizzes and customize it in your way.
Use an audience response system – You can make your Quiz or Poll easier and more interactive by giving your audience a keypad to select their answers. You can choose a panel of people from the audience.
You can then provide a graph showing the number of answers correct and the rank of the participants. This system will enhance the audience to attempt more quizzes or polls. The audience response system can be expensive, but today they can be rented fairly. This way of interaction with the audience will increase the gathering on your site.
Create an infographic – This requires lots of effort to create manually. Alternatively, you can use online tools like Canva to create infographics. Infographics can be made so attractive that people cannot ignore it, whether it is a poster or an online piece with puzzle-like visuals. Visme is also a helpful tool for making infographics.
Lead them in a game – You can teach or explain a concept through a game or other activity. Something learned or taught by gaming or comparable activity is remembered more and can be easily understood. People love to learn something through games or activities.
Engage through short video clip – You can explain something by making a video clip. A short video is one way you can engage your audience and increase visitors. Make a 2-4-minute video to illustrate a point creatively.
Engaging Your Audience: FAQ
Why is engaging your audience important?
Engaging your audience results in keeping your website content on top of the Search Engine Results Pages, positively influencing your website visitors, and boosting sales.
Summary: Engaging Your Audience
Make your website pages eye-catching and encourage your audience to interact regularly through different activities. Encourage the audience to attempt the quizzes, polls, answer questions, and see the videos, which are easy and exciting.
Make a video clip or gaming clip that expresses the content in your blogs and link them so that they can be understood easily.
Add a Result Section and Guide to the asked questions, quiz, or polls. You can also create your eBooks, which can be downloaded easily; this will indeed engage the audience on your website.
Ask your visitors to share their results in the comment box, increasing the audience to attempt the quiz, question, or polls, and score more.
Every company sends e-mails to the customers and audience whenever new things or ideas are created on the website. Add your link to the e-mail sent so that audience directly goes to the page. Email marketing will increase your marketing ideas and visitors to your page.
Readers, please share so other bloggers and content marketers discover these tricks for engaging your audience.
I look forward to your views in the comments section. Can you add more strategies for engaging your audience?
This post was contributed and made possible by the support of our readers.