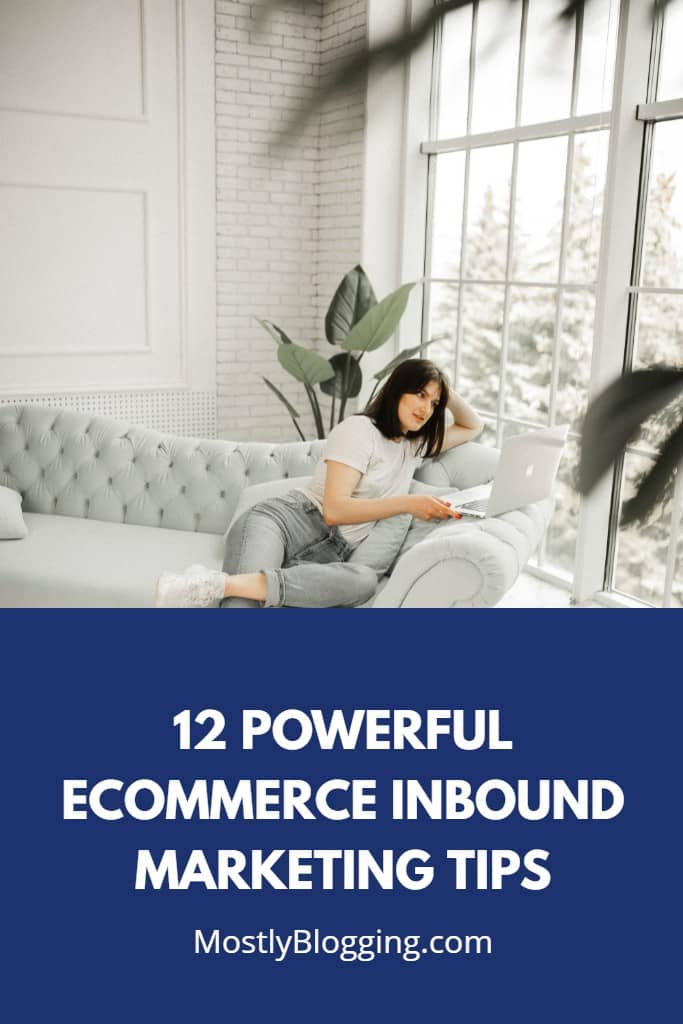 Ecommerce is one of the most powerful and important industries right now. If you are hoping to find success in this part of the online world, then you are not alone – and a lot of people will be vying with you for competition.
However, as long as you know what you are doing, there is a good chance that you will be able to actually find a lot of success this way. So how can you make sure of that?
By reading this guide, you find the meaning of ecommerce inbound marketing and 12 effective methods of generating online business using ecommerce inbound marketing techniques.
In this article, we are going to take a look at some of the best ways to find success with an ecommerce inbound marketing business, so you can ensure you are starting out in the right way.
Credit – CCO Licence
Let's dig in and find out how to make a success of your new ecommerce inbound marketing business.
What is Ecommerce Inbound Marketing?
Ecommerce inbound marketing is a form of lead generation. This powerful strategy results in attracting customers to your online store. Methods include using relevant and engaging content to interest prospects.
How to Find Success with an Ecommerce Business
Offer Better Products
It might sound simple or straightforward, but it is essential to ensure that you are offering better products than your rivals if you want to find a lot of success as an ecommerce business.
As long as you are doing that, it is much more likely that you will be able to do very well, and a lot of other problems could easily become excused before long.
Whatever you can do to improve the overall quality of your products, you should absolutely make sure you are doing – whether that is outsourcing the production to a better team or ensuring that it is blueprinted better in the first place.
Know The Market
You need to have a strong understanding of the ecommerce market if you are going to personally find success in it, and yet this is something that is very often overlooked by newcomers to the game. What does it mean to know the market?
Simply that you need to have looked into and researched as much about it as possible, but especially including your own direct competitors in your industry. The more you understand about how it works and what the state of play is as you enter, the more likely it is that you are going to be able to set yourself apart.
Use Appropriate SEO
You really shouldn't overlook the power of SEO if you are trying to find success as an ecommerce business. With the right kind of ecommerce SEO strategies, you are just so much more likely to bring in as many customers as you would hope, and you will find that every other aspect of the business becomes a lot easier as a result of this.
You don't necessarily need to go overboard on your SEO, but you do need to ensure you are at least researching and using the appropriate keywords that will bring people to your ecommerce store. Not doing that is very much shooting yourself in the foot in this day and age.
You can use the free MozBar for Chrome to conduct keyword research and your other SEO needs.
Credit – CCO Licence
Ensure You Are Considering Mobile Devices
Almost half of the internet's traffic is now through mobile devices, so if you are not optimizing your website to work well with mobile, you are simply showing half of your potential customers the door.
It is a relatively straightforward thing to do to ensure that your website works smoothly on mobile, and yet this simple change is going to make a considerable difference to how many customers you actually get hanging around and buying products. Don't overlook it, and ensure you ask your web designer to tailor your website for mobile as best as they can.
Start Building Your Reputation
Reputation still matters in business as much as it ever did – it's just that it now largely happens online. You still need to think about building your reputation as strongly as you possibly can, whatever that might take for you, so that you can ensure people are going to trust your services as much as possible.
If you can do that, it is really going to make a surprising difference to your success as an ecommerce business, so make sure you are not overlooking this vital thing.
Encourage Loyal Customers
As you might know, from being a consumer yourself, it pays to be loyal to a particular brand. You are going to want to encourage this kind of loyalty in your own customers, as it is better for them and better for you. There are many ways of achieving this.
First, you will want to consider setting up a loyalty points system, so that they are more likely to want to return that way and gain more points toward your B2B loyalty program.
Second, think about setting up some marketing emails so that they are keen to be drawn back again and again. With these kinds of things in place, your customers will become more loyal, and your sales will remain healthy month after month.
Credit – CCO Licence
Don't Feel The Need To Rely On Shopify
At first, when you are getting into ecommerce, you will likely be drawn to services such as Shopify. These can be useful in a way – they stop you from having to build your own website, and you can just focus on filling your online store with all of the hard work being taken care of.
But the problem with these services is that you are not going to have the same level of originality or uniquity, and that means people are going to be much less likely to respond positively to your site.
To get around that, just remember that there are other great options available too. For instance, you could seek out a custom ecommerce web design service. With their help, all you need to do is let them know what you are after, and they will be able to put it together for you.
That is still as easy as using something like Shopify, but you can ensure that the final website is really yours. This helps improve branding and keeps your business looking like it's different from your competitors, so this is definitely something that you are going to want to think about. Later, you can use Shopify automated emails to engage and retain customers.
Related: Shopify development
Optimize Your Website To Run Fluently
Another benefit to professional web design is that you can ensure your website runs smoothly, and that's a really important consideration when you are building an ecommerce store. You need to make sure that your website is going to run as smoothly as possible at all times, as that is going to help keep customers in your store and make it so that they are more likely to recommend your site to others too.
Whatever you might find is necessary here, you should absolutely ensure you are focusing on it every time, as that is going to make for a much more successful website on the whole. An optimized site is one that customers are going to enjoy using and which feels user-friendly in more ways than one.
Credit – CCO Licence
Focus On Improving Conversion
One of the primary metrics you should focus on as an ecommerce business is the conversion rate. This is a measure of how likely a visitor to your site is to 'convert' into performing a desired action – with the ultimate desired action of course being making a sale.
There are a lot of metrics you might want to focus on, but as long as you get this one right you should find that you are able to see many more sales overall. There are a lot of marketing procedures you can look into to improve conversion, and they are definitely worth being aware of and making good use of.
Know Your Target Audience
It might sound simple, but in all this, you also need to know exactly who your target audience is. This is going to influence pretty much every other aspect of your business, so it's definitely something you need to look into upfront. The clearer you become on who is actually going to be likely to visit your site, the more that you will be able to direct your business in the right direction, so make sure that you are really focusing on this from the start.
Find Out Where Your Customers Are
One of the reasons that you need to work out your target audience is that, once you know that, you can start to hone in on where exactly they are. Where in the online world do they like to hang out?
If there is a certain Twittersphere or corner of Reddit where they tend to be, you can go there to market your business. It's important to be careful here and not to spam yourself out of favor with them. But you need to find out where they are if your marketing is going to direct towards them at all.
Find Your Niche
Finally, a word on niches. You are going to have much more success if you find a niche that people come to associate with your brand and work hard at that. After you have managed to do that, you can expand if you like into other territories. But having a niche that works for you is hugely important, so make sure that you are thinking about this when you are setting up your business.
Ecommerce Inbound Marketing: FAQ
What is Ecommerce Inbound Marketing?
Ecommerce inbound marketing entails selling to your website visitors. The strategy involves creating helpful content that entice readers to want more so they buy your online products or use your services.
What is Meant By Inbound Marketing?
Inbound refers to marketing on your own website. In other words, you stay inside your website. You attempt to turn visitors into buyers by using ecommerce inbound marketing strategies.
Wrapping Up: Ecommerce Inbound Marketing Strategies
In closing, this guide shared ecommerce inbound marketing strategies effective in generating business for your startup.
This post gives you an action plan so your ecommerce inbound marketing business should find success.
Readers, please share so marketers discover these strategies.
I look forward to your views in the comments section. Do you experience success marketing to your website visitors? Are there ecommerce inbound marketing strategies you find effective?
Authors: A Contributing Author and Janice Wald

Janice Wald is the founder of MostlyBlogging.com and co-founder of the Mostly Blogging Academy. She is an ebook author, blogger, blogging coach, blogging judge, freelance writer, and speaker. She won the Best Internet Marketer Award and the Best Blogger Award at the 2021 Infinity Blog Awards. Wald was also nominated as 2019 Best Internet Marketer by the Infinity Blog Awards and in 2017 as the Most Informative Blogger by the London Bloggers Bash. She's been featured on Small Business Trends, the Huffington Post, and Lifehack.
This post was made possible by the support of our readers.