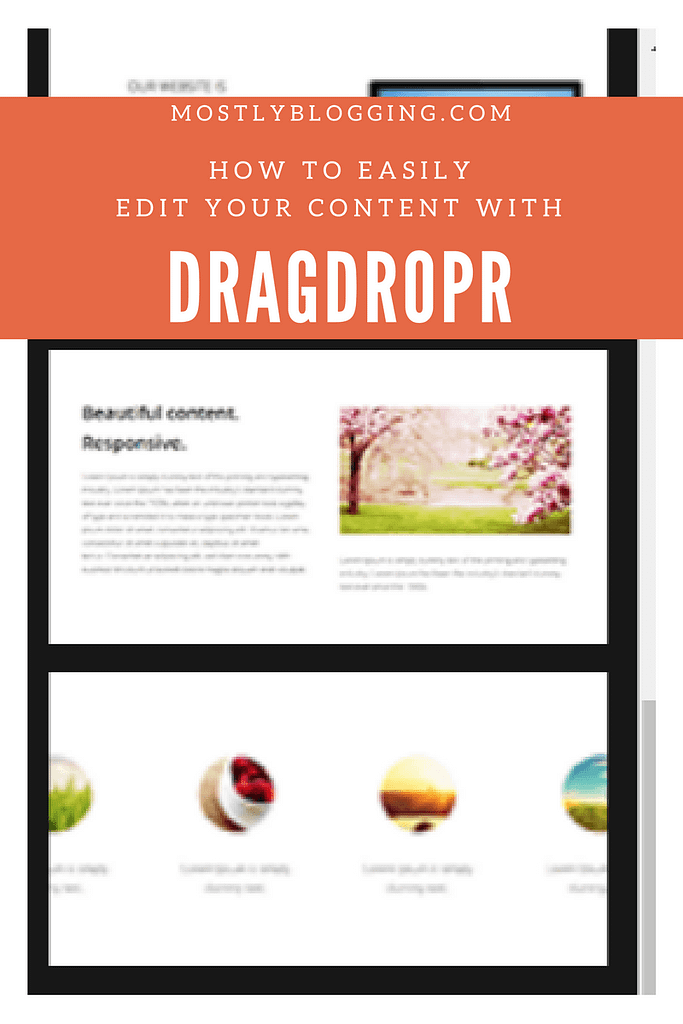 Question: How do you boost your organic traffic?
Answer: You need to please Google.
Q: How do you please Google?
A: Have a variety of media in your blog posts.
Mostly Blogging has published many graphic design tutorials so you can put graphics in your posts.
This post will explain how to use a content designer.
The DragDropr Visual Content Builder enables you to add a variety of media to your content and with ease.
This tool is quick to use as well as user-friendly. It intuitively allows you to enhance your blog posts and pages with images, videos, and even Slideshows.
Your readers will appreciate the variety of formats using DragDropr can bring your blog or website.
Let's get started.
This post will explain how to use this easy tool and why you should.
What is the DragDropr Visual Content Builder?
DragDropr lets you create, edit and design content for your website, webshop, blog, or any other web content in the most intuitive manner, by simply dragging and dropping.
It's also the only universal visual editor, which means it's compatible with any CMS (Content Management System) you might be using.
You can handle, create, edit, and publish all your content pages within this one tool. In the event you work for a client, you can also edit your client's content within this tool simply by switching accounts.
DragDropr was developed with 3 principles in mind: To be efficient, intuitive, and easy to use.
While other bloggers rely on WordPress plugins for their graphic design needs, DragDropr uses Cloud Computing.
DragDropr is more or less a visual builder add-on for rich text editors.
Why You Need the DragDropr Visual Content Editor
The DragDropr tool builds your landing pages for you. The site boasts building a landing page can be accomplished in as little as five minutes.
Embed your landing pages on your blog or Facebook page. If you prefer, you can embed them as a pop-up or exit pop-up.
You can use DragDropr for a 30-day free trial period. There's no need to put in a credit card while you decide if this tool is for you.
When you choose DragDropr, you don't need to commit to any long-term contracts.
DragDropr is as easy as the name indicates. You just drag and drop your content.
Should you need help, the DragDropr team is available to help you. Chatbots are available to take your questions even on the weekends.
If you need assistance, the support team members are friendly and generous with their time.
You can use DragDropr with any publishing platform (CMS). You can even use DragDropr with Shopify.
No technical expertise or knowledge of coding is required. You don't need to be a designer or an expert in any software to use it! It's so easy to use, and it's definitely fool-proof.
You can store content templates for reuse. You can also re-use them for your account or your client's accounts.
The DragDropr works with any theme on any Content Management System you choose.
You have choices. Build your own landing page or use a customizable pre-designed landing page.
Using this tool is a time saver! Save time by using over 200 predesigned custom templates are available for you to choose from.
Due to the Preview mode, making a mistake is impossible. You'll be able to see your content before you publish.
Selling online is easy with DragDropr. DragDropr interfaces with Shopify, an online store. Add a new product by simply dragging and dropping it to your page. Enable/disable specific product elements (images, description, etc.) with just one click.
Your created content will be automatically generated for any type of device. Your content will load beautifully on mobile, desktop, and tablet.
DragDropr has a WordPress plugin and a Chrome extension to make using this tool even easier.
How to Use the DragDropr Visual Content Editor
Step 1: Sign up for a free trial account: https://app.dragdropr.com/register. Fill in the requested information and click "Next." Click the activation link in your email.
Step 2: Click the plus sign (+) to create a new page. A box will appear. Type the name of your new project into the box. Click "Add Content Box."
Step 3: Change the name at the top and name your page.
Notice: The width defaults to 1024 pixels, the standard size for Pinterest graphics. You can change the width if desired. At the top, you can click to see how your content will look on a desktop versus a mobile phone. The content shouldn't be over 1200 pixels maximum.
In order to change the width, hover over the ruler at the top. The bar will highlight and you can modify the width of your project.
On the left of the dashboard, you see widgets that you can drag and drop. (This is why this tool is called "DragDropr.")
Step 4: Drag the headline widget and place it where you'd like your headline to be on your page. Click the gear symbol to modify the size and alignment. Click the circle to the right of the name of the modification to change it.
Step 5: Drag the other widgets to where you'd like them on your page or post. Make sure you drag the widgets and drop them where you see a plus sign.
Note: Due to a feature called "Cascading Styling Sheet" or "CSS," the DragDropr tool already knows your blog's font style and colors and will default to the selections that match your blog.
So many variations are available to you. For example, you can alter the spacing, line height, border style and color. You can have a different-looking headline for each landing page or the same style that matches your blog. You can save and reuse any templates.
In addition, you can have backgrounds behind your lettering and vary the color shades. I went for orange letters with an orange sign up button to match my blog colors.
Step 6: Upload photos. Look at the screenshot of the dashboard. On the right, you see "Enter Image URL." You can add an image by pasting a URL of an image. If your image has been uploaded to WordPress, you'll find a URL for your image in your media library.
Otherwise, you can upload photos from your computer. Next to the "Enter Image URL" box, you'll see a folder icon. Clicking it will bring up the Image Manager where you can upload your images.
Why Reinvent the Wheel?
Save yourself time and use one of the 200+ customizable templates DragDropr offers. They add up to 10 more templates weekly.

When you click "Content Blocks," you'll see your template choices. Just drag and drop into your canvas to modify!
Click "Save" and "Preview."
Step 7: Get your finished page or post to your blog. Look at the top of the dashboard screenshot. Click the word "code" to get the HTML code for your new landing page. Copy the code, go to your blog, open your page or post, click on text mode and paste the code.
Note: You can not undo an action in DragDropr. The company is working on this feature which will be available in a few weeks. Save your work. Then, you can click refresh or "reset" to get rid of unwanted changes. The trash can icon also deletes any unwanted elements.
How to Use the DragDropr Visual Content Editor If You're Self-Hosted
If you're self-hosted, the instructions become even easier due to the existence of the DragDropr plugin for WordPress users.
Your website and DragDropr communicate. Going forward, any changes you make will be communicated directly to your blog or website and those changes will automatically occur.

Notice: When you install the plugin, DragDropr is always with you. You can modify while on your website. Clicking the "Edit with DragDropr" button will bring up the DragDropr dashboard.
Testimonial
According to WordPress,
"DragDropr is a What-You-See-Is-What-You-REALLY-Get visual editor.
It lets you effortlessly create, edit, and design content for your website, webshop, or any other web content in the most intuitive manner: dragging and dropping. It's also the only universal visual editor, which means it's compatible with any CMS you might be using: WordPress, WooCommerce, TYPO3, Magento, Shopify, Lightspeed and many more.
The best part about DragDropr? You don't need to be a designer or an expert in any software to use it! It's so easy to use, and it's definitely fool-proof."
Pricing
Take advantage of the 14-day free trial period and discover DragDropr is your go-to visual content editor.
After the trial period, you have the option of paying $19.00 per month or $99.00 per year.
Companies pay $39.00 per month. Enterprises pay $64.00 each month.
How to Get the DragDropr Visual Content Editor
Start having fun editing your content to your perfection today by clicking Start My 14 Days Free Trial Now.
Wrapping Up
When it comes to content, you dream it up and DragDrop does all the heavy lifting. The DragDropr Visual Content Builder is a useful tool for you to help take the pain of designing visual content away.
With DragDropr, what you see really is what you get.
Many bloggers are looking for quality visual editors. They need look no more. DragDropr is here.
Readers, please share so other content creators looking to save time with an easy, intuitive tool learn about DragDropr.
This was a sponsored post but opinions contained herein are my own.