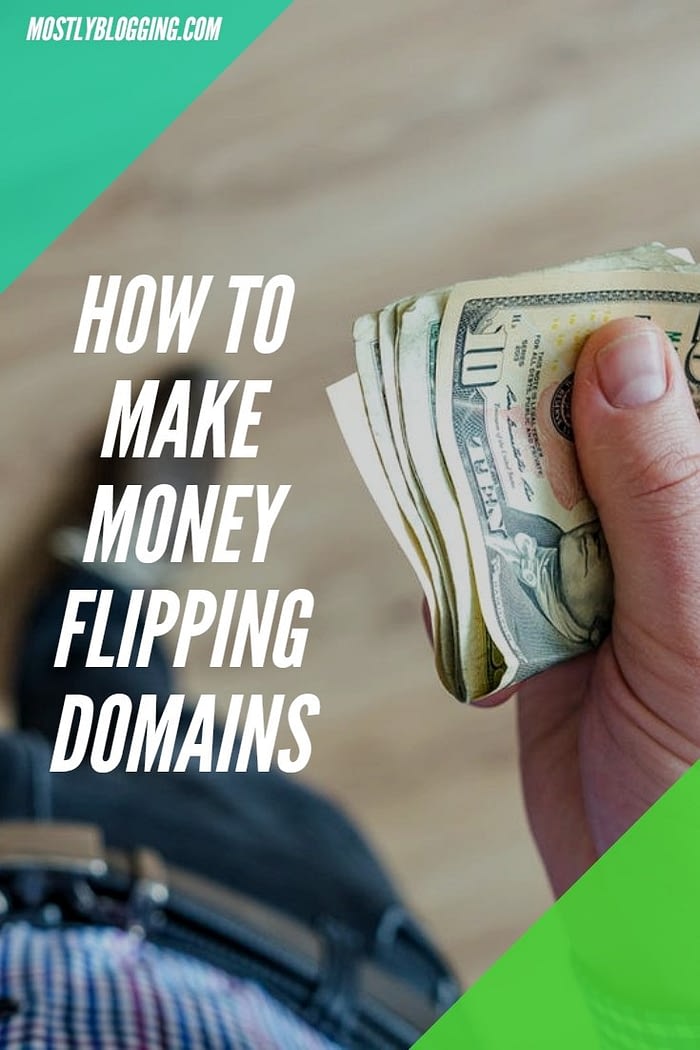 Why would you need domain listings?
To boost your traffic, SEO, and income, of course.
In March of 2019, I published a post about the MozBar in which I reported the important Moz metric, the Domain Authority Ranking, was changing.
Many people saw their Domain Authority Ranks fall. This spelled catastrophe for many bloggers since the DA is considered the industry benchmark for blog quality.
In the months that passed and to this day, many bloggers feverishly try to get their Domain Authority Rankings back up through efforts such as link building from websites with dofollow links.
Today's guest author, Tracy Gomez, offers a different way for you to boost your Domain Authority Ranking using domain listings.
Her methods have several advantages:
You save time and energy. Moz's DA is based on many factors including building unique links as well as building high authority links to your site. Finding unique link building opportunities as well as high authority link building opportunities is time-consuming and draining.
What if there was a better way to have a website with a high DA or a higher DA than the one you already have?
By the time you're done reading this post, you'll know how to use Domain Listings to save time and energy and boost your SEO and income.
Tracy, take it away.
Finding Expired Domains with Great Backlinks
Tracy Gomez
A domain is an essential part of starting a website. It serves as your identity in the digital world, and there are different ways to be successful when it comes to domains, backlinks, and ranking on search engines.
Expired domains have significant benefits, especially those with high backlinks built by previous owners, which have better rankings and ahead startups to success.
But choosing an expired domain is not that easy; luckily, there are tools like domain listings you can use to detect which area is a sure win and which one to avoid.
With tons of auctioned or expired domains, it helps to use a seamless tool to provide guaranteed success to your investments.
There are factors to consider when building a website; you could go for a fresher and new domain and wait for it to grow organically. On the other hand, you could be wiser enough to check domain listings for potential expired domains with excellent backlinks, history, SEO metrics, authority links, and more.
What Are The Benefits Of Finding Expired Domains?
Expired domains have tons of benefits that only a few truly understand. Use these to take advantage of the benefits you can get with a well-established expired domain with excellent backlinks. It expired due to negligence, payment issues, abandonment, or a closed business.
If the expired domain is not renewed after 30 days, the website will be auctioned for seven days, and whoever wins the bidding will have the domain. It can be pricey but surely worth it with the previous SEO ranking power or the SEO value.
Finding an authoritative domain and utilizing all its backlink juice will help you build authority links faster by enhancing its pre-existing SEO value. It's conveniently easy to find using the right tools; for example, https://www.spamzilla.io is one of the most reliable and user-friendly software that allows you to review essential details when purchasing expired domains with quality backlinks.
If you're planning to start a website, purchasing an expired domain is a wiser move than going for a new one.
Here's what you can get:
Leverage SEO Value Through Authority Links
Expired domains can rank faster on search engines by enhancing their previous SEO value. It's suitable for new blogs when building authority and backlinks as these factors take time to develop.
It's the quickest way to build backlinks redirecting to the main blog or website. With the PBN (Private Blog Network) method, you can set up plenty of mini-sites that redirect you to your blog.
Redirecting Old Domain To Your Site
Redirecting an expired domain to your site transfers all the SEO value and ranking it accumulated over the years. With the SEO value from the site backlinks, this will significantly benefit your new website, which is one of the best practices to rank up from most search engines instantly.
Host blogger's comments: When I moved from my previous blog, Reflections, I redirected the domain to Mostly Blogging, this site.
As a matter of fact, if you click the link https://mycurrentnewsblog.com, you will end up back here at https://mostlyblogging.com since I have a redirect in place.
The redirect is vital to maintaining your traffic and SEO value when you change websites.
Some people purchased expired domains to sell them for a higher price after working on enhancing its SEO value. It's a great way to earn more by investing in expired domains. After building backlinks and increasing its current value or ranking, you can sell it for a higher price.
Host blogger's comments:
Some people wonder if flipping domain names is legal or a scam. Flipping domain names is a perfectly legal practice that helps website owners monetize.
All you need are domain listings. They contain prices of available domains. Buy low, sell higher, and you've made money flipping domain names.
Essential Features To Consider When Using Domain Listings to Purchase Expired Domains
Not all expired domains have benefits; that is why you need to do some research or cut that part and use the right domain listings to optimize your time and help you filter good quality expired domains with excellent backlinks.
However, here are the things you need to consider when buying an expired domain.
When you search domain listings for a new website, consider these factors:
The age of an expired domain is measured by their authority established throughout the years. Google rewards blogs with longevity. Avoid fields that expired after a year.
The quality of backlinks determines the sites being linked to it. Check the condition of backlinks and avoid spammy ones.
Check the digital footprints of the expired domain via its accumulated monthly traffic.
There are tools you can use to view how the website looked before it got expired. Again avoid sites that are used for spamming.
Its domain authority and page authority determine the quality of a website. Never settle for domains with low PA & DA scores.
Host Blogger's Comments:
How to Find Domain Listings
Now that you know the benefits of using domain listings, only one question remains: Where do you find domain listings to use to search for a new blog?
Easy! Tracy suggested one: Use Spamzilla.io as one of your domain listings. Spamzilla has millions of available domains in the database.
Spamzilla Pricing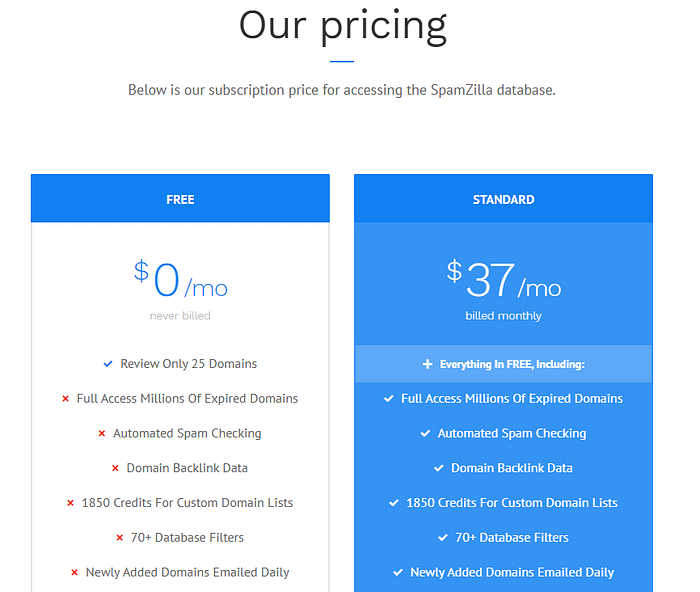 When you sign up for Spamzilla and other domain listings for free, your number if searches is limited.
I know two bloggers who bought expired domains. They are both happy they did. By using domain listings to find your new domain, you can find a new affordable place to blog with SEO benefits already included.
Conclusion: Domain Listings
There are plenty of reasons why many people purchase expired domains. Finding an excellent backlink is essential to the growth of your website. With the said factors, benefits, and the use of domain listings, you can easily decide which domain is a win and which one to skip.
Readers, please share so bloggers looking for a way to monetize learn of this monetization strategy, using domain listings to find a new website to boost your SEO and income.
I look forward to hearing about your experiences in the comments section. Would you ever consider domain flipping? Have you ever used domain listings to find a new blog?
Related Reading: This post was about how to boost your SEO with domain listings. You can also boost your SEO with high PR social bookmarking sites.