Do you seek information about direct vs organic traffic?
By the time you're done reading, you'll know the difference between direct vs organic traffic and you'll have an easy, effective SEO action plan to implement in 2021.
How To Drive Traffic To Your Blog Using These Simple SEO Strategies
Do you agree when it comes to direct vs organic traffic both types of website traffic are important?
At the end of the day, you need improved traffic on your website to improve your earnings.
SEO has proven to be one of the most effective ways of boosting traffic on websites.
With more than 40% of organic traffic coming from organic search, you need improved SEO on your website.
Owing to this, here are some simple organic traffic strategies you can implement on your website to improve your website traffic.
Use quality search engine optimization
Ensure your website is optimized for mobile devices
Create longer and engaging content
Make use of infographics
Use more than one keywords
Check your performance stats
Use commonly searched keywords
Use hyperlinks
However, organic traffic is not the only type of traffic you want on your site. You want to give Google signals that your website traffic is coming from many sources.
Let's dive in and explore the differences between direct vs organic traffic.
Direct Traffic vs Organic Traffic
Direct Traffic
What is Direct Website Traffic?
Direct traffic is when a website visitor lands directly on a website without having clicked a link on another site to get there.
Examples of direct traffic to a website:
The website visitor types the URL of the site into the browser search bar directly.
The website visitor bookmarks the URL and clicks on the bookmark to arrive at the site.
What if Google can't tell the source of the traffic?
According to Monster Insights, if Google can't tell the source of the traffic, Google Analytics will record the click as Direct Traffic.
Let's discover more about direct vs organic traffic:
Organic Traffic
What is Organic Website Traffic?
Organic traffic is website traffic sent by Google or another search engine.
There are many strategies you can employ to boost your chances of Google sending your website organic traffic.
SEO and Internet Marketing Action Plan
Use Quality Search Engine Optimization
Search engine optimization remains the most effective way to get organic traffic.
With over 90% of online activity starting with searches on Google, the power of keywords has never been more evident.
The most popular keywords, when used in the right way, can create more organic traffic to your website. It is important to distribute the keyword throughout your content, as well as maintain a certain frequency.
This will make Google consider the information on your website relevant to search queries involving your chosen keyword. It is also important to keep your content readable and relevant to the topic to keep the readers interested. You can make use of WHR Marketing's SEO Services to help with your SEO needs.
Ensure Your Website is Optimized for Mobile Devices
In all likelihood, your readers will most likely be visiting your website from a mobile device. Mobile devices have the most activities on the internet and with smartphones evolving, it will only increase.
You need to make sure your website is compatible with mobile devices and loads quickly. You can achieve this by caching and or boosting your on-page speed with tools.
Either option or both can be used to achieve this and thus keep and gain you traffic. If you can only use one of these options, caching may be the best choice as it helps ensure content loads much faster.
Create Longer and Engaging Content
The average word count of the best-ranked pages on Google is 1890 words.
The content that is found to have proven to be most useful to readers is usually longer than 1000 words.
Google judges your website's success and relevance based on the amount of time a reader spends on a page. This means that the longer a reader stays, the more helpful your website proved.
You need to fill your content with relevant information to your keyword to keep your readers interested. If you can get the content closer to 2000 words, this is a huge plus as its relevance will be greatly improved according to Google.
Make Use of Infographics
Infographics are a fun addition to websites and provide an engaging way to help us understand the numbers.
Where your content involves confusing information, especially where numbers are concerned, infographics help simplify them.
One added benefit is that an infographic can also help keep your readers' attention peeled to your website. This in turn will improve your page ranking on Google.
Infographics will also help make your website look more appealing to your readers, which can prove to be a welcome development. If you can't make an infographic yourself, you can make use of WHR Marketing's Professional Infographic Design Service.
Karan Singh, SEO Expert and podcaster of the SEO Singh Show, recommends using infographics.
He explained reading an infographic keeps people longer on your blog which improves your bounce rate.
When visitors stay longer, Google is convinced you have a quality blog post and your SEO improves.
Use More Than One Keyword
We already outlined the importance of using keywords, and with more than one, your odds are greatly improved.
It's just a simple case of two heads being better than one. When there is more than one keyword in your content, there is more than one possible chance for organic search from Google.
Even with the right keyword, you still may not get the traffic you seek, but with more than one keyword, you stand a better chance. It is also imperative to use keywords that are related as people can search for content using more than one search phrase. This way, they end up on your page regardless of the keyword imputed on Google.
Look: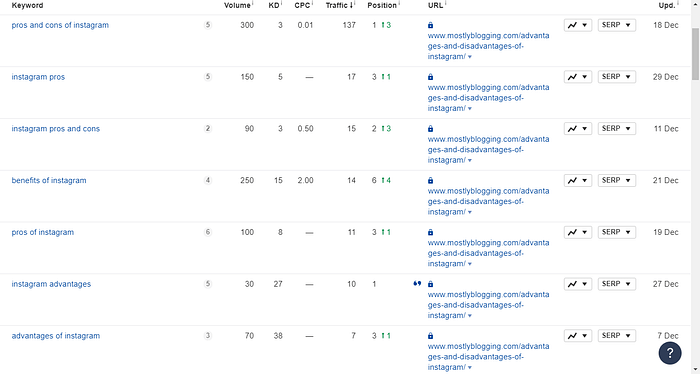 This screenshot from Ahrefs shows shows seven of the keywords my Instagram post ranks for.
I have three focus keywords for the post: Advantages and disadvantages of Instagram, advantages of Instagram, and disadvantages of Instagram.
As you see from the screenshot, one of the keywords the post ranks for is pros and cons of Instagram. In fact, the post ranks for 104 keywords although I only had three focus keywords and seven tags. One of those tags was pros and cons of Instagram.
As you can see, the more keywords, the better the chance the post has for ranking.
Check Your Performance Stats
You can monitor the performance of your website, viewing your reader statistics.
Google Search Console and Google Analytics are both excellent places to view your performance metrics.
Here, you see which keywords were most searched, as well as what posts were most read.
With this information, you can build your new posts based on the most profitable options.
You can also find out more about what posts on your local Google ranks highest and why.
So, you can improve the content on your website to meet this criterion. It also helps to update your content based on whatever changes are required to ensure the information is not only relevant to the reader but to Google as well.
Used Commonly Searched Keywords
Certain keywords generate more organic traffic than others. You can monitor the keywords your competitors are using as well as those with the most searches on Google.
These change all the time, so, you will need to make changes regularly, even to your older posts. Common keywords mean a higher number of searches, and thus, a greater chance of your content being deemed relevant by Google.
You can use the free SEO Toolbar by Moz to find these keywords.
Use Hyperlinks
Hyperlinks are another great way to generate organic traffic to your website. There are two ways you can use hyperlinks like https://www.mostlyblogging.com/academy/ or like this Digital Marketing Blog.
The latter is the preferred choice as it not only makes your content look neater but can be tailored to show Google what keywords are relevant to the content.
This means that you can use your keywords, or any other words to help improve the overall flow of your website. The more hyperlink anchors present on your website, the better your ranking chances.
It is worth noting that the relevance of the website you are hyperlinking to will also affect the rating of your website.
Direct Vs Organic Traffic FAQ
What is direct traffic?
Direct traffic brings a visitor to your website who types in your URL directly without clicking a link. In other words, visitors come to your website directly without clicking a third-party link.
What percentage of traffic should be organic?
Organic traffic has always constituted between 20% and 50% of my website traffic. I believe this shows Google I have a good mix of traffic and therefore many signals to my blog.

I want to show Google I have a wide-reaching presence on the internet and not only on search engines. Then, Google will consider me an internet authority. Since Google emphasizes EAT, expertise, authority, and trust, this broad view of my influence will boost my SEO.
Is Direct Traffic good for SEO?
When people come directly, if they stay a long time to read your information and don't quickly "bounce" away, that helps your SEO. A variety of traffic types also helps SEO.
Conclusion: Direct Vs Organic Traffic
Implementing multiple SEO strategies simultaneously offers you the best chances of success. With all these strategies implemented, your website will become more relevant and this in turn generates more revenue. More strategies equal greater website success.
To recap:
This post offered the differences between direct vs organic traffic to your website and gave you an eight-part SEO and internet marketing action plan for boosting website traffic.
Readers, please share so content creators discover the differences between direct vs organic traffic to their websites.
I look forward to your views in the comments section. Do you know any additional strategies that work when trying to boost direct vs organic traffic? Why type of website traffic do you find easier to generate?
Author Bio: Joe Ephgrave is the Director of Award-Winning Digital Marketing Agency WHR Marketing. He is renowned for his Digital Marketing Skills including his SEO Strategy consisting of On-Page SEO (high-quality content, structure for SEO), and Off-Page SEO (effective link building and content promotion through social media).
Related Reading
3 Important Ways to Boost Your Marketing in 2021
This post was made possible by the support of our readers.