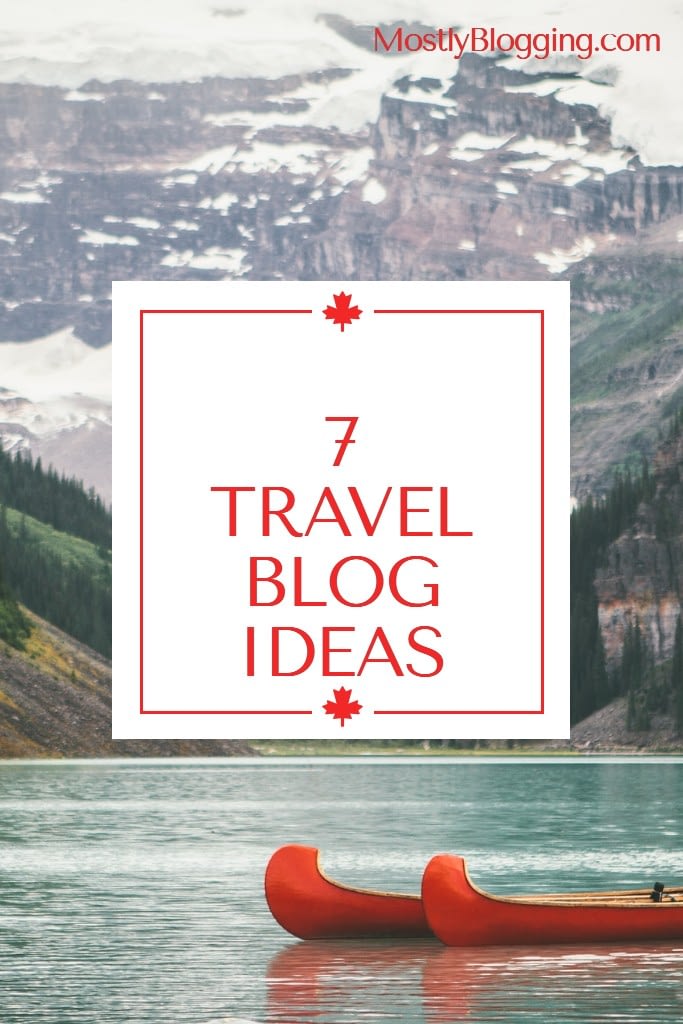 This post shares what you need to run a successful digital nomad blog.
What is a digital nomad blog?
A digital nomad is someone who makes a full-time living traveling. They record their experiences online in a digital nomad blog. In other words, a digital nomad blog is run by a travel blogger.
Why should you consider publishing a digital nomad blog?
Let me provide some data.
In 2020, travel and tourism's contribution to the Gross Domestic Product was 4.7 trillion dollars (Source). Clearly, travel is a lucrative industry.
You can have a successful career running a digital nomad blog. This guide tells you how.
By the time you are done reading this article, you will know what you need to run a successful digital nomad blog. You'll also see an example of what publishing a digital nomad blog from Ireland entails.
What You Need to Publish a Digital Nomad Blog
Blog Post Topics
You can't just decide to publish a digital nomad blog. You need a passion for the topic.
There are three important travel blog topics your readers will find relevant:
include the advantages of travel to the location
choose various places in the city to feature
mention the place's uniqueness
Related Reading: Lifestyle Blog Topics
Photography Gear
Before you start off on your destination, decide if you will make videos and vlog about your experiences or if you will only take still images.
In many cases, the camera on the smartphone is enough, but if you find you want different equipment, you need to do your research and make these purchases before you leave.
Related Reading: Photography Blog Ideas
Research
Readers of your digital nomad blog want to read statistics. Numbers don't lie.
You can say costs are reasonable or expensive, but stating the costs take interpretation out of your article.
You may not know the costs of what you are describing. In this case, be sure to do your research about pricing and statistics you may feel compelled to mention in your digital nomad blog.
Did you notice I began this article by citing the financial contribution the travel industry made and citing my source? You need to do the same.
Try to make sure your data is current. Citing 2012 costs to people planning a 2022 trip may be useless information.
Experience
Blog readers love case studies and readers of your digital nomad blog should be no different.
Blog about your travel experiences as you have them.
Writing a first-hand account gives your article credibility.
Documentation
Before you can consider traveling the world and writing about your experiences in a digital nomad blog, you need to make sure you have the proper documentation.
For instance, let's say you want to visit Ireland and describe your experiences in your digital nomad blog.
Ireland is one of the top destinations to visit and emigrate to in Europe. Known for its rich history, vibrant cities, and amazing natural scenery, the Island is a charming place to enjoy both cosmopolitan and modern lifestyles all wrapped into one.
However, you may need to complete an Irish application for a tourist Visa to travel around Ireland.
Budget
Housing
If you are going to be a permanent traveler, which digital nomads are, you need a place to stay during your travels.
Let's go back to our Ireland example.
Many would argue that living in Ireland is expensive and they won't be entirely wrong. According to some indices, living in Ireland is more expensive than up to 95% of other countries in the world.
But despite this figure, you'll be surprised that Ireland is not the most expensive place to live in Europe. Compared to many other European countries, living in Ireland is actually quite affordable.
The cost of living in Dublin is 10% cheaper than in London. According to Expatisan, the city of Dublin ranks fifth in terms of the cost of living index in Europe.
The cost of living is even lower if you decide to ditch the city life and go for the lesser-known suburbs. Accommodation, food, and transportation are cheaper in the small towns and Irish countryside.
As can be seen, when you make your travel budget, you have choices. For instance, you can stay off-the-beaten-path where lodging is cheaper.
Food
In addition to housing, you need to consider the cost of food and groceries while you travel.
Ireland is an Island country which means a lot of goods have to be imported into the country which contributes to their high price. Still, the expenses are not too great compared to many other locations.
Transportation
Another affordable part of visiting Ireland is the transportation cost. Traveling through Ireland by train or bus is quite affordable. Ireland has a fairly developed public transportation network and both visitors and citizens can pay via mobile app or with their bank card.
Side Jobs
Most bloggers need to work their way up to being pro bloggers. Travel is definitely a lucrative blogging field. However, before you can support yourself full-time by running a digital nomad blog, you might need to get work while visiting the country. This may require a work Visa instead of a travel Visa so do your research ahead of time.
Working in Ireland, for instance, is quite interesting and profitable. There are several businesses offering jobs for people across various sectors. In most cases, the local salary will be enough for you to live a comfortable life in Ireland.
Digital Nomad Blog: FAQ
Is being a digital nomad legal?
Yes! Being a digital nomad is absolutely legal. Many people make a living traveling around the world writing about their experiences in a digital nomad blog.
Final Thoughts: How to Publish a Digital Nomad Blog
In closing, by reading this post, you discovered what a digital nomad blog is and what you need to publish your own digital nomad blog.
Readers, please share so bloggers thinking of publishing a digital nomad blog in 2022 discover this post.
I look forward to your views in the comments section. Do you have suggestions for how to publish a digital nomad blog?
Authors: Janice Wald and a Contributing Author

Janice Wald is the founder of MostlyBlogging.com and co-founder of the Mostly Blogging Academy. She is an ebook author, blogger, blogging coach, blogging judge, freelance writer, and speaker. She won the Best Internet Marketer Award and the Best Blogger Award at the 2021 Infinity Blog Awards. Wald was also nominated as 2019 Best Internet Marketer by the Infinity Blog Awards and in 2017 as the Most Informative Blogger by the London Bloggers Bash. She's been featured on Small Business Trends, the Huffington Post, and Lifehack.
This post was made possible by the support of our readers.