You know you need a customer recommendation.
You want to grow your new business, but you can only succeed when more people learn about you.
You want to create a community of raving fans, but good word of mouth needs to spread.
You want people to trust you, but people haven't had time to develop trust in your new startup.
A customer recommendation solves those dilemmas.
By the time you're done reading this guide, you will know where to find a customer recommendation and how to best use customer recommendations so you can experience career success.
Are you ready to learn best practices for using a customer recommendation?
Online Reputation Management Strategy
ORM is a digital marketing strategy that involves boosting your online reputation. There is no better way than with a customer recommendation. Just one review can lead to a community of raving fans.
Let's get started learning the benefits of online reviews.
A Small Business's Guide to Using Online Reviews
Wahab Ullah Amjad and Janice Wald
Having a website is one thing but to make the most out of your online marketing efforts, it's important to make crucial adjustments that can build your brand to a better position in terms of attracting new business.
Businesses that have just gotten around to building a website will need to understand the importance of using online reviews for brand-building and marketing. After all, for your product or service to stand out, it has to be put front and center for your target audience to see. This is definitely a goal that online reviews can help you with.
Here's a quick guide for using a customer recommendation that you should follow:
How to Use a Customer Recommendation
Include high-value keywords
Keywords are what contribute to your brand's searchability. You want to rank for keywords that are related to the solutions you offer. Whether you are selling life insurance or cleaning services, it's important to use terms and phrases for online reviews.
That being said, you can use tools like Google's Keyword Planner to come up with a list of key phrases you can insert in the content you publish. For a simpler method, you can type the basic keywords your brand uses and check Google's auto-suggested results. That way, you get a diverse set of keywords to rank for.
Related Reading: How to Use Ubersuggest and the 11 Free Ubersuggest Alternatives
Once you have a list of high-value keywords, you can proceed to include them in online reviews. Webpage copy and blogs are crucial to on-page SEO. Reviews that are optimized with relevant keywords come as an added bonus to improving your website's searchability.
That said, on the reviews page, you can include a feature that allows users to select from a list of phrases or terms. That way, they can leave reviews containing the keywords that you want to rank for.
Lastly, you need to focus on the keywords and phrases that people use to leave reviews about your product or service. You may find themes in how people view your business, so figuring out commonalities among the reviews you gather is a great way to start researching for keywords you might want included in your SEO strategy.
Be proactive with complaints
Let's be real here: Your business won't get praise all of the time. In fact, there will be cases involving dissatisfied customers asking for refunds and throwing out heavily worded complaints. You can always choose to move forward and ignore negative publicity, but not being able to respond appropriately to complaints is still a bad idea in itself.
For one, ignoring feedback (especially the not-so-flattering kind) can send very bad signals to your audience. They might think that you are not actually interested in helping them with specific problems or providing effective solutions. To their minds, you are only in it for the profits.
You don't want to cultivate such sentiment among your market, so consider keeping an eye out for negative comments or reviews and respond accordingly. By that, we mean that you need to be very cordial and empathetic. Most businesses tend to be defensive and confrontational but this approach doesn't present the sincerity or contrition needed to overcome the bad review.
So, when writing responses to negative client feedback, you must acknowledge their points and explain how you are working to make things right. This will assure your client that you are on top of things and that the business is doing what it can to resolve the issue.
Save the customer satisfaction recommendation
When you receive your customer recommendation, what will you do?
Celebrate? Of course.
There are several places to keep the recommendation so others can see and positive word-of-mouth can spread.
LinkedIn
There is a spot on the left-side of the LinkedIn homepage that shows your testimonials. Click View Profile to see them.
If someone leaves you a customer satisfaction recommendation, send them a link inviting them to leave the testimonial on LinkedIn.
Look: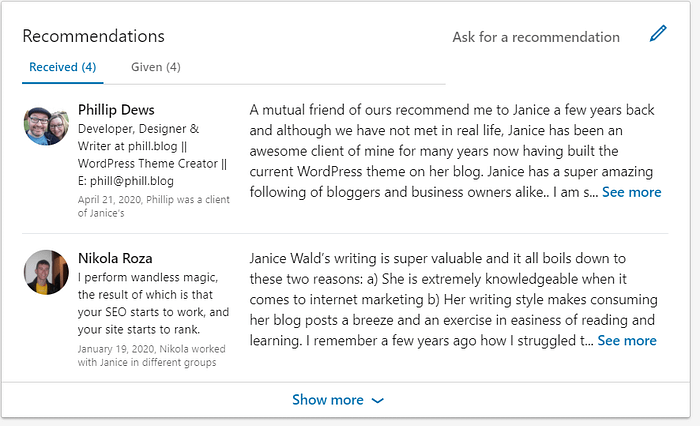 See my customer recommendations?
To invite someone to leave you a customer satisfaction recommendation, click Ask for a Recommendation.
Your website's sidebar
Your sidebar is considered "prime real estate." This means people see it as they scroll down. Use a widget and place your customer recommendation in your sidebar. This will definitely help in increasing social proof and boosting your brand.
Social media sites
I often post customer recommendations on Instagram in a Story or post with the hashtag #testimonial. People may share which further boosts your brand's reach.
About Page
When people want to see what you are all about when they consider following your blog, they should be able to see your testimonials. "If others make positive comments about you, you must have a valuable blog to read," so they think. This is why people want to know what others have to say. Your About Me page is the perfect place for this.
Testimonials Page
You can have a designated Testimonials Page for others to click in order to read the customer recommendations of your services or products. Ideally, you should link to the writers of the recommendations so people know your reviews weren't made up.
Wherever you put your testimonial, I recommend thanking the writer. Often, when people leave testimonials about you on their blogs, they link to you. This customer recommendation boosts your SEO as well as your brand.
Related Reading: These are the 9 Pages You Need to Earn Money Online
Why You Need a Customer Recommendation
Having online reviews should help you gain new prospects.
Let's face it, people are going online in order to make informed decisions. The Bandwagon Effect in psychology states that people believe if something is popular, it must be good. Therefore, when people read a customer recommendation, they become convinced your product or service must be helpful.
A customer recommendation builds a loyal fan base that adds value to your offers. For instance, many social media users are so loyal to brands, they will share the brands' social media content. When they use a brand's unique hashtag, others can find the content.
When the social media user tags the brand, the brand gets notified and can reshare the content on their own account. These strategies are often used on social media sites like Instagram and Twitter where hashtag use is so common.
Note: There is a proper protocol for tagging on social media. Make sure the brand is included in the content. Randomly tagging can have the opposite of the desired effect.
User-generated content is trendy. When a customer or client leaves a review, they get excited they helped create content for you. They feel as if they are part of your brand. Instead of feeling imposed on because they created content for you, they feel thrilled. User-generated content is one of the trends in marketing for 2020.
Where to Find a Customer Recommendation
Ask people to share
When it comes to audience feedback, there is no better channel than platforms like Facebook and Twitter. Most people nowadays use social media to look for the products and services they need. 47.4% of online customers say they use Facebook for customer service.
A good trick to use along these lines is to post content that encourages people to share stories about their experiences with your brand. For instance, on Twitter, add "please retweet" to your Twitter post. People don't know you want them to share oftentimes. Tell them.
Host contests
Many brands host contests. People who share brand content are entered into a special drawing. Make sure you give people a unique hashtag so you can find the social shares and randomly pick a winner from among them.
You can have people create brand content for you. For instance, they can create an Instagram Story. Often, this "user-generated content" will include a customer recommendation. Share the winning Story on your content. People love the hype contests create! You can even use an Instagram Countdown Sticker previewing the contest.
Encourage Feedback
Being an enterprise that embraces feedback entices people to speak up about the things they love about your brand and the things you still need to work on.
Look at this testimonial I received on Twitter: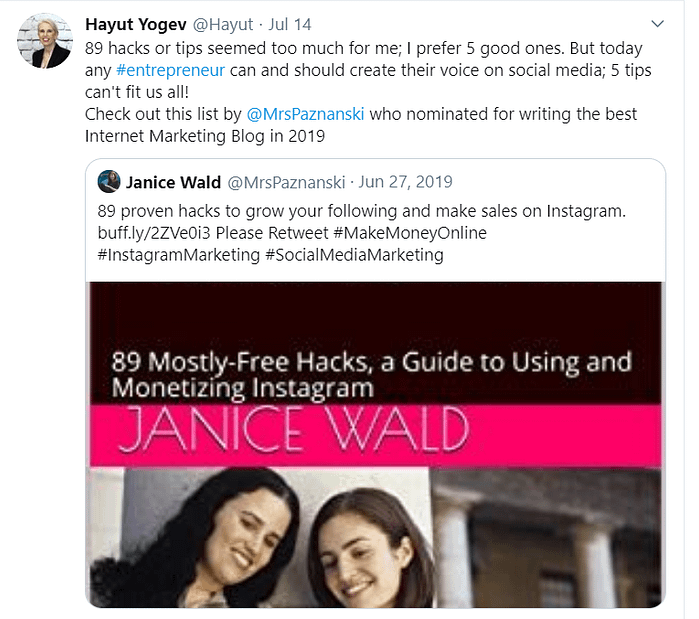 Hayut Yogev sent this customer recommendation on Twitter. Can you tell her review matches this description of a customer recommendation you might receive?
For instance, Hayut pointed out that 89 tips might be too overwhelming. Keep in mind you might receive a suggestion for improvement along with your customer recommendation.
Another way you can make full use of social media for getting more reviews for your brand is to pick the best one and feature it on your official page.
Nothing gives social proof quite like an authentic comment coming from a satisfied customer. So, with the consent of the customer, you can feature the review through a carefully crafted social media post. Make sure to highlight the most important points in the review and don't forget to place a call-to-action at the end that entices people to buy your product or service.
Lastly, as indicated above, take the time to thank your reviewers for writing a stellar review. This gives people a good idea about how engaging you are when it comes to audience sentiments. After all, people appreciate businesses that listen to them, so be sure to show some gratitude for every review you use for your social media campaign.
Leverage email marketing
Some say email marketing is dead, but in this age of digital transformation where more and more people are relying on the internet, sending out a well-crafted message that encourages your customers to review your products or services can open up valuable opportunities.
Aside from that, a carefully crafted email campaign can also promote the best reviews about your brand. You just have to make sure the reviews are relevant to the content of your email messages. For instance, if you want to promote a green cleaning service, pick a positive review from someone who was happy that you offer such a service for the environmentally-conscious crowd.
Moreover, using email platforms like Mailchimp and Constant Contact, you can send out emails that remind your clients to share valuable views or insights about your brand.
These platforms come with automated marketing features that allow you to send follow-up reminders after every successful purchase. If someone buys a product from your e-commerce site, the platform should send an email encouraging the customer to leave a review about the item he or she bought.
You won't go wrong with emails. You only need an expert copywriter who can help craft effective verbiage for your email or newsletter campaign.
Wrapping Up: Customer Recommendation Best Practices
In closing, this post explained how a customer recommendation props up the reputation of your brand.
Takeaways:
Use keywords in the customer recommendation.
Respond kindly to complaints.
Save the recommendation.
Having a customer recommendation helps grow your business.
A loyal community can grow from just one customer recommendation.
People are used to creating content like a recommendation for brands because user-generated content is trendy.
Fans often leave customer recommendations on social media.
Holding contests on social media sites where hashtags are used can further spread your career success.
Encourage feedback.
When you email your list, you might receive a customer recommendation you can post on social media or your website.
Readers, please share so entrepreneurs discover these customer recommendation best practices.
I look forward to your views in the comments section: Do you have any suggestions for how to use or where to find a customer recommendation?
This post was made possible by the support of our readers.