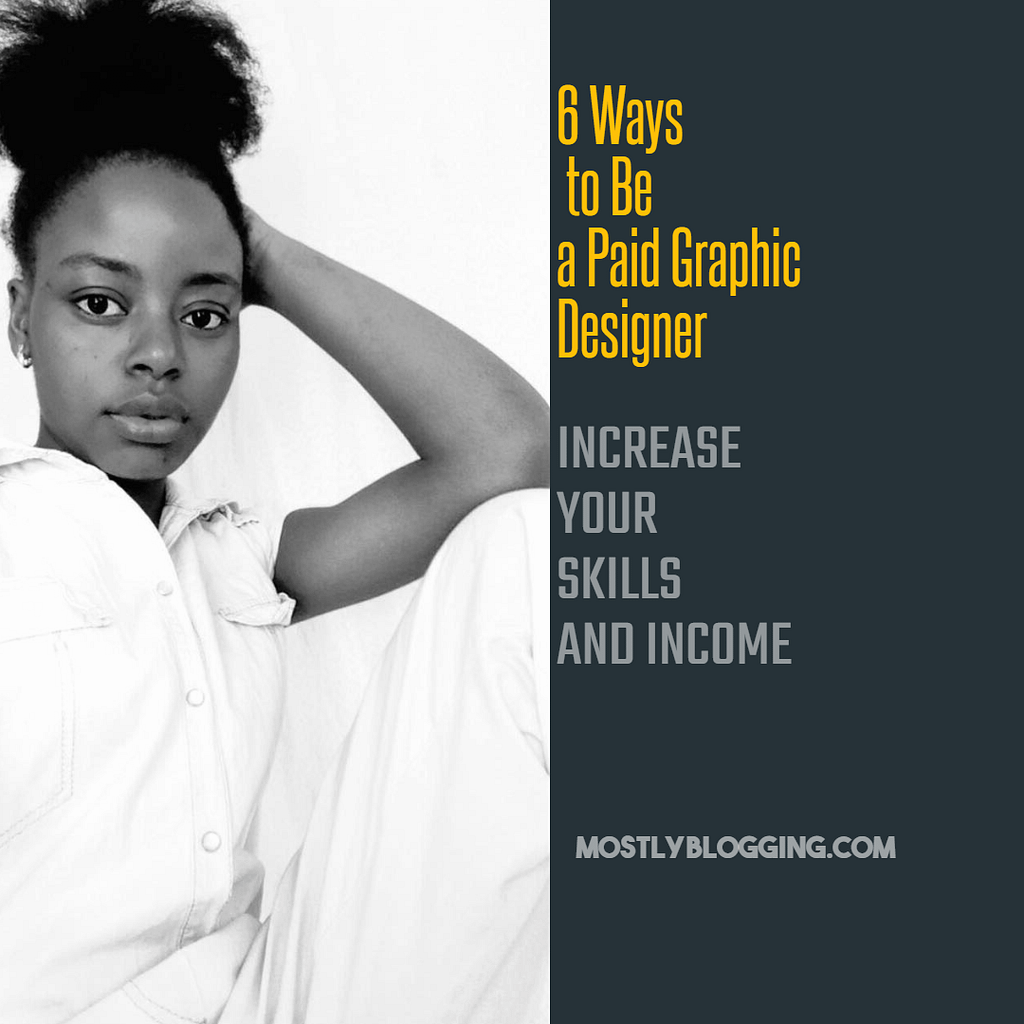 Are you engaged in creative design?
Of course, you are!
As a blogger, you design blog graphics.
As a website creator, you design your website.
As a content creator, you find creative ways to visually represent your content to help your visual learners understand your information.
Did you know you can make money from the skills you pick up from all these creative design activities?
Guest author Kat Smith returns to explain what graphic designer duties entail, how to get a graphic designer education, and how to promote and monetize your new-found creative design talents.
Becoming a Designer and Promoting Your Creative Design Talents
Graphic Designer Job Description
A graphic designer needs to have a passion for the work, the technical skills to handle the job duties, and an abundance of creativity that allows them to come up with some unique designs that catch people's attention.
Being a designer takes a lot of dedication and hard work, and promoting one's skills can be even more challenging. Knowing where to start will be a huge help in achieving your desired goal of becoming a professional. 
Graphic Designer Education
Showcase Your Work
Even in the beginning stages of a designer's career, promoting their talents by showcasing their work is one of the best things they can do. There may not be a lot to show yet, but even just one great piece can catch the eye of a potential client.
Setting up an online portfolio is an excellent option. Search through portfolio website templates to find one that best resembles your style and give yourself a head start. You can use your designing capabilities to spruce it up to your liking.
Link to a site you helped to create or place an image of a visual concept you came up with to showcase something you've completed well. 
It's important to include an About section on your online portfolio.
Not only do potential clients want to see your work, but they also want to get to know more about you. What is your background in design and how did you get your start? What are you looking forward to in the future of your design career?
Answering some questions like these can help a potential client get to see what you're all about and whether or not you sound like a good fit for their project. Always speak positively about yourself but do not over boast or make false claims. 
What Education Do You Need to Become a Graphic Designer?
Receive Proper Training
Taking a few graphic designer education classes in high school may help a person become knowledgeable about designing websites or other visual concepts, but it won't be enough to prove to others they should take a chance on you and your work.
Proper graphic designer education training is necessary to ensure a graphic designer can actually be labeled as such. Potential clients want to see that you have the education and true know-how to handle the job duties efficiently and professionally.
To get hired by a design firm, most candidates need to at least have an undergraduate degree in design. A bachelor's degree in graphic arts would be especially helpful.  Attending and graduating from a college or university with some sort of art or design degree would be an excellent help toward proving your abilities. 
Qualifications for a graphic designer who works freelance may also include having a background in business since you would be responsible for handling all business aspects that a company would otherwise take care of for you.
Marketing is another important skill to have, ensuring you understand how to sell yourself and gain clients. You will learn about social media marketing and using old-school methods, such as handing out business cards. 
Graphic Design Materials
Stay Up to Date With the Latest Design Software
Using the same software program for years may seem beneficial, but it can actually hinder performance.
Designers need to stay up to date with the latest embroidery software and design software so they always have the newest concepts available and a more diverse range of options to choose from when designing their creations.
Letting customers know what current software programs you use and the others you have knowledge of can help set you apart from other candidates who may not be up to speed on the latest technology in the field. 
Graphic Designer Duties
Improve Communication Skills
Designing isn't the only part of the job. Graphic designers need to work closely with their clients to ensure they take all of their feedback and criteria into consideration.
Clients often have a specific vision in mind of how they want their visual concepts to look. Whether a person needs a flyer created, a brochure designed, or fresh restaurant menu ideas, their ideas need to be taken into consideration before the designer can complete their projects.
Improving communication skills will go a long way in this area.
You'll have to speak with the client frequently and learn how to take criticism as well as ask them the right questions so their ideas can come to fruition through your work. 
Complete an Internship
One of the best things a beginning designer can do is take an internship and study under the wing of a well-known designer in their chosen field. It will give you insight into how to handle clients, run your business if you decide to venture out on your own, and helpful tips for making it in the design world. There may be little to no pay involved, but the experience and knowledge gained from a position like this are worth far more. 
Choose a Career Path
Setting out to become a graphic designer is far too general. People must focus on a particular career path if they want to narrow their job prospects and develop a following in a certain area.
While one person may prefer to be a desktop publisher, designing page layouts for newspapers and books, another may opt for a position as an industrial designer, combining art, engineering, and business.
It's also important to start out thinking about the final career you want. If you aspire to be an art designer or chief graphic designer of a large design firm, you'll have to start out low on the totem pole and work your way to the top, gaining the experience and knowledge needed to handle such an advanced position.
Becoming a graphic designer takes gumption. A person has to not only have the ability to design but also the creativity to constantly create new sites and concepts.
Proper graphic designer education will show others you have the knowledge to do the job, and your passion for the work will ensure you work your hardest. Graphic design can be a lucrative position if you showcase your work and promote your skills to get plenty of jobs coming your way.
This post was made possible by the support of our readers.
Host Blogger's Comments:
Takeaways: Creative Design
This post explained what graphic designer duties entail, how to get a graphic designer education, and how to promote and monetize your new-found creative design talents.
Corporate graphic design can be a lucrative field for you. With these graphic designer education tips in hand, you're well on your way.
Readers, please share so other potential graphic designers learn how they can improve their skills in order to monetize them.
This post was contributed and made possible by the support of our readers.
Related: