Are you familiar with corporate branding?
With the holidays coming up, you should be.
By the time you're done reading this post, you'll know five ways to boost your corporate branding, strategies to boost your product branding, and the difference between corporate branding and merchandising strategy.
A Guide to Running a Successful Promo Campaign For Your Brand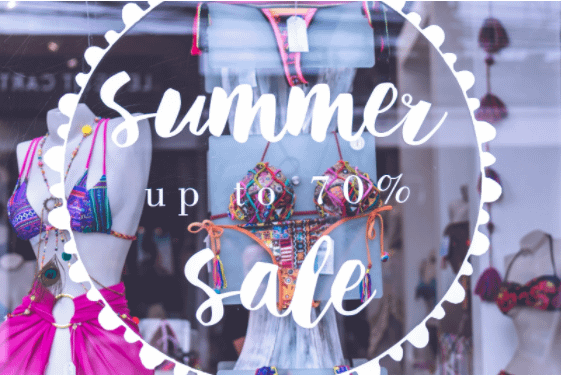 Source:
https://www.pexels.com/photo/summer-up-to-70-sale-text-1051744/
Marketing strategies are constantly evolving in the business world.
With each passing year, brands keep finding new ways to stun their clients and get their attention. Any business that does not take part in the action risks getting run out of business by the competition.
That said, it is always more important not just to run a promotional campaign but also to get it right. Whereas it is claimed that there can never be bad publicity, your brand image could be marred by controversy.
So, how do you come up with and implement a successful promotional campaign?
Read on for some helpful corporate branding tips.
What is Corporate Branding?
Strategies that boost corporate branding help the company's reputation.
The methods in this corporate branding guide boost the reputation of the company's merchandise as well as the reputation of the corporation as a whole.
This is in contrast to merchandising strategy which involves improving the reputation of the product.
Establish Your Goals
There are many goals that can be achieved through promos. You could be looking to increase sales or your product-market among other reasons. However, for you to get the best results, it is essential that you are clear about what your goals are.
Examples of objectives include:
Launching a New Product
Introducing a new product into the brand requires a lot of awareness. A good promo campaign to this end would help customers understand what the product is about and why they need it.
On the other hand, while the goal is to inform, make it fun.
Say, for instance, that you are launching a skincare product. Endeavor to find a balance between discussing ingredients and their benefits without it turning into a chemistry class. You could also offer small testers packaged with other products already in the market for consumers to sample.
Rebranding
Changing the look of your brand is a delicate balance. When buyers get used to and like your product a certain way, they may not fancy the idea of change. Nevertheless, for a variety of reasons, rebranding is sometimes inevitable.
In such circumstances, the goal would be to let consumers know that their favorite product is still the same. It would also bode well to drum up the importance or advantages of the new look.
Understanding the Target
Great marketing is like a conversation; tone and approach play a big role in how your message is received. For this reason, you need to keep in mind who you are addressing throughout your promo campaign. It will determine how you craft your message and how to time your promo.
Cultural practices, age, gender, and current societal issues are all pertinent factors to consider. In fact, as you build your campaign, it is important to have as diverse a team as possible. The H&M monkey shirt saga should serve as a cautionary tale on how insensitivity can be detrimental.
When consumers feel respected, appreciated, and well-considered, they will embrace whatever you are offering with open arms.
Creating Buzz
The need for publicity can not be understated. Your goal here is to increase the visibility of your brand and generate conversation around it. The demographic you are targeting will influence the medium you choose to use.
Consider options such as:
Social Media
Source:
https://www.pexels.com/photo/apple-applications-apps-cell-phone-607812/
When it comes to 'what's new' or 'what's trending', social media is an unparalleled authority. Fortunately, that is exactly what you need to get consumers excited about your promo. They need to feel that your products are the 'in-thing'; so much so that they are curious enough to want to buy.
Influencer partnerships, advertisements, and interactive brand pages are some of the avenues you could explore. However, keep in mind that you will get a mixed bag of interactions and criticism. The success of your efforts will hinge greatly on how well you address them.
Related Reading: How to get consumers excited about your brand promotions in the social media Direct Message Section.
Promo Events
Hosting promotional events is an effective strategy for corporate branding.
If you plan your promo event the right way, the returns will be the equivalent of having struck gold. Unlike interacting with customers through ads and social media, a promo event provides for one-on-one encounters. You can provide information and samples, have a sale, and get feedback all at once.
The kind of promo event that is suitable for your brand may vary. A fashion show may work well for a design company but a makeup brand may get better results by offering mini make-overs.
Whichever event you choose to host, make it memorable, and one that everyone will be pining to attend.
Special Promo Packaging
Source:
https://pixabay.com/photos/beirao-liqueur-brandy-whisky-4620709/
The 'sale' and 'promo discount' labels are always attention-grabbing headlines for most consumers. For purposes of retail, they are a tried and tested method. Additionally, packaging your products in combo gift sets or adding complimentary items offers buyers more value. They are likely to be more enticed to participate in the promo.
Like box printing and cardboard packaging, limited edition packaging, when done right, is something that customers may appreciate as a memento of sorts. Take, for example, that you are running a promo campaign to commemorate an anniversary for your whiskey distillery. You could work with a glass bottle manufacturer to come up with a design for premium-quality liquor bottles specifically for that celebration.
Pricing and Access
Competitive pricing makes a difference in the reception of your campaign. If consumers feel that the hype is simply a way to get them to pay more, it can be off-putting. Focus on offering as much value as you can at reasonable pricing.
Granted, different markets have differing logistics; some are more complex than others. Still, to prevent customers from feeling left out, try and run accessible promo campaigns. Plan for them to be available in as many of your market bases as possible.
Corporate Branding: FAQ
What is Corporate Branding?
Corporate branding refers to the strategies used in promoting the brand name of a corporation.
Conclusion: Corporate Branding Strategies
Nurturing a relationship with your customers is a crucial aspect of your business. Approaches such as promos are a great way to make your brand more interactive while still driving sales. As far as marketing strategies go, you can not go wrong with the right promotional campaign.
Readers, please share so marketers discover these corporate branding strategies just in time to build their holiday marketing campaigns.
I look forward to your views in the comments section. Can you suggest any additional corporate branding strategies?
This post was contributed and made possible by the support of our readers.