Peter Nyiri
Coronavirus travel is not recommended. But when you don't have a choice, you can still be safe.
Disclaimer: This article wasn't written to provide professional advice. Your travel is at your own risk. I simply wanted to fill in the gap – there is not much information available on safe travel during a pandemic.
I am Peter Nyiri, full time blogger at FunnelXpert. I am also the creator of Mostly Blogging Academy. I have moved to the US in 1996, however after 20 years I ran into problems and I had to return to my home country.
I plan to move back to the US in the near future and my blogging business functions through US bank accounts. I have a green card and staying outside the US too long means automatic loss of the status. I was facing a tough decision – do I just let it go or take the risks. I decided to keep calm and go for it despite all the panic and all the advice not to travel.
You can find the cheapest tickets on Google Flights if you book ahead of time. Certain days are cheaper to travel than others. I paid $400 for a return ticket Budapest-London-Los Angeles.
Budapest: Prepare For Takeoff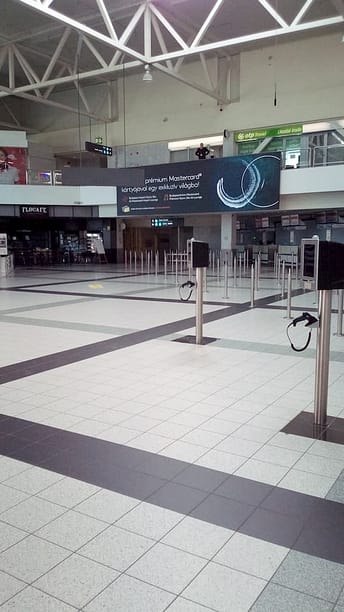 As you can see, Budapest airport is completely deserted. A few passengers waiting in masks. Some airport personnel are there to give directions, check-in counters only get manned shortly before the flight departure time.
Airport security is pretty much the same as usual. Even though this wouldn't be the prime time for acts of terror, no adjustments have been made to relax safety measures. You aren't allowed to pass with liquids or toothpaste.
There were about 10 passengers on the flight. Since this was a 2-hour flight, there was only water and crackers served (I got some extra pieces.) Because of COVID-19 regulations, aircraft personnel isn't allowed to prepare meals on board.
The crew of the aircraft were extremely friendly, with an extra amount of human touch. (Still keeping distance from passengers.) Although no one was bumped up to first class, I must say that I never had such a friendly in-flight experience in my entire life. I even asked them for a photo.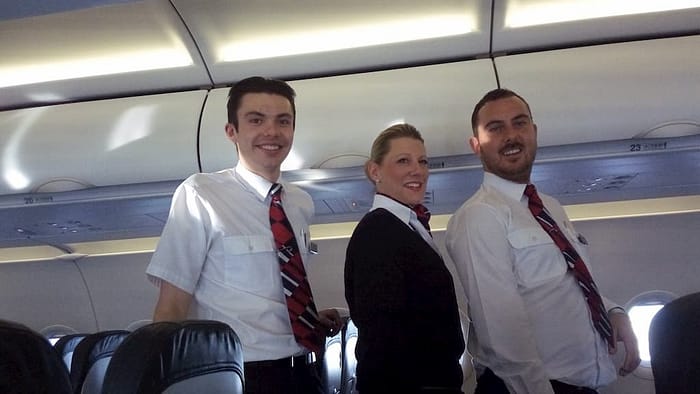 My first question was about the lack of masks. As you can see, they are not wearing masks.
Apparently, in the case of airport personnel, some wear masks, some don't. Masks are simply not considered an effective way of protection. If germs are on the mask, touching the mask then touching your face may transfer them. When you take them off, germs may fall on your hair and your face.
The best protection is constant sanitizing, washing hands, and they wash all their clothes instantly when they get home.
How come these planes are still flying? They answered this question to me and I got the same answer in an email from the CEO of British Airways:
For only the second time in our 100-year history, (the first being during the Second World War), the majority of our British Airways aircraft have now touched down in London, leaving just a small fleet flying to bring people home to their loved ones and to deliver critical supplies to countries and people in need.

Alex Cruz, Chairman and CEO, British Airways
Yes, the masks, medical supplies that come from China and other places, are being carried by these flights.
London Heathrow Airport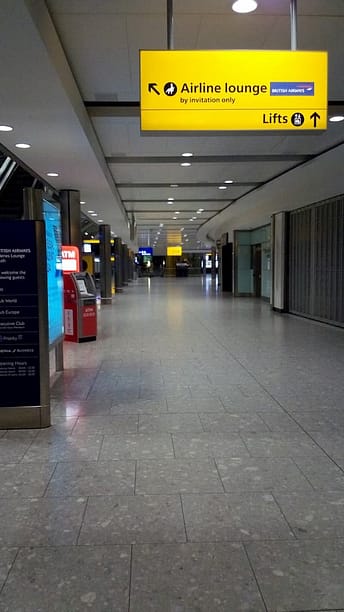 My itinerary included a night spent at London Heathrow Airport, my connecting flight to LA was only leaving the next morning.
No special screening measures were taken on arrival. The place was also deserted, except for the lounge.
Again I need to emphasize the exceptional care passengers received at the airport. My flight landed at Terminal 5, which was going to be closed during the night.
We were directed to go to Terminal 3, which still had some areas open during the night. The attendant from Gate 7 came over to the waiting lounge to escort us to the her area where we were able to sleep on fairly soft and comfortable chairs.
We were also woken up early in the morning, and by personally escorting us to the right place, they made sure we made it to the right lounge or shuttle. (In the meantime she reminded us to keep a distance.)
My Flight To LA
On the flight from London to LAX, we had 8 passengers, we could pick our seats. The food was served in plastic bags.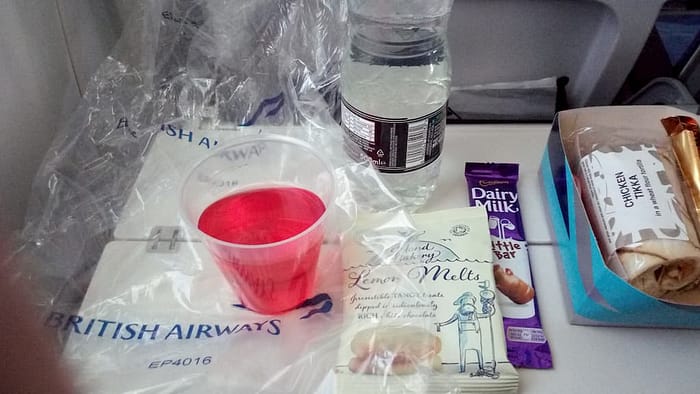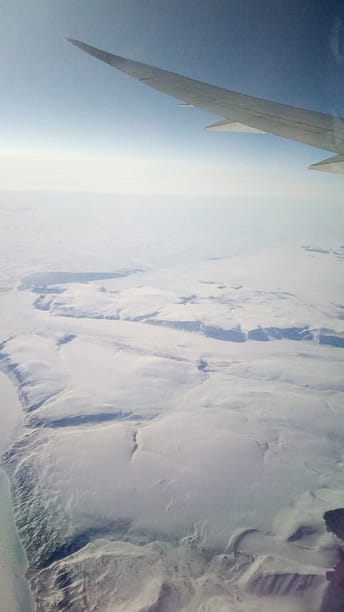 The view from the airplane was absolutely beautiful. The usual movies and other amenities were available.
Aircraft crew put out snacks and drinks onto a table; this way anyone was able to grab it when necessary.
Upon arrival to LAX, we were allowed to leave the airplane in groups of 3. We had to fill out a form with address, email and phone number and details of what country we visited.
Our temperature was taken and we received a Health Alert sheet that instructed to stay at home for 14 days and monitor our health and temperature, practice social distancing.
Since almost nobody was traveling, going through immigration was a breeze, no wait. FlyAway buses from LAX were leaving fairly regularly, with a small number of passengers.
Medical Risks: Obviously, there are medical risks that need to be minimized during travel – you need to make it through safely without getting infected.
Lack of Information: Traveling almost always includes tackling the unknown. It is even more true during times of pandemic. You never know what challenges you run into.
Travel Bans: The first thing is to make sure there is no travel ban in or out. Even though there is a lockdown and movement restricted to essentials, you won't be stopped.
Flight Cancellations: Lots of flights are getting canceled, but there are certain locations that still have flights. Make sure to do your research. If your flight does get canceled, you receive an SMS and you have the chance to re-book on a similar flight. If you decide not to fly, chances are you are not going to get a refund, but most airlines allow you to book another flight within one year. (You need to pay the difference in fare.) My flight changed twice before it was finalized.
Place to Stay: You can still reserve rooms. Airbnb returns your money without extra charges during the COVID-19 pandemic. Don't stay in a hostel-style shared room. Best if you can stay with a friend that has a room with a separate entrance, in case something goes wrong. But remember that even close friends may be risk-averse and decide they do not let you stay with them.
Communication: Phones that work in one country may not work elsewhere. I have a T-Mobile SIM card that works fine in Europe, but my phone is unable to register on any US network. You may be restricted to WiFi.
Wifi problems: Android phones have a problem – they connect to some WiFi networks, while others can throw them into a boot loop. Your phone keeps restarting when it tries to connect to WiFi automatically and you don't have enough time to turn WiFi off before it restarts again. The solution is to 1: Go to a location where there is no WiFi and turn it off. 2: Also have a Windows laptop as a backup.
Transport: Buses and trains may not run per their regular schedule. You also need to be super careful to keep a distance.
Food: Because of the low number of travelers, most of the shops are closed. But you can't take drinks past Airport Security.
Cleaning materials: There are obvious restrictions to take toothpaste, sanitizers past the security checkpoints, while my experience is that airlines may not provide sanitizing tissues. Take your own with you. They don't provide masks or gloves.
I hope that the above tips were helpful and contribute to making your trip safe, should you need to travel. If you have further advice or question, please comment below.
Readers, please share so other travelers or people considering traveling read this Coronavirus travel advice.