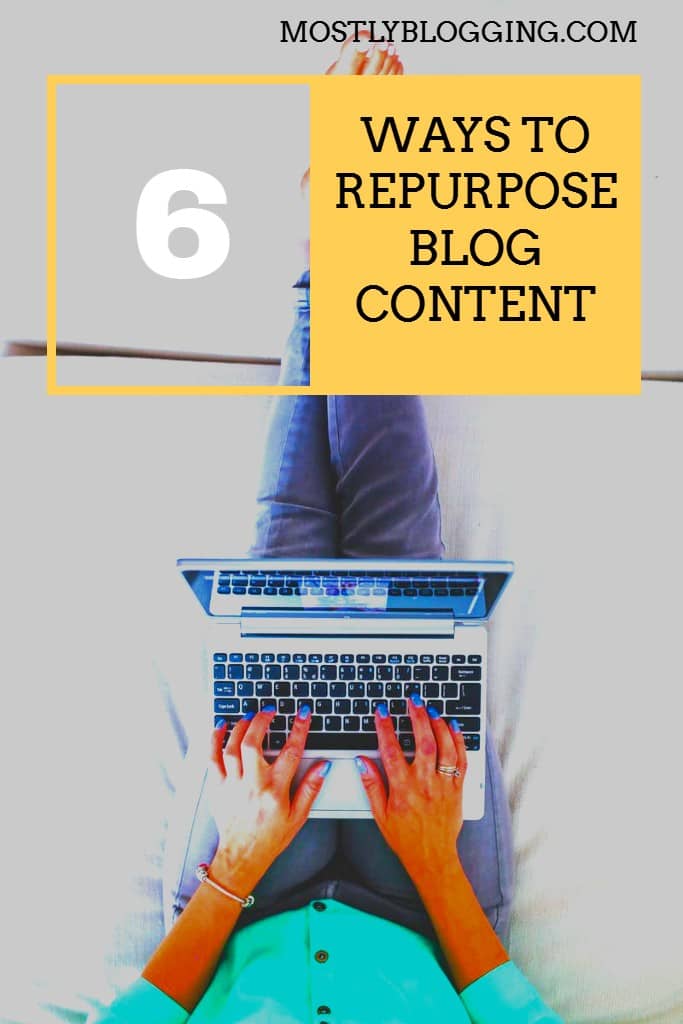 Are you interested in discovering how to use a free content repurposing service?
This guide helps video marketers, social media marketers, and content marketers boost their reach without needing an advertising budget.
By reading this post, you discover free content repurposing services that boost your brand's exposure and in turn boost your traffic and sales.
Organic reach is becoming harder to achieve and more marketers are paying to boost their visibility on social media sites and on search engines.
Continue reading to discover how to reach new audiences with just one piece of content. In other words, this guide to using a free content repurposing service boosts your organic reach and saves you time as well.
Image Credit
This guide shares two important strategies: You can use your previously published content to generate traction on social media sites as well as reach new audiences.
What does your dream blog look like? Do you see yourself smiling with fulfillment knowing you created a community of readers you serve without having to spend all day and night on the computer?
It gets better: In addition to teaching you how to save time and extend your organic reach, this guide offers marketing tips.
Let's discover how to use a content repurposing service to save time and increase traffic.
What is Content Repurposing?
Content repurposing allows you to appeal to multiple audiences with just one type of content. For example, if you've created great video content, your script can be used as the basis of text documents, such as blog posts or downloadable PDFs.
When you repurpose a piece of content, you are changing the format of the content and/or changing the target audience for the content.
Repurposing means to "find another use for."
By finding new uses for old content, you don't need to keep creating content in order to get blog traffic.
Content repurposing involves remodeling or building upon existing content for the sake of increased traffic and brand awareness.
Follow these tips to boost your organic reach to get new traffic from previously published content.
Content Repurposing Service Testimonial
According to the Social Bamboo podcaster Derek Videll, "Content repurposing is not only a good idea, but it is also one of the best ideas you can do."
Videll goes on to explain that by repurposing one piece of video content into a TikTok video, a YouTube Short, or Instagram Reel, you effectively boost your video's organic reach more than you would on any other social media site.
This guide to using a free content repurposing service shows you how.
Where to Find a Free Content Repurposing Service
Lumen5
Lumen5 is a free content repurposing service.
The service takes the URL of your blog post and converts it to a video format. You have many choices of formats for different social media sites. You even have a choice of "custom."
Look at how the content repurposing service repurposed the text to my post about Reddit crypto exchange platforms into a YouTube Shorts video:
To date, the video has received over 750 views in two weeks. Clearly, using Lumen5 as a free content repurposing service is a powerful way to boost your organic exposure.
TikTok
TikTok is a short video-sharing social media site. Although TikTok isn't known as a content repurposing service, you can use it as a way to change the form of your content.
For instance, TikTok offers a video editor that allows you to change the format of a video you have in your phone library. For instance, you can trim a video to a TikTok length video of 15 seconds, 60 seconds, or 3 minutes.
I also use the Splice app to trim videos into TikToks.
Look at how I repurposed a video I made for a dog brand by turning it into a TikTok:
Also, TikTok allows you to use your video as a response to someone else's video in a Stitch.
Next, TikTok allows you to use your video as a comparison or contrast to someone else's video in a Duet.
Look:
Andy L. Dooley is a fitness coach with 1.5 followers.
The boy on the right, @hoopin_nate, gets exposure through this combined video duet. The No Days Off account highlights sports prodigies and posted this.
Both the TikTok Stitch and Duet features have you combining your content with someone else's viral video content. The result: You gain the attention of a new audience, the audience of the viral video's creator.
This is a win-win situation. You get exposure to new audiences, and you get to grow your brand.
If you'd like to see more examples of duets, check out my TikTok account.
YouTube Shorts
TikTok's content is a vertical format. YouTube Shorts and Instagram Reels are also vertical. Therefore, repurposing your vertical video for use on these three sites is a free, time-saving, marketing strategy.
Video editors can edit into shorter parts. For instance, YouTube asks if you want to trim to repurpose the YouTube video into a YouTube Short.
By taking a long piece of video content and breaking it down into smaller segments, 60 seconds or less, you repurpose your content. YouTube's video editor lets me trim it down to 60 seconds.
Actually, when you post a vertical video on YouTube, you are asked if you want to trim it to 60 seconds so it qualifies as a Short.

YouTube has been pushing out its Shorts feature for some time, so posting a Short helps get your content organic reach.
Important: Put #Shorts at the end of your YouTube Shorts headline. This helps YouTube's algorithm realize you have a Short.
Instagram Reels
Since Instagram is pushing out its Reels, anyone seeking organic Instagram reach would be leaving exposure on the table by not using Reels.
Using Instagram as a free content repurposing service allows you this opportunity.
Look at how I took the same video you saw above and repurposed it into an Instagram Reel:
By looking at your Reel, you see an icon in the corner that differentiates your video as a Reel.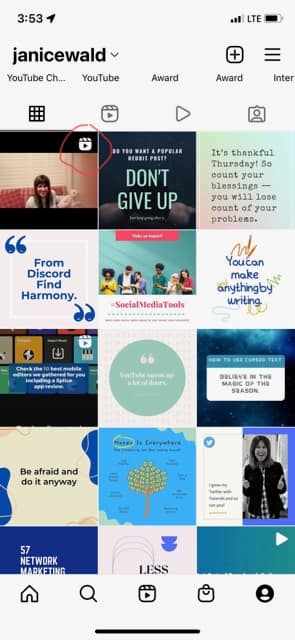 The circled icon indicates an Instagram Reel.
You can post Reels to your Instagram grid or your Instagram story.
Missinglettr
Another way to effortlessly repurpose a blog post is to turn it into snackable social quotes which are then automatically distributed by your social automation tool of choice.
Are you familiar with Missinglettr? Missinglettr is a free helpful content repurposing service.
Missinglettr is unique because it uses AI to create social content for you, so there's basically zero effort on the blogger's part to get the promotional campaign going.
Missinglettr repurposes your content into other forms of social media content like Twitter tweets which it does for me.
Missinglettr is similar to Lumen5. Lumen5 changes your blog post into a video. Missinglettr changes your blog post into short Quotables for social media sites.
Let's look at a post from Hugh Roberts' blog, Hughs Views and News.
Hugh uses the Missinglettr service. Missinglettr took Hugh's post, "Don't Have Enough Time to Draft Blog Posts?" and broke it down into digestible chunks like this.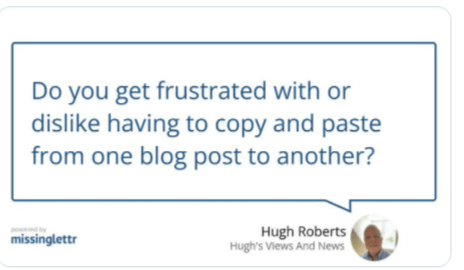 Missinglettr can create social media quotes for a variety of social media sites not just Twitter.
Let me share some data: In 2020, 1.3 million new users logged onto social media each day (Source). You can't afford to ignore this kind of audience.
Missinglettr creates social media posts for you. You get the advantages of social media exposure while Missinglettr does the heavy lifting.
Screenshots
Screenshots offer you the opportunity to capitalize on consumer-generated marketing.
When someone writes you a testimonial on Twitter, take a screenshot and post it in your Instagram feed or as an Instagram story.
This is a win-win-win situation. You get exposure to new audiences, you get to grow your brand, and you don't have to create new content.
Another Type of Content Repurposing Service
QuillBot
QuillBot paraphrases your text for you.
As mentioned above, a content repurposing service doesn't just take old content and repurpose it in a new format although that's a popular use of content repurposing.
A content repurposing service can also target your old content for new audiences.
For instance, QuillBot and an AI content repurposing service like QuillBot, can rewrite your content for new audiences. Save time and let AI do your writing.
Wrapping Up: Content Repurposing Service
In closing, this guide gave you six actionable strategies to get new eyeballs on old content while saving you time.
Readers, please share so bloggers and social media marketers seeking a free content repurposing service discover this post.
I look forward to your views in the comments section: Can you suggest more ways to repurpose your content? What strategies have worked for you?

Janice Wald is the founder of MostlyBlogging.com and co-founder of the Mostly Blogging Academy. She is an ebook author, blogger, blogging coach, blogging judge, freelance writer, and speaker. She won the Best Internet Marketer Award and the Best Blogger Award at the 2021 Infinity Blog Awards. Wald was also nominated as 2019 Best Internet Marketer by the Infinity Blog Awards and in 2017 as the Most Informative Blogger by the London Bloggers Bash. She's been featured on Small Business Trends, the Huffington Post, and Lifehack.