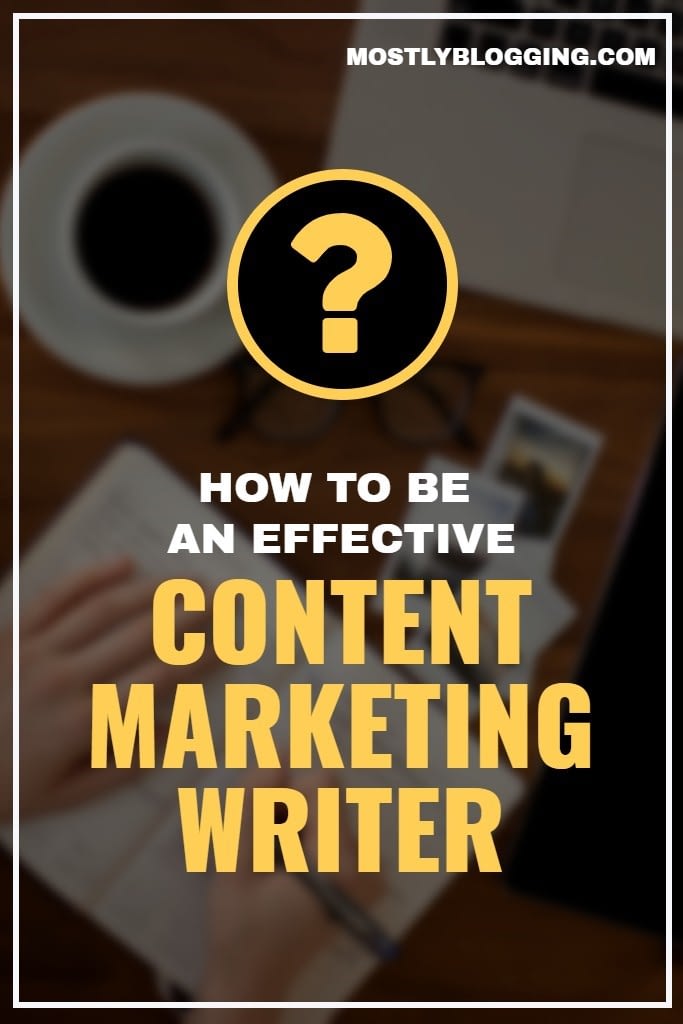 Are you a content marketing writer?
A content marketing writer needs to specialize in writing
Blogs
Infographics
Video scripts
Case studies
Ebooks
Clearly, a content marketing writer needs to learn many skills.
This guide to the types of content marketing a content marketing writer needs to master gives you information on all these types of content.
Let's get started learning how a content marketing writer can specialize in writing all these types of niche content.
What is a Content Marketing Writer?
A content marketing writer shares niche content, content in the blogging niche which centers around the same topic.
Content marketing writers create niche content with a purpose. The purpose may include lead generation or sales.
This type of writing is called "content marketing inbound marketing."
The content takes various forms. This post shares the various forms of writing a content marketing writer might specialize in.
Being a content marketing writer is one of the best day jobs for writers.
What Are the Different Types of Content Marketing?
Content marketing is a critical part of any digital marketing strategy. You aren't going to be able to put your business or brand in front of your audience without it. There's no way around that, yet it's still something a lot of businesses don't put enough time into understanding and implementing.
Content marketing is a key part of any SEO campaign and the general features that any type of content needs to have including being compelling, relevant, and easy to read.
If you can achieve those goals, then content marketing is the most effective digital marketing tactic.
The following are some of the different types of content marketing that you can use. You might want to choose a couple of the below options to build a more robust strategy and to appeal to a larger audience.
Blogs
Blogs are the most fundamental of all types of content marketing. Blogs are how your business can compete with a much larger organization.
What you do need to do is follow basic SEO writing rules, choosing keywords and phrases that people are looking for, and you can rank for (they should be fairly low competition but have a high search volume if possible).
It's a unique time to operate as a small business with that in mind. You don't have to have a huge marketing budget to be competitive, which is one more reason why content marketing should be an essential part of your overall growth strategy.
When you're blogging, you don't need to sell your business directly.
What you do need to do is choose keywords and phrases that people are looking for, and you can rank for (they should be fairly low competition but have a high search volume if possible).
Then, you need to create compelling content.
That's how you establish yourself as an authority to an audience, even if everything you're writing isn't a sales pitch.
Your biggest goal when you're creating blogs or any other type of content marketing should be that you are giving your audience value. You're answering a question or solving a problem for them every time you create content.
Infographics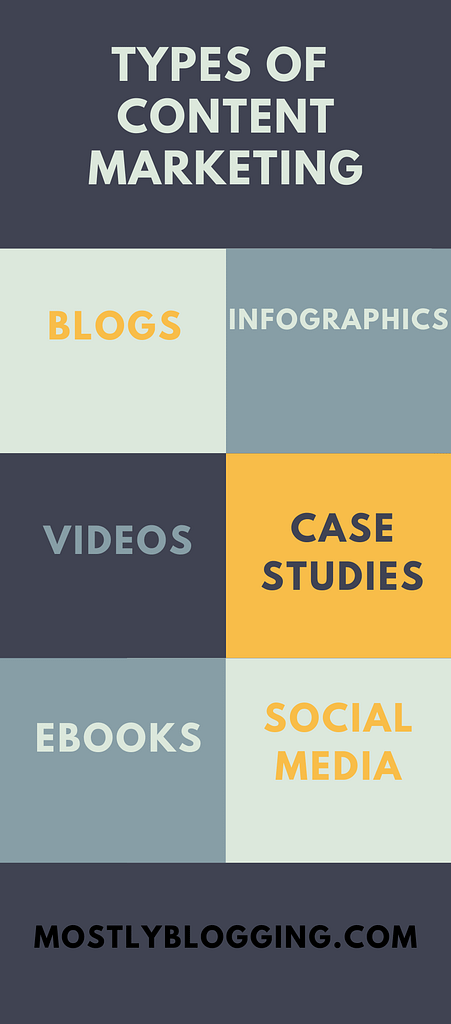 Infographics are great because they're impactful, easy to create, very sharable, and you can quickly convey a lot of information.
You can take otherwise complex or data-packed information and break it down into a way that's digestible and can be shared on social media.
The goal with an infographic, along with getting people to look at it themselves, is to get them to share it.
Visual bloggers have an advantage when they include infographics with their posts since It's fast and easy for an audience to share an infographic.
You can use an infographic on its own, or you can integrate them into your blogs. For example, if you create a really detailed and informative blog post on a topic, you can them summarize everything with an infographic.
Videos
Videos fall into the category of content marketing as well. Video content marketing is a direct, simple way to provide information and put a face to your brand in many cases.
You don't always have to have a person as part of your video content, though. You can also use text-based videos or graphics.
There are a lot of advantages to video-based content.
First, you can get more conversions.
Conversion rate is a big priority and metric for success in any digital marketing campaign. If you can't convert your leads, then you're spending money on marketing without getting a return.
The vast majority of marketers do find that video content tends to lend itself well to conversions.
Videos are also a useful way to connect emotionally with your audience.
They're highly sharable as a result. People want to share content with others that evokes emotions in them. Those emotions don't even always have to be positive for that to be true.
Making video content is also more accessible now than potentially ever before. You don't need expensive equipment or a big budget to make it happen, so why not take advantage?
Case Studies
A case study won't work as a form of content marketing for every business, but in many industries, they do.
Case studies let potential new customers see the journey of your current customers, and you can highlight the value you bring.
With a case study, you can explain in-depth your process and the outcomes it creates for your clients, and you can provide data and visual representations of information within the written content.
eBooks
The term eBook might sound intimidating, particularly if you're not a writer, but it's really nothing more than a long blog in many ways.
If you have a blog that performs particularly well among your audience, you might want to add to it and go into more detail to create an eBook.
Again, much like video content, there are a lot more inexpensive tools and resources available to create eBooks on any budget as opposed to just a few years ago.
Social Media
Social media can also be part of content marketing. Social media marketing is something that's driven by a need for engagement. You want your audience to be interacting with your content, including liking and sharing it.
Social media platforms provide robust tools so you can track how well you're doing.
What's good about social media marketing is the fact that you can actually use the other content you create for your website and other areas and then repurpose it for your social media.
When you delve into more in-depth content marketing strategies, you need to always have metrics that will determine how well you're doing and clear ways of measuring your data. You'll likely need to refine your strategy over time, based on what data tells you.
Then, you can start to focus your efforts more exclusively on the content that tends to perform the best for you.
You can build out your creation of those pieces of content that resonate most with your audience.
Finally, once you're at that point, you can start to use content calendars and other organizational tools to make your creation process more streamlined and seamless.
Content Marketing Writer: Frequently Asked Questions
What is a Content Marketing Writer?
A content marketing writer creates different types of content with a purpose in mind. The writing revolves around the same content niche and takes different forms such as ebooks and blog posts.
What Does a Content Writer Do?
A content writer creates different kinds of content. For instance, a content writer may create blog posts, ebooks, case studies, and social media content.
What Does a Content Marketer Do?
A content marketer creates content with a goal in mind. The goal may involve lead generation or sales.
Wrapping Up: Types of Writing Needed for a Content Marketing Writer
In closing, this post shared what it means to be a content marketing writer. In addition, this post shared an explanation of the six types of niche content content marketing writers need to learn to be successful content marketers.
Readers, please share so marketers discover the types of writing a content marketing writer needs to know.
I look forward to your opinion in the comments section. Do you have any additional suggestions so a content marketer can be a successful content marketing writer?
Authors: Susan Melony and Janice Wald

Janice Wald is the founder of MostlyBlogging.com. She is an ebook author, blogger, blogging coach, blogging judge, freelance writer, and speaker. She was nominated as the 2021 and 2019 Best Internet Marketer by the Infinity Blog Awards and in 2017 as the Most Informative Blogger by the London Bloggers Bash. She's been featured on Small Business Trends, the Huffington Post, and Lifehack.
This post was made possible by the support of our readers.