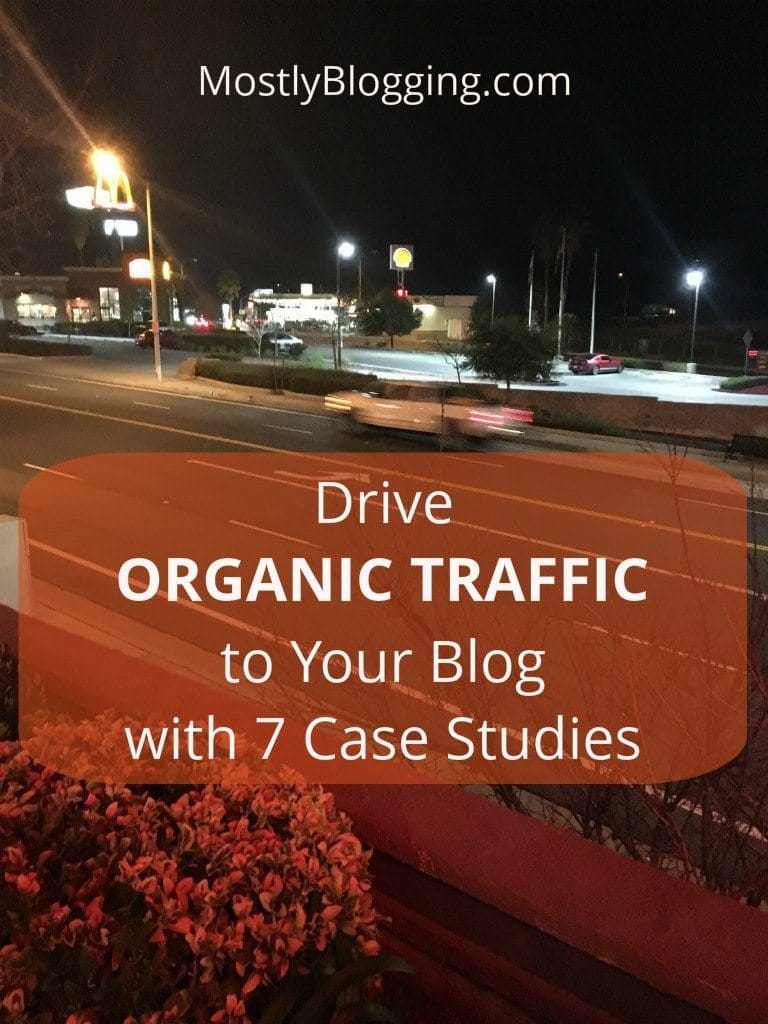 Are you familiar with the concept of content marketing?
If so, are you aware of how it can help you?
You would use content marketing to try to monetize your blog to a subscriber.
Whether or not you are ready to make money blogging, the tips in today's post are important since they will help you improve your search engine optimization.
If you follow them, you will be able to get your blog to the top of Google's rankings. Does seeing your blog posts on the top of Page 1 of Google sound desirable?
Today's guest author Ahfaz Ahmad is here to offer us examples of how companies that significantly boosted their organic traffic, or traffic coming from search engines.
Follow the examples offered in these content marketing case studies, and you can see a dramatic increase in your search engine traffic too.
What is Content Marketing?
Content marketing is a marketing approach focused on creating and publishing quality content. Both bloggers and marketers take these actions. Content marketers continue until they attract and keep a targeted audience and eventually make an income.
7 Case Studies That Prove The Power Of Content Marketing
by Ahfaz Ahmed
One of the biggest challenges that many companies face is content marketing. And content marketing has its own problems.
76% of B2C  [business to consumer] marketers report using content marketing, yet only 37% say their strategy is effective says the content marketing institute.
This simply explains that many people still struggle with content marketing.
But not all struggle with it. If you are willing to adapt to the changes and try something new, it is possible that it will benefit you.
In this article, you will discover 7 case studies that prove the power of content marketing. You can learn from these case studies how to create content by a proper plan and strategy.
So let's begin.
Content Marketing Case Studies
Backlinko Increased Its Organic Traffic by 175.59% Using Visual Content
If you want to discover proven ways to increase website traffic and rankings, then Brian Dean is the guy you are looking for.
He writes extremely detailed content with proven tips that work. One of the techniques that you may have heard of is the Skyscraper technique.
But recently Brian used the power of visual content to increase his website traffic. He used infographics to drive his organic traffic.
By this technique which he calls "The Guestographic Methods", you can easily build links to your website.
It basically involves creating an infographic that provides great information and also has a great design. The demand for infographics has wildly increased in the recent years.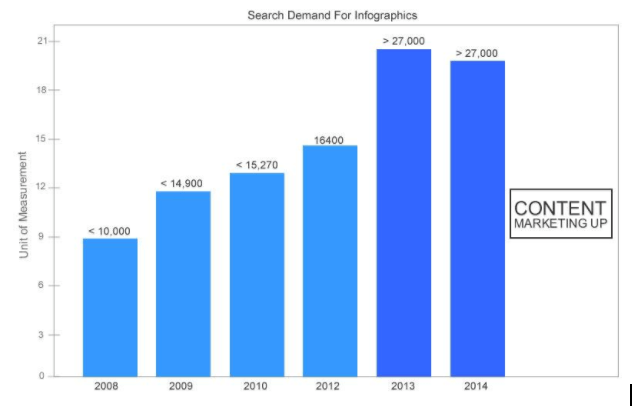 So this is what Brian did:
Published a really great infographic on his website.

Found link targets.

Showed his infographics to them.

Let them share the infographic and provided them with free content.

Added the link in the free content.
This method worked great not only for him but also for Perrin Carrel who runs a pet blog. He was able to increase his organic traffic by 963%.
Brian proved the power of visual content marketing and now you should give this technique a shot.
[Read: How to Easily Increase Your SEO using the Skyscraper Technique]
Express Writers average 500-700 visitors in organic traffic daily
Express Writers have truly utilized content marketing to great success. They outrank 95% of their competitors in their industry with their content marketing plan.
Their content marketing plan is very simple but effective.
They publish four 2000-word pieces of content on their own blog and 4-6 more pieces of content for major guest blogs.
And this plan helped them improve their website traffic and search engine rankings. They average 500-700 visitors in organic traffic daily.
Now most of you might be thinking:
I also regularly post articles on my blog. Why is my blog not growing?
This may be because your articles are not of high quality or they do not provide value to the audience. Also, the content length matters a lot. If you are publishing 500-700 words articles, then no one would read your articles and they won't be ranked higher on Google.
The average content length of the top 10 Google search results is at least 2000 words.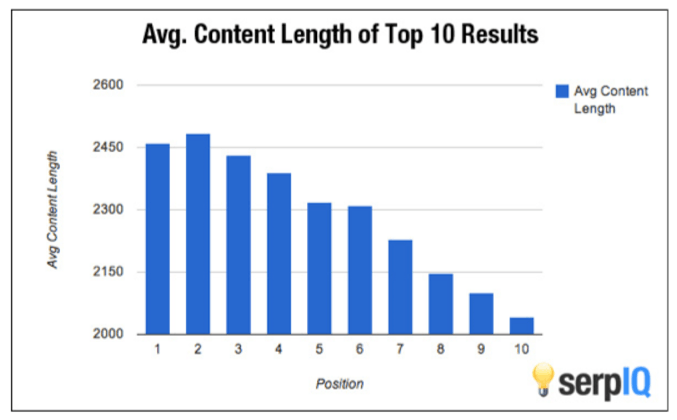 To sum up, Express Writers have proved the power of copywriting. Their content marketing strategy was very simple compared to others.
But the way they made their strategy effective is very important.
[Read: 9 Tips for Writing Long-Form Content That Will Make You a Better Blogger]
ShoreTel Sky increased their organic traffic by 50.8%
ShoreTel Sky is a company in the cloud-based phone systems industry. Their content marketing strategy helped them boost their organic traffic by 50.8%.
One of the best things I like about their content marketing strategy was they did not just focus on creating content. One of their keen focus was conversion optimization.
This is what ShoreTel Sky's content marketing strategy looks like:
As you can see, they focused on creating 200-400 words authoritative news articles. They also planned longer 600-word articles in their monthly publication.
The company's main focus was on consistency in their content marketing strategy which helped them achieve long-term goals.
After the implementation of their content marketing strategy, ShoreTel Sky experienced a 181% growth in their inbound links.
InsideOut Improved Its Lead Generation by 388% After adding Content
InsideOut is a global provider of leadership, management, and corporate training. At first, they were reluctant to try content marketing.
The reason behind this was:
If a company's revenue is solely based on content, why should one give it away for free?
But after seeing the positive results of content marketing in other industries, InsideOut developed a content marketing strategy.
Their main focus was to create compelling content and use it to attract more sales and leads. And their principle behind creating great content was:
Be bite-sized

Be simple

Be visually compelling

Be unique
They followed these four principles for creating content. And to promote their content, they used email marketing, social media, lead gen forms and public relations.
The best results were given by email marketing.
Content helped them increase their lead generation by 388%. That is really huge.
This showed how content helped them boost their lead generation.
[Read: 4 Reasons Why Building an Email List is More Important than Ever]
Rental History Reports Increased Its Organic Traffic by 400% In Just 6 Months
Rental History Reports helped building owners and landlords who needed professional background checks. This company had been in this business for around 20 years.
To increase their organic search traffic, they found the solution which was to boost their content marketing.
And to do this, they provided high-quality, optimized content that would help consumers and also the company. Their content included target keywords that their consumers were searching for and focused on creating content consistently.
The results were pretty awesome for them. With this content marketing plan, they were able to increase their organic search traffic by 400% in just six months.
Moreover, this also helped them to establish themselves as a leader in the industry.
The biggest takeaway from this case study is that if you focus on the keywords that your readers are searching for, you can get great results from it. So, it is very important to do a proper keyword research and create content according to it.
[Read: This Is How to Rank for Long-Tail Keywords, 5 Free Secret Tips]
Zillidy Search Impressions Increased 1350% In First Ten Months
Zillidy is a startup that was recently started and is a pioneering personal lending asset in Canada.
This startup faced many marketing challenges and wanted a solution. To overcome the challenges they were facing, content marketing was the solution they found.
They started contributing articles to high authoritative websites like The Huffington Post and New York Times.
Their content marketing strategy was to plan, create, and promote properly which worked greatly.
The best thing they did was to promote their content that helped them a lot.
Promoting their content helped them improve their social media audience from 100 to 1000. They now have over 2500 social shares to their content.
Also, their search impressions increased by 1350%. Finally, they were able to achieve their goals and content marketing worked well for them.
What you can learn from this is how strong social media can be to increase your audience. Don't just focus on organic traffic.
[Read: 6 Ways Unique Social Media Tactics Can Help You See New Readers]
Graphic Tunnel Increased Its Organic Traffic by 211% By Outranking Its Competitors
Graphic Tunnel is a website that I started in 2014 to share my graphic design skills and help people learn graphic design.
In a period of 6 months, the organic traffic was only 20-40. But then after making a list of the website's competitors and implementing a new outranking strategy, the organic traffic boosted by 211%.
The content marketing strategy implemented was called "The Sweet Steal Technique". This technique basically involves making a list of competitors that have the same or less authority and targeting the keywords they are ranking for.
The strategy was implemented on October 2015 and the organic traffic improved within a month.
This way you can also outrank your competitors by creating content they are ranking on for Google.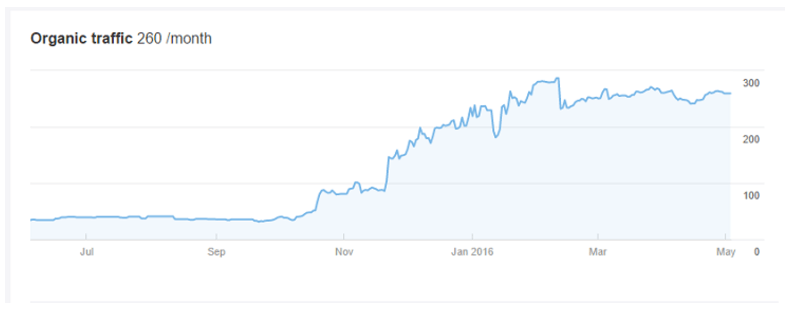 Wrapping It Up
So these were the 7 great case studies that have proved the power of content marketing. You can find many more case studies on content marketing across the web.
You can use these case studies to find out what worked for these companies in their content marketing strategies.
Before I sign off, I want you all to share how content helped you to improve your website traffic, sales, and revenues.
Do share your success in the comments section. And if you really liked this article, share it with others and share the love.
Author bio – Ahfaz is a content writer and a growth marketer who loves to write about internet marketing. He aims to create detailed and actionable content that moves the needle and makes an impact on the user. He takes on a step-by-step approach in his articles and is obsessed with extremely detailed articles. Website link – https://ahfazahmed.net
Host blogger's comments:
At the end of the article, I took the liberty of interviewing Ahfaz. Here is an excerpt from the interview:
Question 1:
Early in the post, you recommend lengthy posts. You wrote Google likes lengthy posts and views the longer posts as quality content. 
Then, you discuss how Express Writers had several short posts.
Which is better? Short or long? I heard long, and your first tip says long, but then why did the Express company do so well with short?
Ahfad's reply:
I recommend lengthy posts. But since Express Writers did well with short posts, I had to mention that also. 
They did well because they were consistently publishing content and also promoted it. And alongside their short posts, they were also publishing four 2000-word articles. That's why it worked for them. 
Question 2:
You mention in another article that a company's impressions grew on Twitter.
This means people saw the tweet.
1. Why is this good if no one clicks the link?
2. What would cause impressions to rise?
Answer 2:
Higher impressions increase the chances of more people clicking on the link. For example – If my tweet receives 100 impressions, only 1-2 people will click on the link. But if the tweet impressions are around 1000, around 10-20 people can click on the link.
There are many reasons for an increase in impressions. Some are:
1. Increase in followers
2. Use of hashtags
3. Use of visuals
4. Posting regularly
Question 3:
How many page views does your blog receive from search engines each day?
 Answer 3:
300
Question 4:
If we follow the tips for SEO optimization, how long will it take to see results in search engines?
Answer 4:
A minimum of six months.
Conclusion
We can draw several definite conclusions from Ahfad's content marketing case studies. First, his examples show the possibility exists of boosting your organic traffic by well over 100%.
Next, if these companies can boost their search engine traffic, so can we. Finally, if we do want to market our content and monetize our blogs, better visibility in search engines will boost our chances for monetization.
Ahfad's last answer reminds me that blogging is called "a marathon" not "a sprint." In other words, bloggers need to be patient.
Am I willing to wait six months to see my blog at the top of search engines? My response is "absolutely;" Google, here I come! What's your response? What are you doing to increase search engine traffic?
I look forward to your answers in the comments section.
Readers, please share, so other bloggers and website creators learn Ahfad's tips for receiving massive search engine traffic. If you share, other content creators will discover these 7 content marketing case studies.