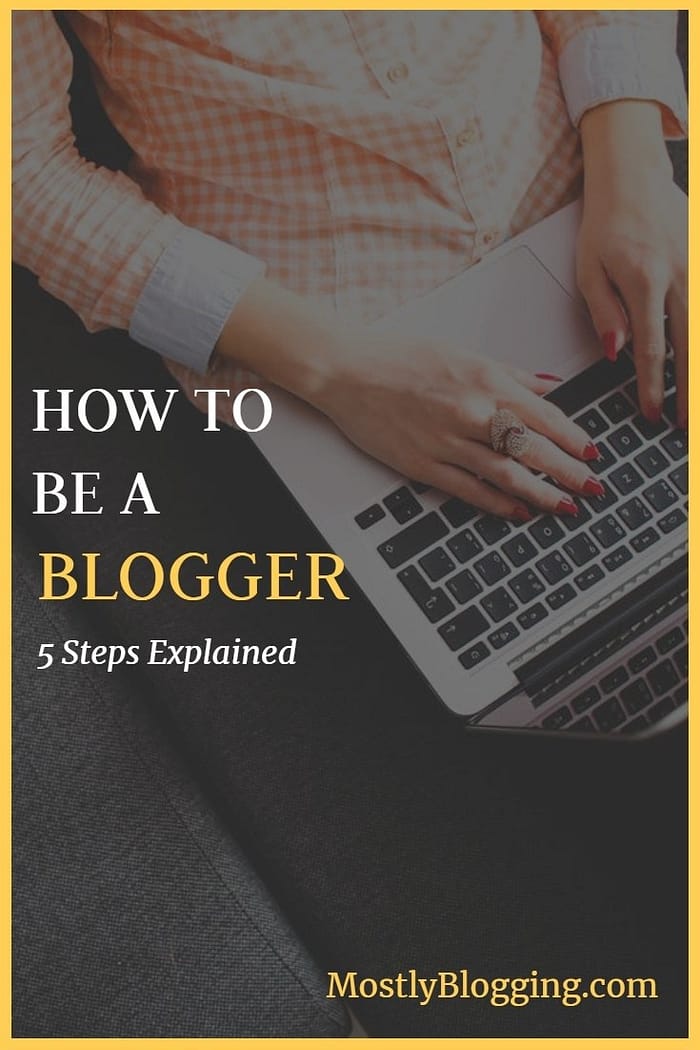 Start a Blog in 5 Easy Steps [Explained]
This post was contributed.
Are you a content creator blogger?
Everyone has a talent, and showing your talent to the world is the best reason to start a blog.
Whether it is writing articles about web design or macramé, there are so many great reasons to be part of the blogging community.
Some people blog for fun while others are experts at making their blogs into money-making enterprises.
Blogging should be fun, but many bloggers stop before they start because they are unsure how to get their blog going. The good news is starting a blog is actually pretty simple, and if you follow the 5 steps listed below, getting your blog up and running will not take very long at all.
What is a Content Creator?
A content creator is someone who is responsible for the creation of content. If you're a content creator blogger, a content creator who blogs, you produce content for the purpose of being published on the internet.
A content creator blogger usually targets a specific niche with specific audience members in mind. This audience is called your "target audience."
How to Become a Content Creator Blogger
Step 1: Find a Blog Host
There are many options for different blog hosts. Some options essentially make building the blog really easy while others will require a bit of technical knowledge.
Some of the most popular Content Management Systems (CMS) are Weebly, Wix, Squarespace, WordPress, and BlogSpot. The truth is there are many out there, so find one that fits your comfort with site development and user-friendliness. Many people think WordPress is the easiest blog platform to use because the wide availability of themes and extensions gives bloggers lots of options. Another advantage of WordPress is the ubiquity of videos and tutorials showing how to install extensions and maximize the usability of WordPress.
Other hosts like Wix and Weebly are far more restrictive with what can be done. These sites allow you to pick and choose different themes and extensions that have already been created. Usually, the most that can be done is changing colors and fonts. However, if you're leery of doing more than changing colors, these are hosting services that are right for you.
Step 2: Choose a Name
This is admittedly a little more complex than titling your blog "Mike's Molasses." There are a few things to consider.
The first is your audience. The name must connote expertise while at the same time be inviting. Also, the name should be available as a domain – but more on that in a minute.
To help choose a name, a simple thing to do would be going to Google. Take a look at different blogs that appear on Google's Page 1. There are lots of names you can riff on without making it too close to the original, and therefore being plagiarized.
As for domain names, there are a few ways to go about this, but an easy way is to visit any domain registrar.
Selecting a domain name there is easy, just type in the domain you would like. It will check to see if the domain is available. Most of the time, they will be for an affordable rate.
If it is not available, go for another name or you can negotiate with the existing owner by contacting them and see if you can buy the domain.
Last, you can always use a blog name generator. As you can see in this post, there are many blog name generators to choose from.
Once you have the domain and the hosting solved, things get a bit easier.
Step 3: Set Up Your Blog Site
If you are using Weebly or Wix, this is pretty easy. Just select the different elements that catch your fancy and you are ready to go.
However, WordPress does require a little more time but it's worth it. Select the themes and extensions for your blog.
A great plugin for the blog is YoastSEO. This plugin will help your blog gain greater visibility on search engines. Furthermore, the better your search results, the more visitors to your blog.
This helps for monetizing your blog. WordPress has tons of great themes and extensions; you can add an e-commerce store as well along with dropshipping.
As you get your site ready for the writing, the fun of the design is over. However, you still may need to tweak things from time to time.
With WordPress, it is very easy thanks to the settings menu. Updating your plugins is easy as well. Make sure to have the updates set to automatically download to keep your site working effectively.
Step 4: Write Your Post
Think you can just sit down and write your post? Think again – there are some tactical requirements for making your posts relevant.
One of the first things is SEO. There are a lot of SEO programs, but instead of paying for an SEO service, conduct keyword research. An easy hack is just typing your topic into Google and reading a few posts. You'll see which keywords are prevalent.
Make sure you note the different keywords, and then go into your Yoast SEO plugin and fill out the information including Focus Keywords along with the Meta Description.
There are other things to note as well, including how to use Headings or H1's. It is important to get your keywords and phrases into these headings. Search engines scan the pages and will move your blog up the list if the keywords appear in the right places. Make sure keywords are in the first paragraph as well.
Another consideration is making your blog appealing and easy to read. Tools like Flesch-Kincaid are overrated. Some tips would be varying your sentence structure and be succinct. Do not use 10 words to say what four words will.
Step 5: Promotions
There are a couple easy ways to promote your blog. The first is using social media. Twitter, Facebook, SnapChat, and Instagram are great vehicles to promote your blog. An easy hack is following similar blogs and complimenting their work. Usually, they'll follow you back and will promote your work in turn.
Another wise thing to do is to link to similar content. If you are liking what is in a similar blog, link it to your written content.
A great technique is sending a note to the writer and asking permission to link to their content. They won't say no.
You can send the article their way after it is completed, promote the author in your social media channels, and more often than not the other author will reciprocate.
The more you promote your blog, the quicker it will ascend to the top of Google.
Wrapping Up: Content Creator Blogger
In closing, there are many kinds of content creators. There are also many kinds of online content creators.
However, to be a content creator blogger takes a certain finesse. This post explained 5 ways you can get your new blog off the ground and running in no time.
Readers, please share so a content creator who aspires to be a content creator blogger learns these steps.
I look forward to your views in the comments section. Are there any additional ways you can suggest to be a digital content creator?
This post was made possible by the support of our readers.