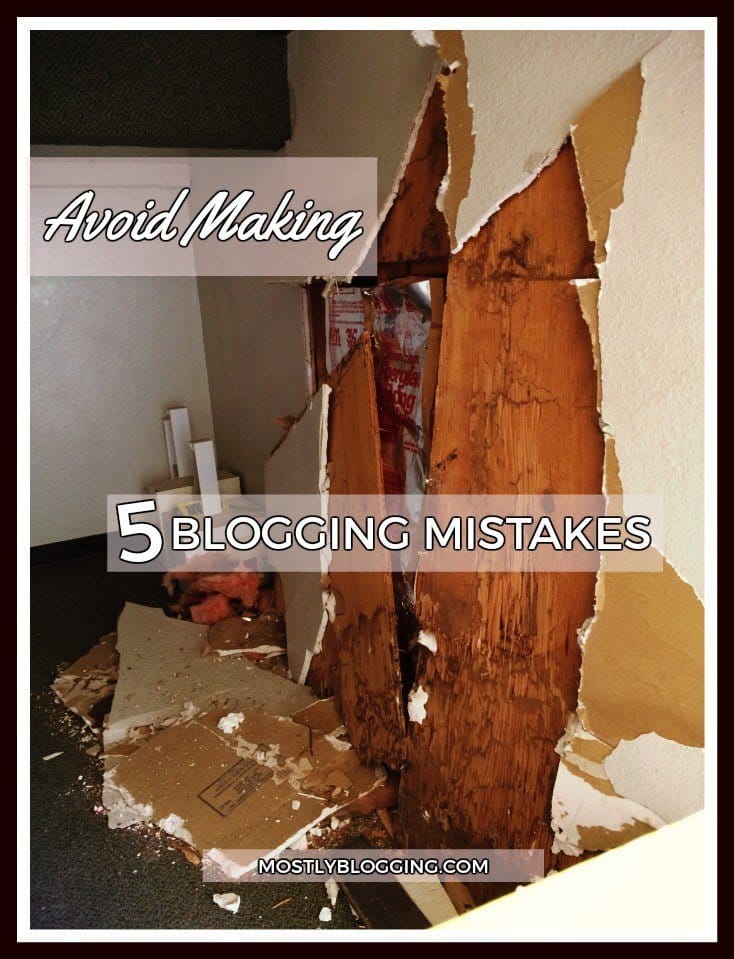 According to statistics, 18 million people write blog posts. As my guest author Peter Lee points out, the competition is fierce. You need to do what you can to attract readers. Peter, a professional writer, is here to explain what bloggers can do to get ahead of the competition for readers– avoid five mistakes.
Although he directs his advice toward new bloggers, these are important reminders for all of us.
Content Creation Mistakes That Beginners Make
If you are writing online content, then you are very lucky because you are operating in an arena where your competition is terrible.
Online content is a tiny step up from what you see on social media, and in many cases, there are posts on Google+ that are far superior to static web content [static Web pages contain the same prebuilt content each time the page is loaded].
Try your best to avoid falling into the "terrible" category as an online writer. Here are a few mistakes that beginners tend to make.
The size of your paragraphs
When you write a book, you can have paragraphs that take up pages, but when writing online content you are severely limited. Part of the reason is longer paragraphs are hard to read online, and the second reason is because most online users are skim readers and long paragraphs push them into a skim reading mode.
Take a look at the paragraphs in this article. They are not too long, which means they are easier to read and less likely to have you start skimming while you read.
Avoiding using visuals
There are plenty of posts that do not require images and visuals. In fact, in cases where you are giving advice, it may be better to avoid visuals because they may make light of the information you are trying to disseminate.
Nevertheless, in most cases, the use of visuals such as movies, graphics, and images will help to enhance the user experience. You have to be careful how you do it because you need to match your images to your content very carefully to avoid misunderstanding and to avoid scaring off your target audience.
A lack of subheadings
The tradition of using subheadings in online content is now so common that people expect it. Without subheadings, there are many people who will simply refuse to read your content. You have to remember that most users have already skim read their way through various other articles before finding yours. They are going to want to know if your content is usable very quickly.
Headings give people a vague idea of what the article contains, and it allows people to skim over the bits they think they already know.
Using fonts that are tricky to read
This is really a novice trick. People think that fancy fonts make their content look good, but if they make it difficult for people to read, then they will not bother with your content. Do not make the reader's job any more difficult than it has to be.
Also, the font "Times New Roman" is used so much that some people genuinely detest it, so keep that in mind when picking your font.
And finally…
Letting emotions guide your blogging decisions
You are not a novice Internet user. You have probably used the Internet for many years and are well aware of what is annoying about online content. Avoid these aggravations in your own content.
For example, if auto-starting videos bug you, then they will bug your viewers. If overly long introductions bug you, then they will annoy your viewers.
Look at the mistakes others are making and apply what you have learned to your own content. Don't forget that you have an emotional attachment to your writing because you created it, and this attachment may blind you to your work's faults.
Admin blogger's commentary: Readers, although the competition is staggering, there are steps we can take to stand out when creating content. Peter's tips explained what some of them are.
Bio
Peter Lee is writing for Scholar Advisor and wants to improve the overall quality of content on the internet. Feel free to connect with him on Google+.
Readers, please share, so other bloggers avoid making these mistakes.
Which of Peter's tips do you consider most important? Are there any other mistakes you'd like to caution bloggers to avoid? I look forward to your views in the comment section.
Readers, MostlyBlogging is looking for guest authors on any blogging-related topic. Here are the guidelines.
Related Posts
Never Make Grammar Mistakes Again–How to Use Grammarly
8 Backlinking Mistakes That Every Blogger Should Avoid
Don't Make These Mistakes with Your Blog Security
Do You Make These 3 Blogging Mistakes?
7 Tips I Wish I Knew When I Started Blogging