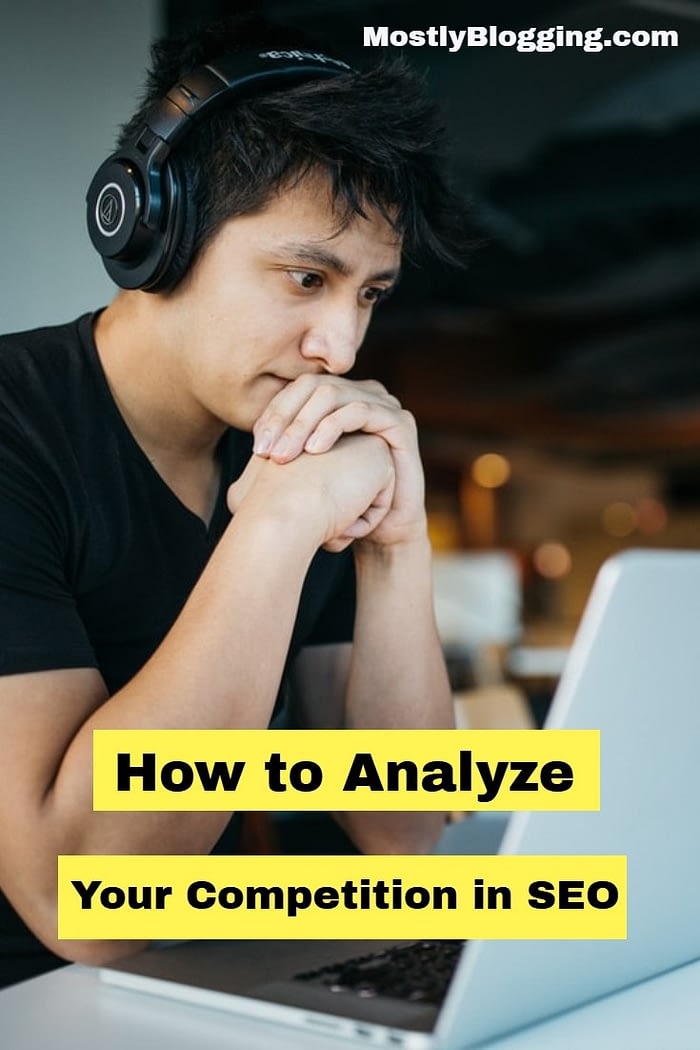 Are you familiar with the competitive intelligence process?
This guide explains how to check keyword competition in Google to boost your rankings in the Search Engine Results Pages (SERPS).
Keyword research and analysis is the ever-challenging task in SEO but for a good reason.
Today, in this post, I'm not going to take you through regular keyword research. Instead, let me help you with how to check keyword competition in Google.
By the way, how do you define the term 'profitable keyword'? It's so simple – the keyword with a huge search volume and low competition. Do you agree with me?
Have you ever found such a great keyword to target? Sure, you have!
So, you had awesome content targeting that particular keyword. You did a great deal to rank your page for that keyword. But, you didn't rank as you expected. Why?
I guess you didn't check the keyword competition before targeting it. You are not alone. Most of the people don't take into account how competitive their target keywords are.
The Competitive Intelligence Process includes examining your competitor's
Keyword in the Meta Title
Keyword in the Permalink
Keyword in the Meta Description
Keyword in the Page Title
Keyword in the Content
By the time you are done reading this post, you will understand keyword competition, be able to analyze keyword competition, and apply the Keyword Golden Ratio.
Let's get started learning to understand and apply the competitive intelligence process.
Understanding Keyword Competition
Don't just rely on a keyword tool to identify the competitiveness of any keywords.
Keyword competition is nothing but the level of difficulty in ranking for the specific keyword. Consider how many pages you have to beat to rank for that keyword.
Indeed, the keyword's overall popularity and its level of competitiveness within the industry influence the competitiveness of the keyword.
Analyze the Keyword Competition
The competitive intelligence process is easy if you follow these steps.
Keyword ranking prediction is a nightmare for SEO's. You can figure out the keyword that has the interest and whether your site is capable of ranking for it in two different ways.
Following the competitive intelligence process would be more helpful. In the first method, let's discuss how to accomplish it with a 10-second competitor analysis on SERP.
Check keyword competition analyzing SERP results
Choose the 10 prospective keywords on any topic you are about to write.
Then, hope you have the MOZ toolbar for chrome is installed already. If you don't have, get it now. It's free.
Now, enter your prospective keyword in Google search.
Run through the SERP results. More specifically, the first 10 in the SERP targeting the same keyword are your competitors.
Let's analyze those 10 results. What to look for in those 10 ranking pages?
Here are some of the good signs to understand that the particular keyword is worth targeting:
Low authority sites ranking for the target keyword. That is if the page ranking with low DA (less than 50 or 40) is acceptable. MOZ toolbar will fetch you this data for all the SERP results.
If any YouTube video is ranking since such videos aren't content-rich
Pages from Quora, Medium, Pinterest, forum threads, etc. ranks
Any general article website like Ezine, eHow, and that kind of pages are ranked for the keyword
If the competitor pages are not ranked much for SERP features like People Also Ask, Knowledge Graph, site links, etc.
Google Adwords ads show the value of the keyword. So, it good to target the particular keyword
Ignore or set least priority to those keywords for which –
High authority pages are ranking for
If there are excessive SERP features, the competitors are ranking for
More SERP features can possibly get your pages ranking for it, but the click-through rate will decrease since Google serves more SERP features.
This analysis will help you prioritize even a big list of keywords. Pick the best one that is top-prioritized, inspecting the good signs from the 10 SERP result pages.
Indeed, this way is quite simple and easier.
Measuring the keyword difficulty manually
The second idea to check the keyword competition or ranking difficulty would be super-efficient.
To explain this one, let's take the keyword "SEOPressor alternative".
Search for the keyword in Google and check as below. Here are the five steps in the competitive intelligence process in SEO.
1. Keyword in Meta title
Check if the competing sites have the target in their Meta title.
Be sure, Meta title and page title are different. The meta title is the one that appears in the SERP (in blue color).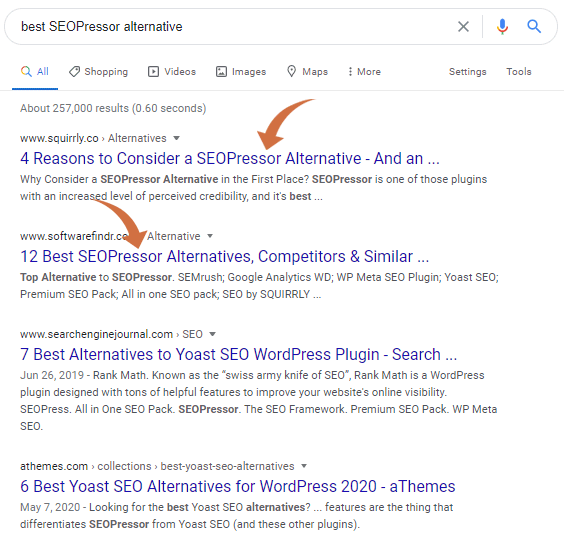 Here, in this case, only the first two results (from the top 4 results) have the keyword in the Meta title. It's a boost for you!
Especially if your site is brand new, make sure your Meta titles are properly optimized for search engines.
Keep the primary keyword at the beginning of the title, if it suits naturally. Otherwise, leave it!
2. Keyword in the permalink
Creating a new post or page, you will find a field "permalink". This will be your page/post URL once you publish it.
Like other fields, you can't change the permalink later. So, optimize it as much as when it is in the draft.
You keep it short and descriptive, including the target keyword.
Unfortunately, for this keyword, most of the top-ranking pages are category pages. So, there are greater chances to have your permalink optimized with the target keyword and get it ranked.
3. Keyword in Meta description
Like above, just by glancing over the SERP results, understand how your competitor page's Meta descriptions were written.
A meta description may or may not be an impactful ranking factor. Regardless, writing good descriptions can help you always.
Google highlights (bolds) the keywords in the Meta description. This tells the readers that your page deals with a subject that they are looking for. That results in improved CTR (Click Through Rate). Indeed, this is a great ranking factor.
Though it may not directly impact your rankings, descriptions can help search engines understand the topic relevancy, including primary keyword and related phrases.
Here are some of the tips to write Meta descriptions better –
Keep your keywords in the Meta descriptions
Use action-triggering words like check-out, read, get, etc.
Tell users that you have a solution for their searches (make sure you have it in your content too)
Here is how Janice Wald keeps the description for her SEOPressor alternatives post.

Sometimes, even experts don't use exact keywords in their descriptions since they don't concern SEO here. They just want to single-out them and tweak users to click-through their pages.
4. Keyword in page title
Page or blog post title is the one in the H1 tag that the users will see when they click on your page from the SERP results.
Probably, the competing sites will also have the target keywords in their page title. Make sure you have it in the beginning.
While writing your page title, forget about SEO. Keep the focus keyword in mind. Take some time and think. Guess the major problem your target users might have about the topic.
What might they be searching for about the topic?
Use headlines or titles to pin-point the solution you can offer through that page. Make it eye-catchy, inviting, and friendly.

Compared to other competitive pages, this is quite impressive. When you are not happy with any particular tool, you will search for its alternatives.
Here, this title helps the users make sure their decision is right, and they need an alternative to SEOPressor. Indeed, you're suggesting them an exciting solution too. So, it would greatly work in compelling users to engage in reading.
Similarly, you can have related keywords in other subheadings. Even having keywords in H2 is still a ranking factor. But, keep it only if it naturally sounds perfect.
If your competitor doesn't have such impressive titles, you make it then. However, it works when you have a properly optimized SEO Meta title and description that makes users click through to your page.
Only one more step in the competitive intelligence process.
5. Keyword in content
It's not about keyword stuffing. Using SEO plug-in like Yoast or RankMath, make sure you have an exact focus keyword in the first paragraph or first 10% of your page content. That's recommendable.
Understand the keyword density of your competitor's pages. Indeed, it is super annoying to check your competitor's pages just to check how their content or headings are keyword-optimized. But it helps.
Tell Google about your content topicalization, using related phrases throughout the content naturally. Writing long-form content is good, though. But, make sure your content offers some value to its users, not just 1,000's of meaningless words.
Check out their internal and external linking strategy too. I would suggest you to place your important link (internal linking) above the fold.
A Word About Keyword Golden Ratio
My most favorite strategy to pick the most potential keywords coined by Doug Cunnington. Using which, you can sort keywords that have great demand for content.
For any keyword that you prospect, find the monthly search volume using tools like UberSuggest. You can also use SEMRush, Moz, and Keyword Everywhere, etc.
Note: Make sure the volume is less than 260.
Then, find the number of results in Google's index with the keyword in the title. You may use this search string –
allintitle:keyword
Now, divide the number of results with keywords in the title by the total monthly search volume.
For example, if there are 50 results with the keyword in the title and the monthly search volume is 240, then 50/240 is 0.20.
It is good to target keywords that result in KGR (Keyword Golden Ratio) below 0.25.
There is nothing wrong in targeting keywords that have search volume above 260. It's not that much easier to rank for keywords with more search volume, especially for affiliate niche sites.
Ultimately, the keywords that boil down to KGR below 0.25 are the potential ones. The lesser the allintitle results (supply-demand), the more the ranking possibilities.
Competitive Intelligence FAQ
How do you conduct competitive intelligence?
Identify your competitor for readership. Then, examine your competitor's keyword in the meta title, permalink, meta description, page title, and content.
Final Words: Competitive Intelligence Process
Not just using any traditional keyword research tool would help you become a master in keyword analysis. The internet is competitive. You are not supposed to collect internet dust on your pages. Instead, you must be driving organic users. Only if your page satisfies the user intent, you are successful. Let the low, competitive keywords be your low-hanging fruits to achieve it.
Hope with these ideas, you can spend a few minutes checking the keyword competition in Google manually. When your competitor's pages doesn't have the optimized Meta title, description, keyword in content, etc. then you have got enough space to prove yourself.
Let me know how your keyword research and analysis are fruitful so far?
Do you really think you need an improvement in your website's keyword ranking capabilities?
Connect with me below.
Author: Sathish Arumugam
What is your opinion of the competitive intelligence process? Do you find it easy or complex?
Readers, please share so bloggers and search engine marketers discover the competitive intelligence process and can boost their keywords in the Search Engine Results Pages.
I look forward to your views in the comments section. Do you have additional suggestions for how to conduct the competitive intelligence process?