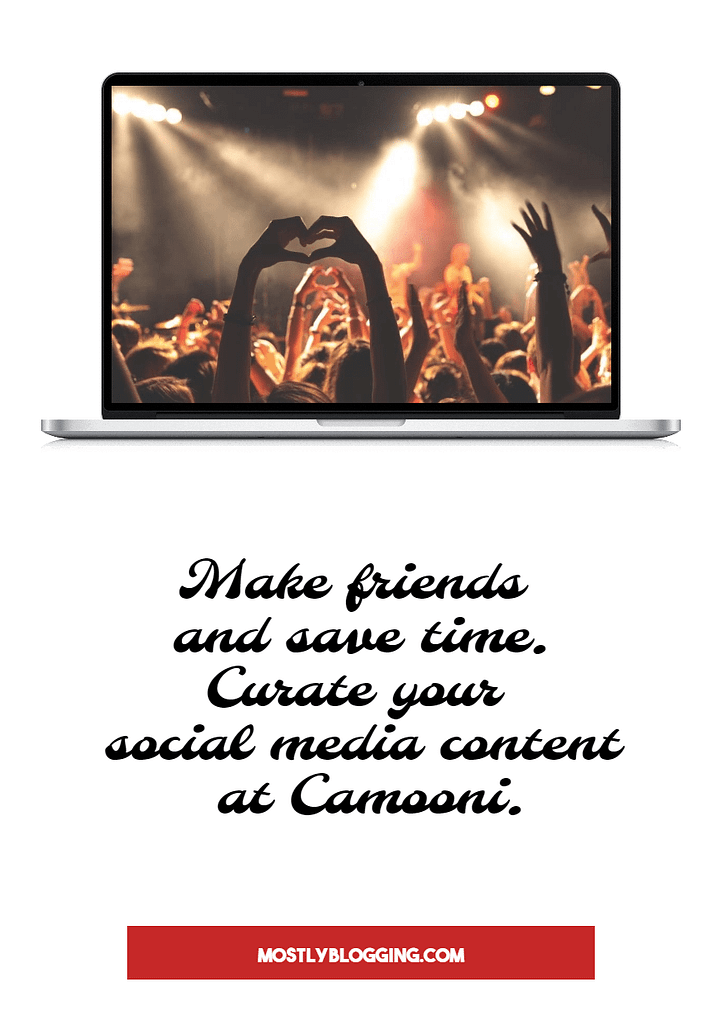 Are you a social media content creator?
If so, you must visit many social media sites.
Wouldn't it save you time if you only had to visit one site and still be able to get the same widespread social media promotion?
There's a new website in town and it's called "Camooni."
Camooni is a social media aggregator.
The new startup curates your social media content in one place.
If you need a social media aggregator to curate your social media content for you, Camooni is the site for you.
Nina Harmann, Camooni's founder, is here to tell you about all the benefits of joining Camooni, a free social media aggregator.
What Does Curated Mean?
"Curated" has many meanings.
For example, a museum curator selects, organizes, and presents the museum displays.
In the case of a social curator, "curated" means "to select, organize, and present online content."
Camooni: You New Social Media Aggregator
CAMOONI.com – Be the first to be followed
By Nina Hartmann
This brand-new meta-network lets you create your best-of collection of the various social media channels.
The year is 2018 and the social media world has descended into chaos.
We all love social media. But, are we a community? How do you feel in the social media world? Do you really feel like a member?
We have billions of users and billions of posts. The market is brimming with unknown content.
There are more and more social networks popping up, and they all coexist, but there's no coworking.
When I see all these networks, I get lost. I no longer know where I should stay and where I should go.
Finding relevant content or people with the same interests generally takes a lot of time and we soon get frustrated.
It's also pretty difficult to show our own content to others and to enable people to find our posts. How do we reach our intended target audience? How do we get to know the interests of our followers?
And if we look at this from the other side: wouldn't it be nice to decide for ourselves what we really want to see? To find relevant content quickly and easily in languages we understand?
Wouldn't it be nice to have a single place where we can meet up, communicate with one another and follow our idols on multiple platforms?
And this is where CAMOONI comes in as it focuses on users and tears down the walls of the various social media channels. CAMOONI is the first-ever smart meta-network that enables users to compile their own best-of collection of all social media channels on one platform.
It's not about posting content, it's about sharing content with the intended target audience and increasing reach.
How does CAMOONI work?
 Users share their posts worldwide in abridged form as a blogshot. This is really easy as users work with existing content from their existing external sites. Just copy and enter the link of the post you'd like to share. Blogshots can consist of text, image or video posts, and can be shared from every social media channel- including your company blogs or an online magazine. 
The "metacrawler" will automatically import the data available in the post to fill the blogshot with content. Then choose the language and category. Add some tags and you're ready to go ahead and post your blogshot. (It won't take you more than 30 seconds once you've done it a couple of times.).
The "cut system" filters and sorts every single post worldwide by country, language, category and ranking (or date).
Users can decide for themselves with a few clicks what they really want to see

, what they're interested in, and in languages they understand. That way, posts will always reach their target audience.
When users click on a blogshot, they'll be presented with some more information, like a teaser for the post.

Users will then be redirected to the external sites to see the full post. This boosts traffic to a blogger's own sites as well as the reach of every single post

. No-one has to give up any of their existing sites. Readers and followers get a quick overview and

can follow their idols on multiple platforms in a single place

. That way, we're

no longer coexisting

, we're

coworking

. Everyone stands to benefit and this is how it should be.
CAMOONI makes it easy for you to get up and running, and it's really easy to manage.
CAMOONI is completely free of charge for followers, networkers, and bloggers. For Corporate Bloggers (companies) it's free of charge to register and to post on their profile too. In addition, they have access to some low-cost features enabling them to manage their social media marketing.
So, just give it a try;) Make your own user experience. Join the CAMOONITY on www.camooni.com From now on: MAKE THE MOST OF EVERY SINGLE POST.
Tip: If you're generally interested in boosting your blog, then you should definitely also check out this post on Mostly Blogging: https://www.mostlyblogging.com/79-most-effective-ways-free-blog-traffic/
Here you can find some extra quick facts about CAMOONI:
For a quick overview, check out the TOP 12

blog charts

.

Use the

MyChat

to communicate with other users.

Take advantage of the

colorful follower statistics

to make it simple to match their interests.

The

Coop Management:

Bloggers can now take advantage of becoming one of the first ever "coopers" on this brand-new network. They can create their professional sed cards now, which will make it quick and easy for them to be found by companies in the future. Once there are enough users to cover all the requests, we'll activate this quick and easy search for companies.
About the author:
Nina Hartmann is the founder and managing director of CAMOONI. She is a qualified communication specialist and passionate networker. She has set herself the goal of making the blogosphere easier to access and understandable for everybody.
Readers, please share so other social curators learn about Camooni and the benefits the website brings as a social media aggregator.
Related
14 Free Social Media Management Tools