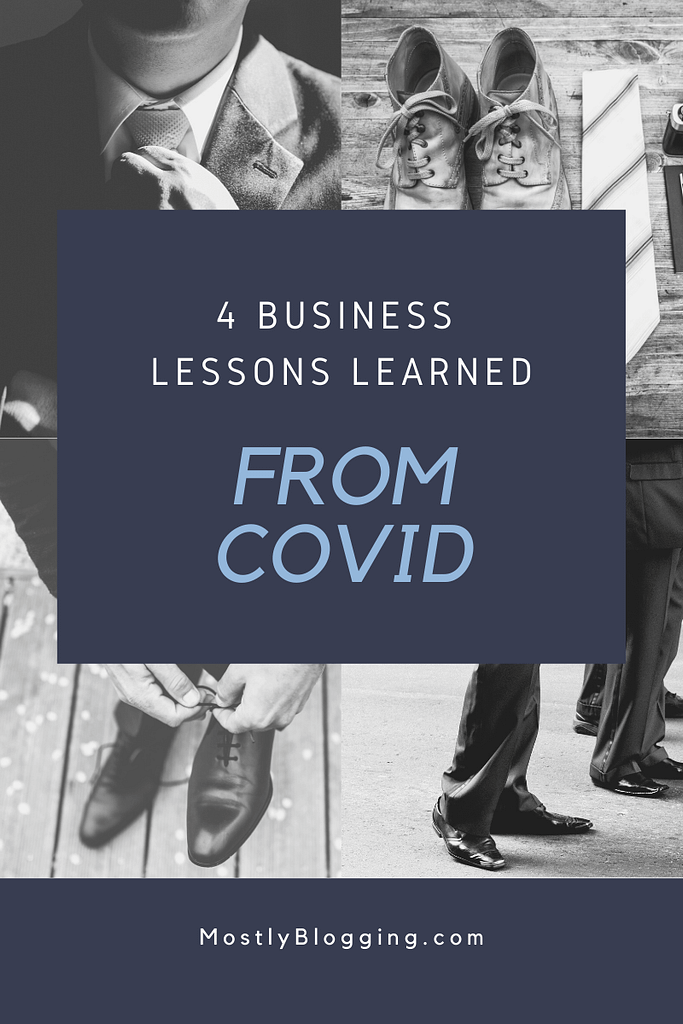 Are you here to discover business lessons learned during Covid?
Anyone who runs a business of any size will be well aware of the many ways in which the pandemic has changed things.
As we are starting to appear to come out of it, albeit quite gradually, it might be a good time to begin reflecting on some of the apparent lessons that we might have learned from the situation, particularly when it comes to operating as a business in the best possible way.
In this post, we will take a look at some of these major lessons and see how you can use them to improve things in the future.
Be flexible
Learn technology
Make different plans
Secure contracts
Let's get started learning how we can benefit from business lessons learned during a health crisis.
Importance of Business Lessons Learned During Covid
Let's review some not-so-distant history:
Swine Flu
When the Swine Flu broke out in 2009, people were terrified. For instance, when teachers signed in, they couldn't touch a pen until they sanitized their hands.
In fact, the sales of hand sanitizer went up five times that year.
Ebola
When people heard Ebola was being treated in New York in 2014, Americans were terrified. Images emerged from New Yorkers on subways wearing gas filter masks.
Masks? Unfathomable. Yet, there they were plain as day on the faces of New Yorkers as they rode on the subway.
Covid-19
In 2020, the planet was victimized by a global pandemic. Again, people took to wearing masks for protection.
Politicians explain the situation is unprecedented. Entrepreneurs claim they don't teach you how to handle pandemics in business school.
This blog post will teach you how to get business lessons learned in a perfect world, a world not consumed by fear but characterized by preparation.
I maintain the fear of a pandemic isn't unprecedented. By examining reactions to the Swine Flu and Ebola, we see that fears over pandemics do indeed have precedent.
Some health experts predict a fourth wave of Covid, and others maintain there will be a new global health crisis because global health scares occur with varying frequencies.
By reading this post, you learn how to prepare your business for another global health concern.
Let's explore business lessons learned from Covid.
Being Agile
The first business lessons learned from Covid:
One thing that has become really important is just how relevant it is to try and be as agile as possible in business. The more that you can change things around and move from one way of being to another, the easier it is for the company to survive sudden changes on a grand scale.
Essentially this comes down to being flexible. As long as you are flexible, you can be sure that you are going to do much better as the world changes around you. If you are not currently as agile as you would like to be, it's time to think about improving this.
Many companies pivoted during the pandemic, and their businesses survived. For instance, a liquor company started making hand sanitizers. A successful travel blog changed gears and instead told people how to have quality time at home. There are many business blog examples of businesses that changed direction during the crisis.
Many companies became stay at home businesses permanently. Examples include Google and Facebook.
Utilizing Tech
The next business lessons learned from Covid:
We have all seen firsthand just how useful it can be to use tech to its fullest advantage. Before the pandemic, many of us might have thought that video conferencing could never be quite that effective, and yet here we are, and it looks like that most businesses are going to continue on with this kind of video tech in some manner in the future, even after the pandemic is long over.
It might prove to be especially useful for hybrid events, where you have an in-person audience as well as a video conferencing audience, and this could be what corporate events of the future look like.
Remember to prepare in advance. Before needing video conferencing technology, make sure you know how to use it. For instance, will you need to share your screen and enable the chat? If you show videos, do you know how to enable the audio so you share your computer sound?
Business lessons learned from Covid: Don't assume you know how to use technology. Better be prepared with the knowledge ahead of time in case you need the instructions.
Planning For The Future
More business lessons learned from Covid:
The pandemic also made it very clear just how little we know about what is possible to happen in the future.
You need to make sure that you have a variety of plans for different kinds of situations, but you can't actually make any predictions with a decent level of certainty, so the best you can do is to plan openly and hope for the best. However, as long as you have planned for any circumstance, you are going to find that it can help your business to succeed where others might fail.
Credit – CCO Licence
For instance, as a blogger, I have "shelf posts." Shelf posts are finished blog posts that stay in draft form. I only use them in the event of an emergency.
In fact, one of my best-performing blog posts about how to promote using Facebook groups was a shelf post.
The emergency can be any unforeseen event. Business lessons learned from Covid are that we need to be ready for any kind of emergency.
Secure Those Contracts
The last business lessons learned from Covid:
Because you never know quite what will happen, you want to make sure that your business is at least good for the next quarter or two.
So, one thing that a lot of business owners will have learned here is just how important it is to secure those contracts and keep them secure as best as you can. If you can do that, you are going to find you are in a much better position on the whole, and this can really help you to keep your business going strong.
Business Lessons Learned: FAQ
What Have You Learned About Entrepreneurship?
Scottish poet Robert Burns wrote, "The best laid plans go awry." This means your best plans go wrong. You need to have many avenue to pursue, many plans in place, in case unforeseen events occur.
What Lessons Have You Learned at Work?
I discovered I needed to learn to use video conferencing technology before I planned to use it.
Wrapping Up: Business Lessons Learned from Covid
Takeaways: Emergencies occur frequently. As long as you're prepared, the nature of the emergency won't matter.
Can you recall any additional health scares that should cause businesses to take notice and follow these tips? Can you suggest any additional tips for business lessons learned from any emergency?
Readers, please share so if and when another global pandemic strikes or any emergency at all affects us, entrepreneurs follow business lessons learned from Covid.
Authors: Janice Wald and a Contributing Author

Janice Wald is the founder of MostlyBlogging.com. She is an ebook author, blogger, blogging coach, blogging judge, freelance writer, and speaker. She was nominated as the 2021 and 2019 Best Internet Marketer by the Infinity Blog Awards and in 2017 as the Most Informative Blogger by the London Bloggers Bash. She's been featured on Small Business Trends, the Huffington Post, and Lifehack.
This post was made possible by the support of our readers.