Do you know how to take a business continuity risk assessment?
You will by the time you are done reading this post.
You will also know the definition of a business continuity risk assessment. In addition, you will get a free template you can use or modify to take an assessment of any risks in your business plan.
To quote a little-known fantasy-based TV show; "Winter is Coming". And with winter comes wet and icy weather, which increases the risk of accidents for both your employees and customers on your business premises. 
It is important to prepare for the upcoming season early to ensure that your business's "winter weather" risks are appropriately managed.
Are you ready to take a business continuity risk assessment?
What is a Business Continuity Risk Assessment?
A business continuity risk assessment focuses on risks to your business. The assessment considers risks that are in critical areas of your business operations.
When you made your business plan, you indicated you need certain processes in place.
If you fail to take a business continuity risk assessment, instead of being streamlined, the functions of your business you depend on to run smoothly will break down.
For instance, have you considered cyber security attacks? Are hackers a risk? Certainly, a malware attack would affect your critical business operations.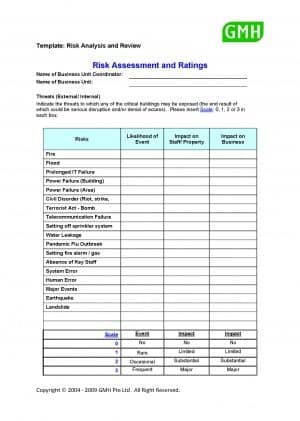 Here is an example of a template you can use to conduct your business continuity risk assessment.
Complete a Business Continuity Risk Assessment in 4 Important Steps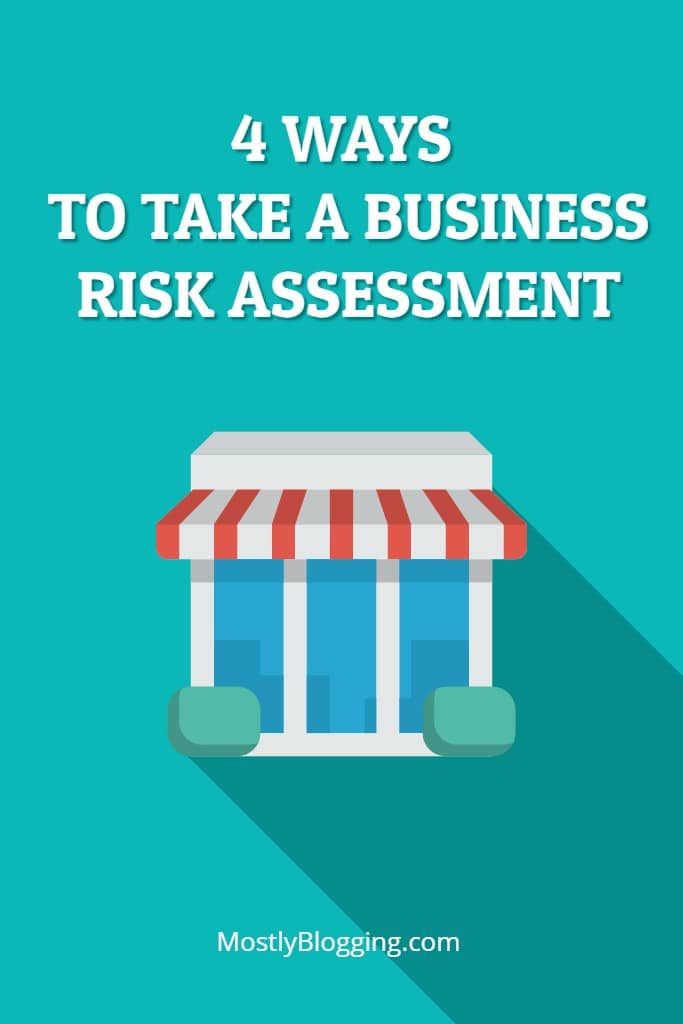 Assessment of risk in your business plan
Carry out a risk assessment – The first thing you should do is walk your full premises through the eyes of everyone who would use your business site.
This would include your employees and all potential visitors (for example if your customers and suppliers use different access points then be sure to walk both of these "journeys").
Here is how to do a business continuity risk assessment:
Identify all potential risks that could cause accidents in winter weather. Consider ice, snow, hail, darkness, fog, heavy rain, high winds etc.
Then order these risks in terms of "most likely" to "least likely" and those that would have the "most impact" to the "least impact".
The impact will be specific to your business, it could be everything from a  monetary impact to a reputational/brand impact.
Prioritize the most likely risks that could have the biggest impact on your business. The business continuity risk assessment plan in the previous section rates the risks. Either method is fine as long as you make the risk assessment.
Then begin to action these in that priority order. As you can see, the earlier you start this task the better as you will have more time to thoughtfully consider the assessment and arising action points, and you will have the time to source the best (and most cost-efficient) solutions that work for you.  
Let's continue exploring how to conduct a business continuity risk assessment.
Consider Lighting – Winter brings fewer daylight hours, and this can increase both "slip and trip" accidents and also the risk of crime (with fewer people on the streets in poor weather and greater cover of darkness combined to increase the opportunities available for criminals).
Ensure you have sufficient outdoor lighting to deter break-ins or thefts, as well as sufficient lighting around your site (especially doorways) to keep your customers safe from accidents and crime.
It can be helpful to have these lights on a timer so you do not need to worry about remembering when to turn them on and off. Remember though that the timings may need adjusting over the start of winter when the sunrise/sunset times change weekly. 
Keep Paths Clear – Use a snow removal company to keep your paths and access points clear and safe. Legal action may be taken if someone slips and falls outside your property, and it is important to know the conditions of your lease or your property boundaries.
You can also take out "slip and fall" legal liability protection if you are not comfortable that you have existing protective clauses within your lease/building insurance etc.  
Keep Germs Out – In post-pandemic 2022, the concept of "safety" includes staying healthy and minimizing the transmission of winter colds and cases of flu. When the temperature drops it is tempting to close all doors and windows and turn the heat up high.
However, keeping your premises well ventilated even on colder days will reduce the risk of viruses spreading, and the inevitable lost time of employee sickness that this will bring. 
Business Continuity Risk Assessment: FAQ
How do you take a business risk assessment
List the factors that could cripple your business processes. Then, rate them in order of importance. Troubleshoot by implementing safeguards for the risks that can cause the most danger.
Wrapping Up: Business Continuity Risk Assessment
In conclusion, this is a timely post with winter around the corner.
Winter can be a difficult time for businesses (unless you are a Christmas Tree farm perhaps), and winterproofing your premises will help keep trade thriving over the next few months and beyond. 
Readers, please share the plan to conduct a business continuity risk assessment.
Related Reading
How to Save a Failing Business
This post was contributed and made possible by the support of our readers.