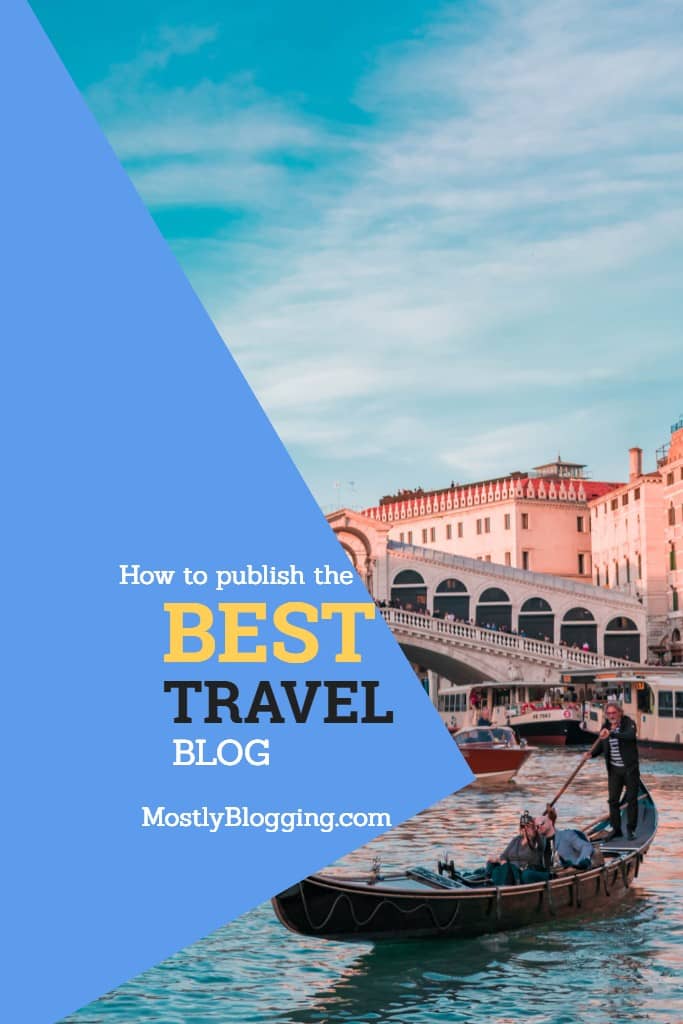 Do you want to boost the traffic of your budget travel blog?
This post about the best way to run a travel blog is timely.
With borders lifting and people feeling comfortable traveling once more, travel blog ideas are more in demand than ever.
However, consumers felt the financial pinch during the pandemic as many lost their jobs when brick and mortar businesses closed.
Does that mean people can't afford to travel?
Travel bloggers: There is no need to worry.
This post shares how to run the best budget travel blog.
Although this post is crafted with travel bloggers in mind, all bloggers can benefit from these strategies to boost blog traffic.
By reading this post, you get strategies to boost your blog traffic to your budget travel blog. You even see examples from a budget travel blog post about cruising.
Whether you are a new blogger or a veteran blogger needing a refresher, here are tips for you.
It gets better: This guide also shares how to make money with your budget travel blog.
Let's start exploring budget travel blog tips.
Best Budget Travel Blog Strategies
Start with a Clickable Headline
For instance,
"How To Pick the Right Cruise for You, # Ways"
"# Ways to Pick the Right Cruise for You."
Questions also make effective headlines. This is an underused strategy.
"Do You Know the Best Way to Pick the Right Cruise for You?"
Free tools exist to help you compose headlines for your budget travel blog posts:
CoSchedule Headline Analyzer
Content Row Headline Generator
Capitalize My Title
When searching for a headline about how to effectively run a budget travel blog, I considered this headline: "How to Boost Your Travel Blog Traffic for Free, # Ways."
The headline received a high score of 83 out of a possible 100 points on the CoSchedule Headline Analyzer.
The tool analyzes the components of your headline for you. For instance, "free" is considered an "emotional" word that triggers people to click.
When composing articles for a budget travel blog, you might often write about free perks available on trips, so "free" is a powerful word to put in your headline.
Here you will find more headline checkers.
Start Your Introduction with a Hook
Let's continue exploring the budget travel blog example.
Look at this effective introduction:
"Who doesn't dream of an entire vacation where you can do whatever you want without worrying about cleaning or cooking meals or any other monotonous daily activities?
For many people, the right vacation feels like a cruise. If you've never been on one, though, the options can feel overwhelming. Consider the following when deciding what type of cruise is right for you."
The introduction is effective because it engages the reader. For instance, the introduction starts with a question.
According to research, our brains want to answer the question, and we are hooked.
Did you see how I began this post?
"Do you want to boost the traffic of your budget travel blog?"
Write a Review
Benefits of reviews:
People love to read opinions to see if they match their own.
Your budget travel blog will have a varied format instead of offering only listicles and how to's.
You can make money with your budget travel blog by reviewing products people want to sponsor on your website.
This means running a budget travel blog is great for affiliate marketers.
How lucrative is tourism blogging?
According to ZipRecruiter, the top travel bloggers make over $110,500 per year.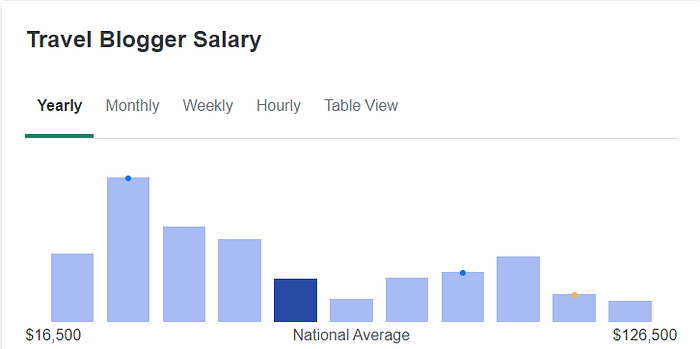 Image Source
One important note, though…
Make sure you provide a disclaimer that the post is sponsored or that the post includes affiliate links.
Readers have a right to know if someone is paying you to share an opinion.
You can offer reviews of anything people needing budget travel advice might need:
Continuing with our cruise theme, let's look at an example of a review of an All-Inclusive Cruise Package:
"The first thing you should decide is which type of cruise ticket is best for you. A basic ticket provides plenty of perks on its own, including meals, non-alcoholic beverages, and onboard activities.
Depending on the ship, those activities can range from water parks and kids' clubs to extravagant casinos and dinner clubs. A basic ticket is a good choice if you're on a budget and live close enough to the port to drive to it.
If you want something more extravagant, you'll likely want to choose an all-inclusive cruise ticket. All-inclusive tickets cover alcoholic drinks, gratuities, fitness classes, specialty restaurants, and more.
They also typically cover round-trip airfare, unlimited shore excursions, and even 24-hour room service and unlimited Wi-Fi. Of course, you get what you pay for, and it's important to know that this type of seven-day cruise can cost upward of $5,000 or more per person.
Even so, it's an excellent choice if you don't vacation often, don't want to deal with coordinating excursions and airfare, or simply want to live in the lap of luxury for a few days."
Note: The blogger uses words and phrases such as "extravagant," "unlimited," "excellent," and "lap of luxury."
Choose SubTopics
For instance, if you run a budget travel blog, will cruising be one of your subtopics?
Let's look at how you can break your subtopic down into many articles.
For instance, staying with our cruise example, you can write about an ocean or river cruise.
"When most people think of cruises, they imagine days at sea with trips to lavish islands in between. While it's true there are many cruises like this, there are other options as well.
In fact, if you've been avoiding going on a cruise because you fear being seasick, why not consider a river cruise? Featuring much smaller ships that carry only a couple of hundred passengers, cruises along the Seine, the Rhine, or the Danube take you through various beautiful parts of Europe, docking in a range of cities that allow you to take in the rich culture, history, and nightlife, all without the rocking motion of the ocean."
There are family-style cruises and adults-only cruises. Other options include celebrity cruises, singles cruises, and much more.
You can even review cruise lines and cruise destinations.
With a bit of creative brainstorming, you will find many blog topics. Writer's Block is a challenge of the past.
As you can see, a budget travel blog offers you a wide amount of ideas for blog posts.
Write a "Mistakes" Post
A "mistakes" post is also a spin on the usual "how-to" and "# ways to…" blog posts.
Here is a perfect example of how to write a "mistake to avoid" for a budget travel blog:
"Regardless of what type of cruise you choose, be sure to read all the fine print. While most will let you pay a deposit and then make payments in the months leading up to the cruise, it's also important to note that you may not get refunds if you change your mind.
Make sure you also read the fine print about the cabin you choose, keeping in mind that what the picture shows won't always be what you get."
Write a Memorable Conclusion
By writing a conclusion that effectively recaps how readers benefitted by spending time on your blog, they are sure to return for more budget travel blog tips.
Who knows? They might even share your work, so make sure you have social sharing buttons on your site.
You should also include a Call to Action (CTA) asking them to share. In your CTA, make sure you state why others would benefit from reading your post.
Let's look at an example of an excerpt from a conclusion of a travel blog post:
"By being diligent and taking the time to choose the best cruise options for you, you are sure to create a vacation that you will remember for years to come."
Budget Travel Blog: Frequently Asked Questions
Are travel blogs still profitable?
Yes. Travel blogs are still profitable in 2022. In fact, ZipRecruiter offered stats showing that travel bloggers can make up to $126,000 per year.
How much do travel bloggers get paid?
According to ZipRecruiter, travel bloggers can make up to $126,000 per year while the average travel blogger makes $63,000 per year.
Wrapping Up: How to Write a Budget Travel Blog Post
One final note:
Although formatting is applicable to blog posts in all niches, the appeal of white space is important to remember.
Blog post readers like to skim. They look for information that is relevant to them.
Did you notice how often I changed paragraphs in this post?
In closing, this post offered you free tools and methods to help you increase traffic to your budget travel blog post. In actuality, these blogging tips are helpful for every niche.
Let's recap.
Hook your reader.
Engage your reader.
Vary your blog post format.
Tell readers what not to do as well as what they should do.
Change paragraphs often.
Ask readers to share.
By following these strategies, you will find yourself the admin of a popular budget travel blog.
Readers, please share so travel bloggers find these budget travel blog tips.
I look forward to your views in the comments section. Do you have any methods for running a successful budget travel blog?
Authors: Janice Wald and a Contributing Author

Janice Wald is the founder of MostlyBlogging.com and co-founder of the Mostly Blogging Academy. She is an ebook author, blogger, blogging coach, blogging judge, freelance writer, and speaker. She won the Best Internet Marketer Award and the Best Blogger Award at the 2021 Infinity Blog Awards. Wald was also nominated as 2019 Best Internet Marketer by the Infinity Blog Awards and in 2017 as the Most Informative Blogger by the London Bloggers Bash. She's been featured on Small Business Trends, the Huffington Post, and Lifehack.
This post was made possible by the support of our readers.