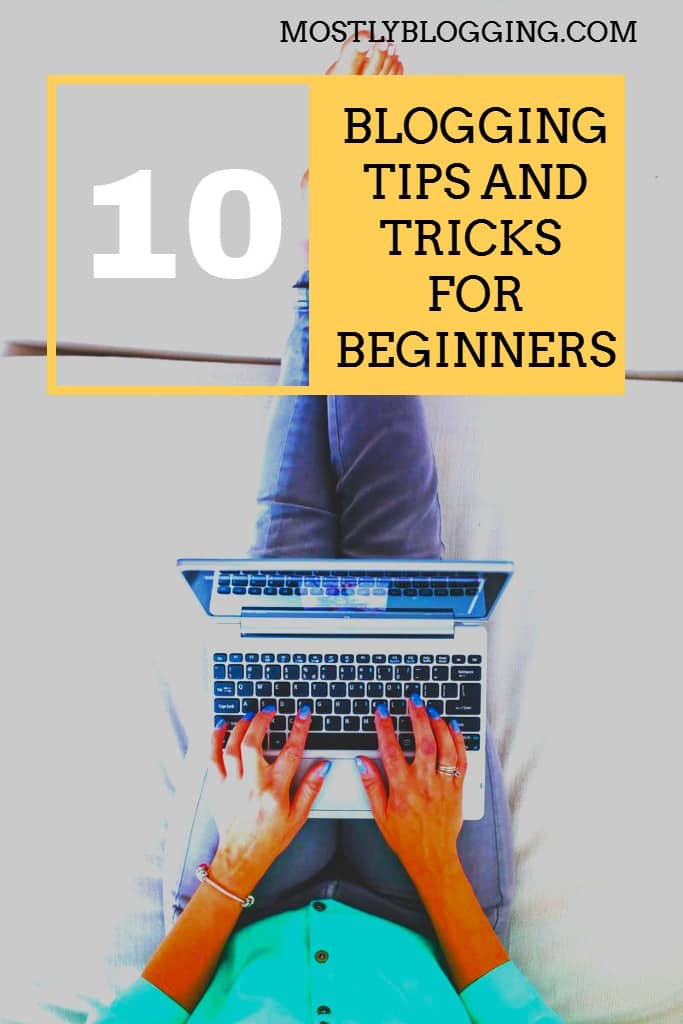 Do you want to start the new year with a brand new blog?
By reading this post, you discover 10 blogging tips and tricks for beginners to start publishing great quality content for your dream blog in 2022.
You will also explore, "Is blogging for beginners a good investment?" and, "how to start a blog and make money?"
According to recent data, there are nearly 70 million new posts and 77 million new blog comments out each month on WordPress, and 71% of those are in English. So, how to stand out with your blog?
Well, the first thing to do is to get started.
Here are 10 top blogging tricks for beginners to help you define your brand and shine on your brand new blog.
10 Blogging Tips For Beginners in 2022
1. Find A Name And Get A Domain
The first thing to do when you start a brand new blog is to find a catchy name for your blog – and check if the domain is still available. The idea is to find a name your audience can relate to immediately, without sounding ordinary or boring.
A great example is the Bad At Sports contemporary art blog. The name recalls a common stereotype making fun of it. The audience doesn't only relate but immediately empathizes with the blog title.
Of course, what we call a 'good title' always depends on the topic you are talking about. For example, for a blog about personal experiences, a title like 'Yummy' probably sounds confusing unless you don't add something to contextualize the content like 'what makes life delicious.'
Once you find your name, you need to get a domain name to share your blog online.
If the title is already taken, you can:
Try a different domain extension like the .net or .org version.
Add/remove small words such as "a", "my", "best", or "the".
Add dashes between words.
Just consider that a common name will make it harder to rank on Google. Typing the name, your audience will get confused by different results and might abandon the search. For instance, if you are blogging about food, the title 'Best Meals' won't get you anywhere. So, always check what comes up on Google bars before purchasing your domain name.
2. Don't Forget Who You Are Writing For
When you create a post, you should be your hardest critic. Would you bother to read what you are writing about? This is the most precious blogging tip for beginners starting a brand new blog.
Even without experience, you can compensate with accurate research and detailed writing. It doesn't matter how long you have been writing if you produce empty content. Remember what we said initially? Platforms publish millions of posts each month, and a post needs quality to stand out.
Never forget your target audience. To grow a blog, you need readers and followers, namely, people interested in something you can provide. For example, you want to start a brand new blog about hair care. In this case, you can build a website and integrate WordPress as your content management system. In the meantime, make sure to also find a good web hosting for WordPress for more security.
If you aim to sell products and items for daily hair care building partnerships in the future, which audience do you need? You need people who are interested in daily care to improve their look or solve a hair condition. In short, you need people that want to use what you will sell.
To build trust among your audience, you can share content about healthy daycare or hairstyle ideas, showing the potential of your products – instead of selling them as the ultimate solution for every problem.
3. Find Your Voice
In the same vein, think carefully about the tone of voice you will use to produce your blog content. The appropriate language for a blog depends on the audience and the topic. If you talk about technical items, online blog writing requires detailed vocabulary and precise description. On the other hand, when you write about personal experience, you can keep a more conversational and emotional tone.
Always remember you are in an open (asynchronous) dialogue with your readers. The key is to find the right tone of voice for your topic, keeping your content updated and original.
4. Define Your Personality
Finding your tone of voice is the first step to defining your personality. You should think of your blog as artists think of their creative signature. For example, Vincent van Gogh produced several paintings portraying different subjects. Yet, if you know the artist, you can immediately recognize his style, even if you don't know the single artwork. That's what you want your reader to do when they open one of your blog posts.
Your audience should recognize your writing style from the first paragraph. As readers scroll content, they know that your hand is behind the organization of information. And they will seek your blog posts when they want that type of quality content.
5. Show Your Personality
Once you define your personality in the writing style, it's time to create a layout to show your personality to your readers. You need to find an original blog layout that people can recognize and spot among other blogs.
Pick a specific post type, and create an outline for each post. Use headers and font to organize the content, but always keep an organic layout through all the blog pages.
When they open your blog, you want people to feel like they are at home. Navigating the menu bar, they know exactly where to find what they are looking for. Scrolling through the post, they can screen through different headings to jump to the content they want.
6. Create Value
The key to creating good content is sharing useful and actionable information for readers. They won't stick with your content if you don't provide something valuable. For example, are you writing advice for writers?
Give the type of tricks you would have liked to know when you started. If you write about your personal experience, share how you move on through tough times rather than listing your success.
Or, if you have a blog about hair care, provide real solutions to hair problems from your direct experience. If your readers feel you are providing an authentic perspective, they will come back to your blog because they can take auction information out of it.
7. Use Data To Back Up Your Arguments
Opening this article, we used stats and data to illustrate WordPress's enormous quantity of content.
There are two reasons behind this. First, we wanted to give you precise information to show you the nature of the industry you are walking in when you begin a brand new blog. Second, we wanted to show you the relevance and accuracy of our arguments.
Imagine if the intro was something like: 'There are tons and tons of published blog posts each month. But don't worry, we held all blogging secrets for beginners, just read through the post.'
Would you have trusted the information of the second opening? Most probably not.
You would have thought that the post is selling you something without backup research. So, whenever you share a tip or a perspective on a topic, always do in-depth research to enrich your personal angle with precise data for your readers.
8. The Power Of Examples
Likewise, use examples to support what you are saying. Let's go back to the example of a hair care blog. You want to start sharing advice for curly women losing their hair because of stress. You can share real-life stories of women with hair problems and use their experiences to motivate and inspire your readers with products and services.
Or, if you have a blog about tips for managers and team leaders, you can share successful company policies or innovative management strategies.
Don't underestimate the power of good examples in online blog writing. In-depth research and accurate data are crucial to proving your argument. But real-life examples help your reader empathize with the topic and, more importantly, to see the potential benefit of what you are selling in their daily lives.
9. Edit, Edit, Edit
The most experienced writer needs editing, and the most talented artist needs feedback. That's just the way it is.
Especially as a beginner starting a brand new blog, learn that if something sounds great in your mind, it needs editing. The editing process is as important as in-depth research and originality.
Spelling mistakes or unclear sentences bring down the credibility of your post. As a beginner blogger, you probably don't have the luxury of hiring an editor to help you out. So, always take at least 30 minutes to reread and edit your post.
And tools like Grammarly or ProWritingAid are a great support to correct grammar and spelling mistakes. However, the editing process doesn't stop with grammar and misspelling.
During the editing stage, you should include in the checklist:
Ensure style and font are correct and align with other blog posts;
Add visual content to support your writing (pictures, graphs, CTA);
Check keywords, meta description, and URL;
Double-check internal and outbound links for your sources;
Always mentions authors for citations;
Make a title that summarizes the post.
10. Connect To Your Audience
Finally, it's time to connect to your audience. The best strategy depends on the topic. For example, you have a blog about remote work culture, and you share advice to keep a healthy and productive work-life balance.
In this case, you can connect to your readers by sharing their challenges to talk about possible solutions in upcoming posts. Your audience will feel connected with your blog because of the topic and because they know you will make content specifically for them.
If you want to connect even deeper with your audience beyond the blog, consider creating a lead magnet to try to capture their email address so you can have one-to-one conversations.
This could be as simple as a downloadable PDF, a free online course, hosting an informational webinar, or whatever other value you can offer the audience that would entice them to give you their email.
As we said initially, readers should feel at home when navigating your blog. So, start writing and be a good host!
Last Thoughts about Your Brand New Blog
To recap: Blogging for beginners is challenging but also very fun. Starting a brand new blog means discovering new ways to talk about your favorite topic and connect with an interested audience – and make money out of it in the future.
Pick a topic that makes you passionate, conduct in-depth research, find your writing style, and open your blog account with an astonishing layout. And remember, as often happens, the real challenge is getting started!
Readers, please share so new bloggers discover what is entailed in starting a brand new blog.
I look forward to your views in the comments section. Can you add to the discussion? Are there more considerations someone considering starting a brand new blog should know?
Author's Bio

Costanza Tagliaferri is a Writer and Content Marketer at Distant Job. She has covered a wide range of topics. Now, she is focussing on technology, traveling, and remote work.
Affiliated company: ThinkRemote and DistantJob
This post was made possible by the support of our readers.