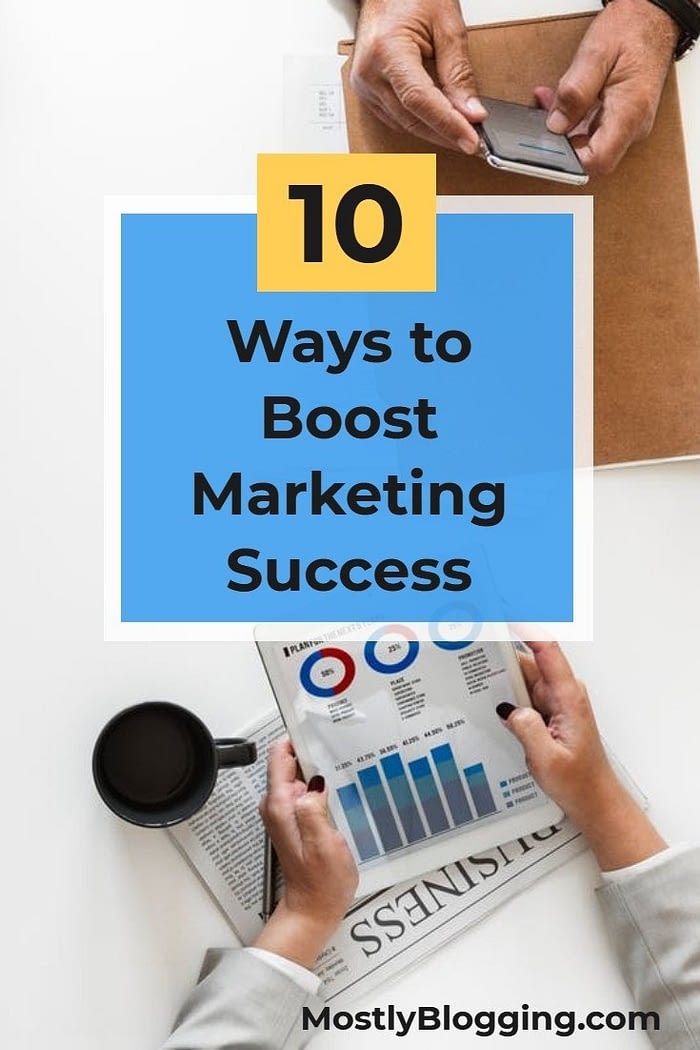 Do you know how to boost marketing success in 2020?
Guest author Marina Turea is here to tell you how to step up your game.
Her 10 proven strategies will help you see better marketing results in 2020.
10 Tips To Boost Marketing Success and Help Marketers Get Better At Their Job
Marina Turea
Marketing has changed so much over the years. The industry is always evolving – so much so that what worked only a year ago may not boost marketing success to the same degree as today's methods.
This makes it so important for marketers to always stay ahead of the curve. Clients must be sure that they are being looked after by the right people. If they don't think their marketer is up to standard, they'll find someone else.
So with this in mind, here are 10 tips to help marketers boost marketing effectiveness and get better at their job.
1. Focus On Revenue-Driven Marketing Techniques
Marketing should be based on the bottom line. The majority of business CEOs think that their marketing teams are not focused on the company's core business objectives.
This leads to mistrust and often feeling that the marketing should be dealt with someone else that understands what they are looking for. Marketers that can combine their techniques while keeping both short-term and long-term financial business goals are sure to have a long and successful career.
2. Understand the Target Market
Marketers and marketing agencies are judged on their ability to understand the target market. Those that know what their customers are looking for and how their competitors are adjusting to trend changes are going to be successful.
Marketers must become the voice of their consumers. They must have the right data available so when it comes to creating the campaigns, the final product is something that the end-user finds valuable and can take action from it. One way to do this is by actually talking to the target market to understand their needs. If you don't ask the questions, how do you actually know what they're after?
3. Create A Memorable User Experience
The best marketers create a memorable user experience. There are many ways businesses can connect with their audience, so it's important that marketers can create and manage such experiences. It's tough to find something that really sticks in a customer's mind, but when it does, the results exceed normal expectations.
One method great marketers use to create an excellent experience is through storytelling. When customers identify with a story, they connect with a brand on an emotional level. This is a very powerful marketing technique and is sure to grab the attention of visitors more than anything else.
4. Never Stop Testing And Adjusting Where Necessary
Unfortunately, a lot of marketers don't make use of all the data they have at their disposal. The best marketers are always on the lookout for new ways to improve the effectiveness of their campaigns, such as copy, pricing, and layout. A/B testing is an excellent tool to test the effectiveness of changes made.
5. Make Customer Data-Driven Decisions
On the back of the previous point about using data, it's also important to know how to collect and use the right data. According to Digital Authority, data-driven content will advance every aspect of your marketing strategy.
Marketers that learn these skills can then make customer data-driven decisions, something that has a great effect on the success of a marketing campaign. In fact, such skills are highly sought-after by employers and clients.
Marketers that don't have much experience should start by learning about analytics and how they can be used to make business decisions.
6. Stick To Schedules And Timelines
Marketers that don't already create schedules and plans, this should be implemented right away. They ensure that work is completed on time and that they are held accountable if things don't quite go to plan. For example, one common deadline good marketers set is when a certain campaign is to go live. They then work backward from the launch date to plan all tasks so everything remains on time.
7. Don't Underestimate The Importance Of Writing
Copywriting is a very important skill for marketers. From blog posts to image captions, copywriting has an enormous amount of pulling power. Well-written and informative content has far better conversion rates compared to wishy-washy content that just about does the job. Marketers that spend time improving their writing are far more likely to land top jobs and bigger clients.
8. Be Aware Of Emerging Technology
Existing applications that can help improve marketing techniques should be one of the first things a marketer learns. But those that go a step further and are aware of the Hype Cycle for Digital Marketing and Advertising 2019 report are more likely to be a success in the future. While everyone else is learning about the new best thing, marketers that already knew about it can implement it quickly and enjoy better results. In marketing, it's always better to be proactive than reactive.
9. Deliver Specific Results
Marketing is a results-driven business. From raising brand awareness to generating x-number of warm leads, the marketing team is held entirely responsible for the success or failure of these targets. For marketers to deliver specific results, they must be easy for the overall business to understand, actually have an impact on the business' finances for the better and be presented on a regular basis.
10. Never Stop Learning
As mentioned at the beginning, the marketing industry is constantly evolving, mainly due to the internet and customer trends. This means that marketers must be willing to learn new things more than ever before in order to boost marketing success. The ability to learn itself has never been a more valuable skill and there are so many opportunities to do so that it makes it impossible to ignore.
One of the biggest user-generated hubs for learning about new customer trends is social media. Customers use platforms like Twitter and Instagram to voice their opinion, so it's not too hard for marketers to search for a certain topic and find the latest information.
This is just one of the many channels you must use to keep learning about new trends and techniques. If you don't, your knowledge and tactics can quickly become outdated, with competitors quick to jump at the chance to get ahead.
Wrapping Up: How to Boost Marketing Success
Host blogger's comments: Use Marina's 10 strategies to improve your marketing effectiveness in 2020. Use her 10 methods as a sales strategy plan.
When you boost marketing success, you increase sales.
Readers, please share so marketers discover these ways to improve marketing results in 2020.
I look forward to your views in comments: Do you know any additional ways to boost marketing success?

Author bio:
Marina Turea works as a content manager at Digital Authority Partners.
This post was made possible by the support of our readers.