Image Source: Pexels
Are you a new blogger who needs blogging tools for beginners?
This guide shares blogging methods and blogging tools for new bloggers. However, all bloggers and content marketers, regardless of experience, can benefit from these strategies.
Here you will find information about these blogging tools for beginners:
WordPress.com
Google Trends
Ubersuggest
MozBar
Grammarly
PosterMyWall
CoSchedule Headline Analyzer [Update: CoSchedule rebranded as the Headline Studio.]
Buffer
Hootsuite
Other than Ubersuggest which is a paid tool, these blogging tools for beginners are free and easy to use.
Starting a blog is a good goal to have but it's likely you have a lot of questions going through your mind and are hesitant to tackle this project. If you're new to the topic or aren't sure where to begin, then you've come to the right place to learn more.
The following tips will help you get started on the right track and allow you to move forward with making this objective a reality.
Start small and be patient before you determine if you want to turn blogging or your blog into a career or to do it as a hobby. It takes time to make a name for yourself and grow your blog so avoid expecting overnight or instant results.
Let's dive in and learn about blogging methods and blogging tools for beginners.
Pick A Niche
One tip for starting a blog is to pick a niche that interests you or that you know a lot about in general. You want to avoid writing about many topics and trying to reach a very broad audience. Here is a blog niche list that may help.
Stick to what you know and will be good at writing about over the long-term. For instance, maybe it's that you're into sports and want to write posts that cover topics such as the best players in the game and Top 10 Biggest Spenders.
You'll enjoy managing your blog and writing posts when you're passionate about the subject matter. First, pick the niche and then pick the blog post topics you will write about. Here is a template of lifestyle blog post topics you can always reference for ideas.
Use Blogging Tools for Beginners
Many bloggers abandon their blogs early due to lack of blog traffic.
Are you considering giving up your blog? Don't.
Google can send your blog boatloads of traffic for many years if you research ahead of time.
Blogging Tools for Beginners: Pre Publication
Of course, you need a place to blog. Choose a Content Management System (CMS).
WordPress.com is a popular choice for beginners. The Happiness Engineers at WordPress.com offer a great deal of support for new bloggers. Recent statistics show that 70 million blogs publish on WordPress each month.
Once you pick your CMS, you are ready to write your first blog post.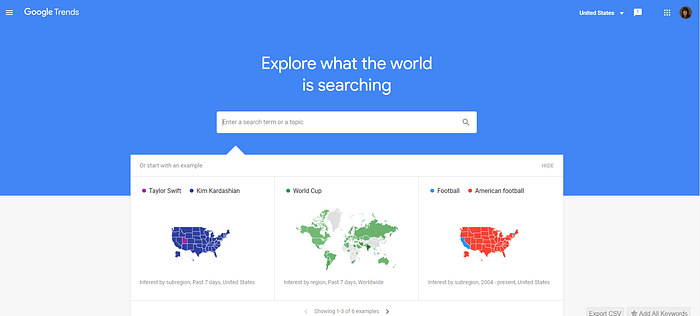 First, go to Google Trends and research what topics in your niche people are currently searching for.
Once you find a topic you are knowledgeable about, you need to use a keyword research tool. Ubersuggest is a popular choice, and there are many Ubersuggest alternatives that will help you.
When you use the tool, check to see how many people are searching for information on your topic each month, the higher the better!
Then, check your online competition. You want the number that reflects your online competition to be low.
You might even consider doing competitive research. The MozBar helps you do keyword research and helps with competitive analysis.
While composing your draft, you want to use a tool like Grammarly, a free Chrome extension, to check your mechanics. You will turn people away with writing mistakes. Here you will find more information about Grammarly.
You need to accompany your post with an image. This helps the visual learner. You can also pick up more traffic when Google indexes your image.
PosterMyWall is a free graphic design tool. Since Canva is the most popular choice for bloggers, your images will look different than other blogs if you use PosterMyWall's templates. Here is a PosterMyWall tutorial.
You need a headline. Use a headline checker to make sure you have a headline enticing enough to motivate people to click. My favorite headline checker is the CoSchedule Headline Analyzer. Always keep whatever promises you make in your headline. [Update: CoSchedule is now the Headline Studio.]
Be Consistent
It's also important that you're consistent when you're starting a blog. You may be disappointed and frustrated with how it's going if you only write posts once in a while and fail to update your blog frequently.
Even if you're publishing a blog for fun, it's in your best interest to create a content calendar you can follow that spells out what topics you're going to write about and when they'll go live on your blog. Keeping a calendar will also help you track special events and holidays so you can work around or with these dates.
Be Responsive
Your readers may follow your blog because they love what you're writing about and saying. Therefore, it's wise to be responsive and interact with your followers as much as possible.
Take the time to respond to questions and comments and let your readers know that you're available and care about what they have to say too. You may even want to start a newsletter as part of your email marketing approach to help drum up more interest in your blog and as a way to stay connected to people who like your content.
Blogging Tools for Beginners: Post Publication
As the owner of the blog, it's also your job to share and market it out to your target market or audience. Find ways to get your blog out in front of the right people so you can increase your number of readers and followers.
Many blogging tools for beginners are free and can preschedule your posts for you so you don't need to always be at a computer during optimal posting times. Buffer and Hootsuite are popular free choices for social media posting.
Make sure you have social media buttons connected to your blog so visitors can share your posts with their networks and followers. Also, consider having guest bloggers write for you once in a while and putting the posts in the hands of influencers to help you expand your reach.
Blogging Tools for Beginners FAQ
Do bloggers get paid?
There are many ways to make money blogging: Put your posts together to sell them as an ebook, become an affiliate marketer, become a freelance writer, or become a consultant or coach.
What equipment do you need to start a blog?
You need a place to blog called a Content Management System (CMS), you need an internet connection, an electronic device, and if you are self-hosted, you need a host. Blogging tools for beginners are helpful to save time on menial tasks. If you are self-hosted, you need plugins to help run your blog.
Wrapping Up: Blogging Tools for Beginners
In closing, this post shared methods for beginners and blogging tools for beginners.
There are many blogging tools. Use them and be more productive.
The best part: The longer you blog, the more blogging tools you'll learn about and have at your disposal.
Using blogging tools results in enormous savings on the time needed to research and create new content.
This post shared blogging tools for beginners designed to help you save time so you can devote your time to more important tasks.
Readers, please share so beginning bloggers as well as bloggers of all levels discover these blogging tools for beginners.
I look forward to your views in the comments section: Are there other blogging tools for beginners you use and recommend?
This post was contributed.