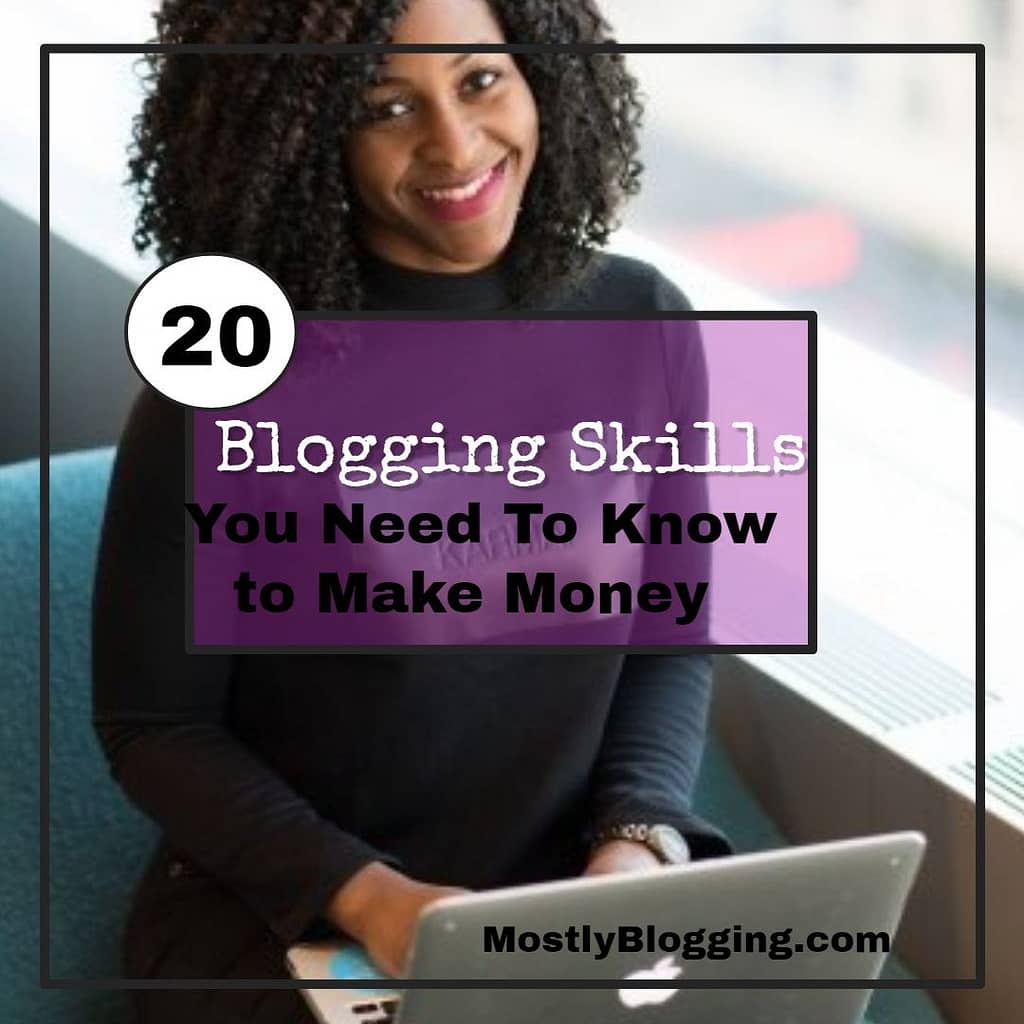 Got blogging skills?
Do you know what it means to proclaim, "I'm a blogger?"
Are you proud of the label?
Do you know what it means to declare you fall into this category?
Is your label a secret or do you tell people you blog?
Most bloggers truck right along not having any idea if their skills are superior, inferior or at par with other bloggers. For this reason, they may be ashamed to admit, "I'm a blogger."
Also, at Quora.com, "What is a blogger?" is a commonly asked question.
This post will help you understand the ramifications of the label and will help you shout with pride, "I'm a blogger."
Do you want to know the best part? Read until the end. The post will end with what the future holds for you and anyone possessing blogging skills.
It gets better: This post tells you how you can get a job as a blogger and monetize your blogging skills.
I asked my followers on Instagram to fill in the blank:
A blogger is someone who__________________.
How would you fill in the blank?
Here are the responses I received:
"A blogger is someone who recognizes their passions."
"A blogger is someone who shares their skills with the world!"
Do you have blogging skills?
What does a blogger look like?
According to Copyblogger, he or she is a person who has at least an:
Average understanding of SEO. You can't stick your head in the proverbial sand and pretend search engines don't exist. Google is your friend. At least, Google will be your friend when you optimize your posts for the Google search engine.
Average understanding of usability. You need to understand how to navigate your blogging platform, whether it's WordPress, Blogger, or any other CMS. You also need to know how to use your theme.
Above average understanding of social media. If you want exposure which leads to traffic, you need to know which social media sites allow you to promote your content.
Outstanding understanding of blog post writing. A blog is not an essay or a diary entry. You need to know what makes blog writing unique.
Above average understanding of storytelling. You engage readers by incorporating stories into your blog posts. Weave a story. Start at the beginning and hook your reader. Your reader will read until the end of your post to find out how your story ends.
Average research skills. Whether you're researching keywords for SEO or researching facts and statistics for a blog post, you need to know how to do some research.
Average caffeine appreciation. Hey, what can I say? Bloggers have a reputation for liking coffee. Research shows caffeine (in moderation) can be a good thing.
Above average combative work ethic. Do you fight to achieve your stated goals? Look what I put on Instagram:
View this post on Instagram
Bloggers work hard because they are driven by their passion to succeed in helping others.
These are additional criteria needed to consider yourself a blogger in my opinion:
9.  Do your posts attempt to solve problems for your readers? 
10.  Are your posts in-depth? 
11. Do you shoot for 2,000 words?
12. Do you promote your posts EVERYWHERE?
13. Do you focus on a specific niche instead of writing about random topics?
14. Do you write about how to help your reader instead of writing about yourself?
15. Is your blog aesthetically attractive?
16. Do you respond to comments?
17. Are your posts optimized for search engines?
18. Do you use tools like the CoSchedule Headline Analyzer to ensure you've written "clickable" headlines? 
19. Do you ask people for social shares at the bottom of your blog posts and ask for retweets at Twitter?
20. Do you know how to turn visitors into subscribers?
Do you have these blogging skills?
If so, it is okay to feel good about yourself. If these criteria describe your skill-set, your blogging skills are on par with what is needed to blog successfully.
What the future holds for you:
1. The demand for content creators is still growing.
2. More companies will invest in content distribution.
This means more money for you. More brands will pay you to publish their posts and review their products once companies realize that the most successful content marketers spend a higher portion of their budgets on content distribution (like sponsored content) than their less-successful peers.
As a result, businesses will need more writers with a flair for content marketing.
3. More social sites are becoming publishing platforms.
First, Medium, a social site, gave people an unlimited space to publish. Then LinkedIn opened its publishing platform to everyone.
Since then, Facebook released Instant Articles, which allows publishers to share content directly inside the Facebook app — last year to a limited group of brands. They're slated to open it up to everyone soon, even your grandma.
Longer tweets recently came to Twitter. Even Snapzu, another content creation site, allows you to blog as well as promote your content.
Social platforms now encourage content syndication as well as original publications.
As a result, businesses will need more writers with a flair for content marketing.
Where can you find a job where your blogging skills are an asset?
Who's hiring content marketers?
Clearly, the demand for content creators will increase. Who is hiring content marketers?
Here are a few places:*
Publishers are opening up their own agencies to fulfill sponsored content demands. Those agencies need writers with a flair for content marketing.
Brands are invading podcasts. Great podcasts need great scripts. Who's going to write those scripts? Writers with a flair for content marketing.
The small business sector continues to grow. And more and more of these entrepreneurs will realize the need for writers with a flair for content marketing.
Copyblogger has a certification program that finds, trains, and promotes highly qualified content marketers*.
Are you ready to capitalize on the rapid and powerful rise of content marketing?
Wrapping Up: How to Recognize Your Blogging Skills and How to Monetize Them
Readers, did I miss any? What blogging skills do you consider important?
Please share so bloggers learn about new blogging skills they can add to their repertoire and discover prospects for monetizing them.
*Note: I started this draft some time ago, so these resources are dated. However, the trend for content marketers to take on increased importance has continued since the publication of these articles. Therefore, they can still be considered valid resources.