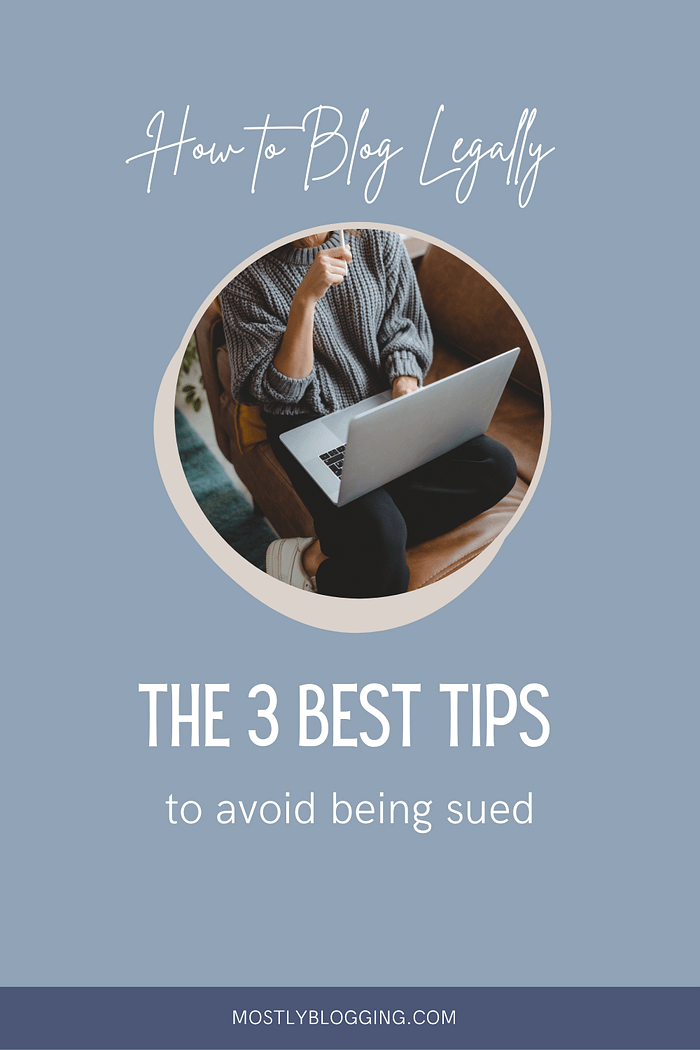 Are you concerned you are not blogging legally?
Are you worried brands are concerned you are not blogging legally?
Are you convinced businesses are fearful you are not blogging legally and don't want to work with you?
By reading this post, you will discover how to make sure you are blogging legally in order to protect yourself. You will also find out who might sue you. Most importantly, you will learn how to protect yourself in order to avoid those lawsuits.
In addition to being for entrepreneurs who don't want to get sued, this post is for bloggers who work with brands or want to work with brands.
If the brand thinks you are a risk or a liability, they won't work with you and you lose the income the brand may have given you.
In addition to being for bloggers who want to work with brands, this article is for bloggers who don't want to get sued.
Blogging legally requires disclaimers if you want to avoid getting sued or running the risk of being sued.
This post shares the disclaimers you need on your website so the brand feels protected.
Blogging legally is both a win-win for you and the brand.
Both the brand and the blogger are legally protected when you follow these tips.
Before we get going, here's your first disclaimer: I am not a lawyer.
However, this post contains expert legal advice provided by a lawyer.
Let's get started by giving you the peace of mind that comes from knowing you are blogging legally.
Advantages of Blogging Legally
What is the importance of blogging legally?
Naturally, you don't want to get sued.
The Income School YouTube Channel interviewed attorney Jim who answers the question, "Who might sue you?"
Jim assures bloggers that you don't seriously have to worry about being sued until you start making "significant money."
Who might sue you?
Customers
Creditors
Subjects
Brands
Customers might sue you.
For instance, suppose you sell instructions that don't work. Furthermore, if the customer gets injured while trying to follow your instructions, they may feel they have grounds to sue.
How to solve this:
When you sell a product, make sure the instructions are accurate and the product works.
One important note:
Affiliate marketers don't need to concern themselves with this since they sell other people's products.
Next, if you send customers products they insist they never received, they may sue.
Have I ever been sued by a customer?
Yes.
My article about a disputed invoice retells the time when I was sued by a customer.
Why did he sue me?
He claimed he didn't get the results I promised him.
Can you be sued for this reason?
Yes.
How to solve this:
This is easily solved with a disclaimer:
"Results are not guaranteed."
More about disclaimers releasing you from liability later.
Creditors might sue you.
A creditor is someone to whom you owe money.
Are you paying your blogging bills? If not, vendors could sue you.
Did you borrow money from investors to get your blog off the ground?
How to solve this:
Pay your bills in a timely manner and don't borrow money.
Subjects
Are you offending the subjects of your articles?
If you offend people you write about, they may feel they have grounds to sue.
How to solve this:
If you are going to write negative reviews, support your claims with facts.
Also, err on the side of caution.
For instance, are you putting minors in your blog photos? Parents may sue.
Brands
Avoid using trademark logos in your marketing campaigns. You could be sued by the brand whose trademark you are using.
Case in point: Are you familiar with podcaster Derek Videll?
Videll's podcast used to be called "Instagram Secrets."
The name makes sense since Videll's podcast is about how to succeed on Instagram.
However, since Videll isn't associated with Instagram, the social media platform, Videll was forced to change his name. Today, Videll's podcast is called Social Bamboo.
How to Blog Legally
Have a Privacy Policy
A Privacy Policy states how a company collects data and is required by law.
The Privacy Policy protects you legally.
You can find standard Privacy Policies online.
The Privacy Policy should state:
How data is processed; in other words, how you plan on using information
How data is collected; for instance, do you use cookies?
Children's privacy protections
How to opt-out of further communications
Do you have an SSL Certificate on your website?
If you look in your browser bar at my URL, you should see a lock on the far left of the URL. That means I have an SSL Certificate.
GDPR is a European Union Law that helps people know how their information is being used. Even though I am not in Europe, I still follow the law.
According to Delta Digital, websites need an SSL Certificate to be GDPR compliant.
Google gives priority search engine rankings to websites that are compliant. Furthermore, Google will warn visitors away from your website if you don't have an SSL Certificate which will cost you traffic.
Have Disclaimers
What are Disclaimers?
Disclaimers are legal pages on your blog or website.
Release of liability
You need a disclaimer stating you are not responsible for any actions taken by your website visitors as a result of reading your web content.
For instance, when I post articles relating to money, I often add a disclaimer that I am not a financial expert and therefore am not responsible for any actions taken.
In this article, I offered a disclaimer that I am not a lawyer.
Testimonials Disclaimer
Brands should know people who left favorable testimonials were not given an incentive to leave a favorable testimonial.
Reviews Disclaimer
Consumers should know whether or not someone paid you to leave a positive review about a tool or service.
As you can see, a great deal is taken into consideration if you are going to be blogging legally.
Terms and Conditions Page
A Terms and Conditions Page explains
What behavior is allowed on your blog
Your refund policy
Your warranty policy
Third-party links
Your rights
Let's learn more about blogging legally.
Information Collection
Are you collecting information?
If you run a blog for a business, the business will require you to collect information from visitors. For instance, they may ask for credit card information and email addresses.
If you do collect credit card information, make sure your site is secure against hackers. If you use third parties such as Shopify, you will find they take care of many of these precautions.
The Privacy Policy guarantees you won't sell data and you will keep the information confidential.
These privacy laws may change. Although there are templates available on the internet you can use, they may not be current as far as reflecting recent changes.
You need to make sure the wording of your disclaimers is legally correct.
If you are providing any type of service, you need to have these disclaimers on your website.
Have Transparent Finances
When you run an online business, you should follow best practices.
These include keeping your professional and personal finances in separate bank accounts.
If you are constantly taking from your personal funds to pay your blogging expenses and taking from your business's income to pay your personal bills, your accounting will get messy and complicated.
Also, you should have a full accounting of your income. Transparency is important.
You can use software like Quickbooks to help you with your bookkeeping. Also, consider paying an accountant to help you at tax time.
Resources for Blogging Legally
How to Find Current Disclaimers
A licensed attorney
Lawyers provide disclaimer writing services on the internet, so you won't necessarily have to go into the office.
The Internet
People sell legal disclaimer bundles.
You can also find free customizable disclaimer templates on the web. However, if you want to be perceived as blogging legally, you need to make sure the wording is correct. If you don't know legal jargon, you might want to invest in disclaimer templates.
Check the date on the template. Make sure it's current.
One important note: I have not personally purchased legal templates. Basically, I take a chance that I am blogging legally. However, after almost eight years of studying blogging ethics, I am basing my belief on research. I am making an educated guess.
Regarding the wording on the template: The template should be editable so you can modify the wording for your brand.
Affiliate marketers need to add a disclaimer to the website content. The disclaimer should state that they may make money from the links that are included.
Here is the logic: If people stand to profit from the information they present, the website visitor has a right to know.
Here is an example of an affiliate disclaimer:
"DISCLAIMER: Some of the links may be affiliate links. This means that I may receive a small commission if you purchase anything through those links. This is at NO additional cost to you and I promise that I only recommend things I use myself and love. Using my links allows me to continue to provide free content on this channel, so thanks for your support."
Sponsored Posts
Do you post reviews on your blogs? I do.
Do brands pay you to publish reviews of their tools or services?
If so, you must reveal you are being paid.
Why?
Readers have a right to know that you are being paid to publish your opinion.
The reasoning: You might even subconsciously post a positive review since you are being paid to share your opinions.
Blogging Legally Best Practices
Don't steal images.
When you do use other people's images, give attribution where required. Even if not required, you might want to cite your image source.
Are you a WordPress blogger? WordPress has an interface with Pexels.
This is a great opportunity to get free images.
Or so I thought…
This backfired on me when I was accused of stealing an image.
If you are not familiar with this interface, in your WordPress dashboard, click Image/Select Image/Pexels Free Photos. Type the name of the image you need in the search bar.
In my post offering Facebook groups for blog promotion, I used this photo: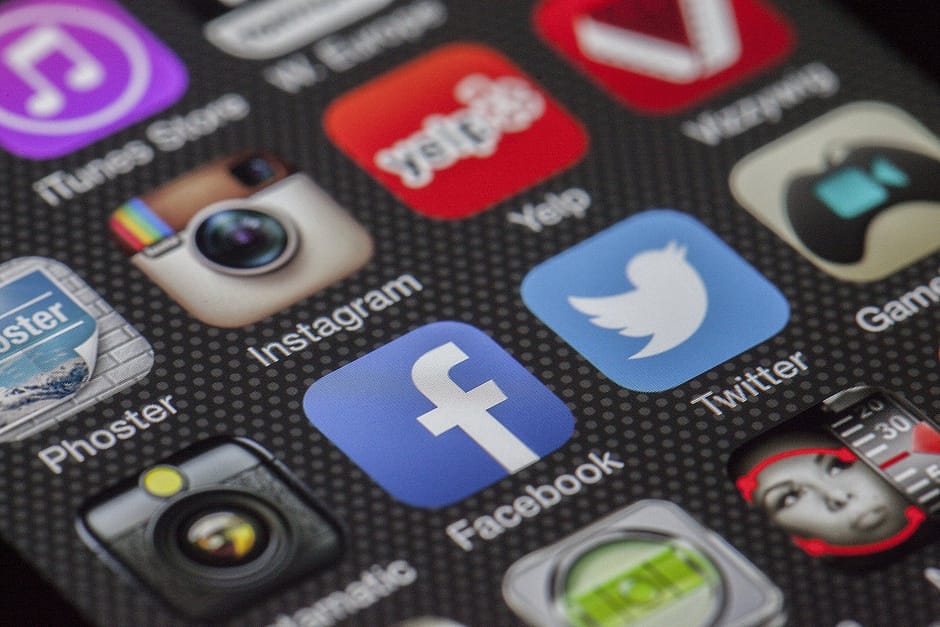 I did not provide attribution since WordPress doesn't require citing the source from Pexels.
However, I still received a nasty email.
Look:
"Hello Janice,

You are using our client's image in one of your articles https://www.mostlyblogging.com/facebook-groups/.

We are glad you found it useful

However, our client has this image registered, and it requires attribution.

We request a clickable image source link… anywhere in your article.

Below is an acceptable way to give credit. You can simply copy and paste it into your article and that will be sufficient as long as the link stays intact.

Source…

Unfortunately, removing the image is not the solution since you have been using the image on your website for a while now. We are obliged to inform the artist if this matter is not resolved in a timely manner."
I believe the implication is that I will be sued for not giving the source credit.
However, neither WordPress nor Pexels requires attribution.
I received several intimidating emails like this.
I believe I was being scammed in order to provide a link that would boost the artist's SEO.
Would you agree?
I learned a valuable lesson. Now, whether required or not, I will cite source credit.
Federal Trade Commission
Brands may want to make sure you are aware of FTC policies in order to work with you.
The FTC exists to prevent unfair business practices.
Blogging Legally: Frequently Asked Questions
Do bloggers need permission?
When in doubt, cite your sources. You can not steal content without giving proper source credit. This is called attribution. Including a link to the image source or textual source will do.
Do I need to register my blog as a business?
You only need to worry if you collect a sizable income. If you make less than $30,000 a year on your blog, then stay a solopreneur.
What legal documents do I need for a blog?
You need a Privacy Protection statement and disclaimers. For instance, you should state how you handle the collection of financial information and that you'll never sell data such as emails. If you are an affiliate marketer, you need to include that disclaimer. If you are being paid to publish your opinion, you need to state that as well.
Wrapping Up: How to Make Sure You are Blogging Legally
In closing, you received actionable strategies to make sure you are blogging legally.
Now you know how to protect yourself in order to avoid being sued. You also learned what a disclaimer is and which disclaimers to have on your site. Finally, you learned the best practices to follow when blogging legally.
Readers, please share so entrepreneurs and bloggers discover how to blog legally.
I look forward to your views in the comments section. Do you have any additional ideas for blogging legally?
Source

Janice Wald is the founder of MostlyBlogging.com and co-founder of the Mostly Blogging Academy. She is an ebook author, blogger, blogging coach, blogging judge, freelance writer, and speaker. She won the Best Internet Marketer Award and the Best Blogger Award at the 2021 Infinity Blog Awards. Wald was also nominated as 2019 Best Internet Marketer by the Infinity Blog Awards and in 2017 as the Most Informative Blogger by the London Bloggers Bash. She's been featured on Small Business Trends, the Huffington Post, and Lifehack.