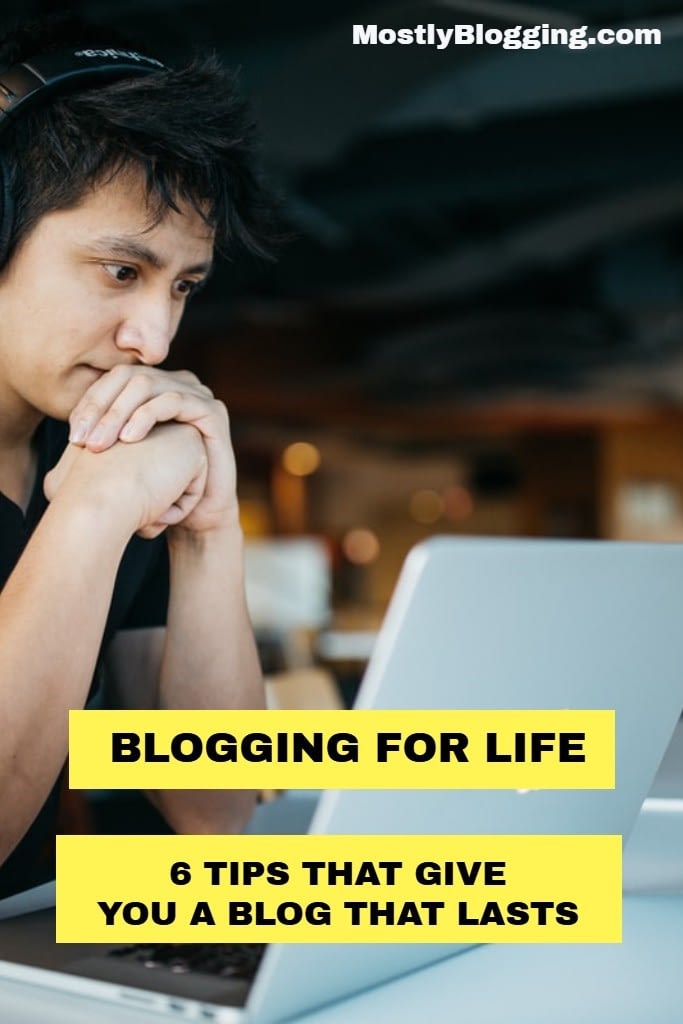 Can you envision yourself blogging for life?
If so, there are various foundations you need to put in place as soon as you start blogging.
If you are considering blogging for life, implement these strategies now.
This guide to blogging for life reviews basic blogging strategies and provides an important review for veterans.
Tips for New Bloggers in 2021
Blogging has been around for almost two decades, but there are always new accounts springing up.
Whether you want to just share your thoughts with the world or launch a personal brand, blogging is a fun way to flex your creative muscles and learn exciting new skills from writing and research, to basic HTML and photo editing.
But starting a blog with so many major ones already out there can feel a bit like diving into the deep end without first learning how to swim. 
What can you write about that will make people respond? How do you make a blog that looks good without spending a fortune? Can you really make money from blogging?
This guide will cover some great tips for beginner bloggers to get their sites off the ground and offer some helpful advice on how to avoid common mistakes.
According to data, 70 million posts are published each month on WordPress alone. With so much competition, how can you make sure you will be one of the successful bloggers with blogs that stand the test of time?
Read on to discover how to be so successful you will be blogging for life if that is your wish.
Methods to Make Sure You are Blogging for Life
Focus on What You Like First
It can be tempting to copy other writers you like and try to build your brand around their style. In theory, it makes sense. Copy what the successful people are doing and find success yourself.
But this ultimately deprives you of the opportunity to grow creatively and express yourself authentically online. If there's anything the internet needs more of these days, it's honesty.
You are the first and most important member of your audience. Even if no one else reads your posts for months, you should have fun writing them and feel proud whenever you finish another and hit publish.
As a newcomer, you aren't going to get an audience right away. Many people had their sites for years before others took notice. Although writing about some trending topics can get you more views, you should only cover them if they genuinely interest you.
Write How You Speak
Flowery, poetic writing is great, but it usually doesn't resonate well on a blog, unless that's how you actually speak. A blog is a highly personal way to share your thoughts, discover your voice and share your thoughts with the world.
This means that you should show up as who you are, speak how you naturally do, and just let the words flow. It's not always easy, especially when you're new to writing and find that most of what you produce sounds stiff and one-dimensional.
Don't stress over how smart or cool you sound. Rely on your natural voice. A good exercise is to just write a free-form post of whatever comes to mind, then save it to your drafts and reread it in a few hours.
After doing this a few times, you'll start to get a feel for what your natural voice is and be able to conjure it more easily when you post.
Related Reading: Fry's Readability Calculator determines if your writing is conversational.
Let's keep going to determine how we can be such successful bloggers, we will be blogging for life.
Decide on a Goal
Is this blog going to help you build a business or is it just for your personal expression?
There are major differences between independent bloggers and company blogs. The latter need to be highly niche and geared toward a target audience with the intention of promoting sales or generating growth.
As an individual, you have more freedom to discuss various topics and explore ideas more liberally. Once you know what you want to achieve, it will be easier to structure your content and build a cohesive strategy.
You don't need to have everything figured out from the get-go, but you should define your objective after the first few posts. This will prevent you from attracting the wrong audience or writing yourself into a corner that's hard to get out of without completely restarting.
Note: I had to restart when I decided to rebrand myself as a professional blogger.
Use Paid Ads Wisely
For those who want to turn their blog into a full-time career, it will cost time and money.
Social media, coupled with paid advertising, can drive traffic and quickly help you generate enough traffic to make money from ads. Before you invest in any advertising, though, make sure you have your finances in order.
This means fully assessing your current debts and expenses. You can look into options to save more each month that you can put toward your site through things like student loan consolidation and refinancing.
Don't start running ads if you aren't able to continually produce content or have a strategy in place to retain a new following.
Readers might click through to read one post, but they'll stay for more if you have a well-structured site and plenty of other posts for them to check out.
Some newbies pay to run traffic when they only have one or two posts on their site. This will quickly siphon your budget and leave you in the negative without any way to make up what you've spent.
In the early days, go organic. This means social media, like Instagram and Pinterest, and strong SEO. Search engine optimization is easy to understand, but it can be difficult to implement without prior experience. Luckily, there are tons of amazing free resources online, like Moz's Beginner's Guide to SEO, MozBar for Chrome, and the Mostly Blogging SEO Academy.
Don't Be Blinded by Numbers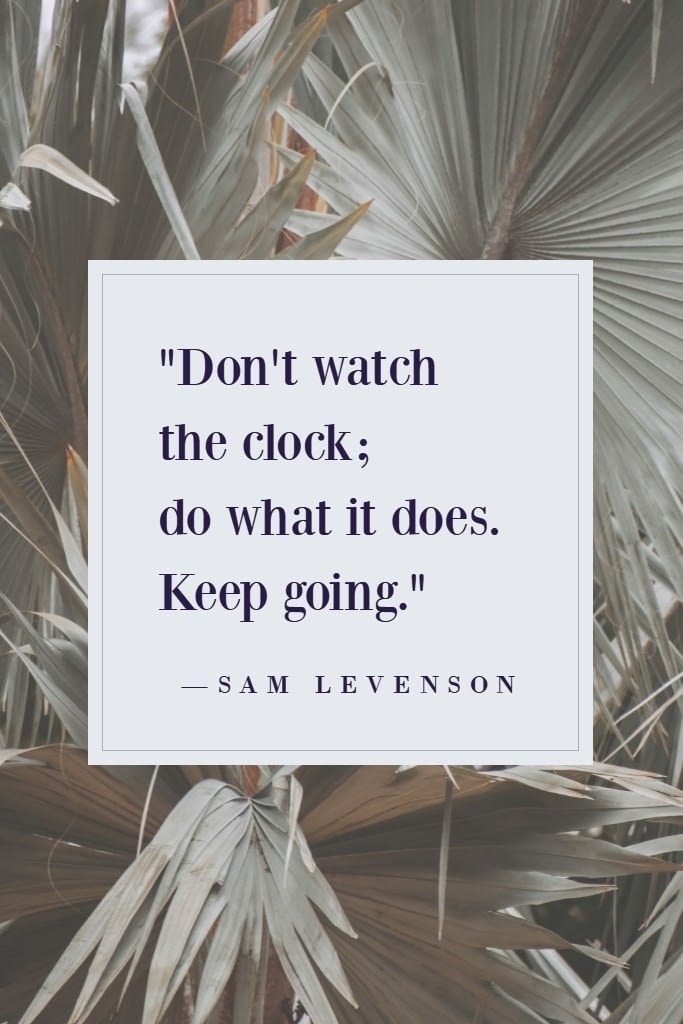 It's natural to get excited about growth, but bloggers should always focus on pleasing the audience they have, not the one they want. If you only focus on attracting more readers, you'll fail to delight the audience you have.
A connection is what makes blogging feel worthwhile. Encourage your audience to leave comments, hold conversations with them and post content that they want to see.
Retention is just as important, if not more so, than growth, and a big number of email subscribers or followers doesn't mean anything if you don't receive any engagement.
Some bloggers are so focused on their page views, they lose valuable blogging time.
If you want to be blogging for life, try to ignore your numbers.
Read as Much as You Write
Take in other bloggers' content as often as you can. You'll learn through experience, and part of that is seeing what successful writers are doing both in and outside of your niche.
This is also a great opportunity to meet new people through comments and blogging groups. While you might find it easier to focus solely on producing, there is plenty of value to be found in the act of being an avid reader as well.
This is also the perfect way to combat the inevitable bout of writer's block you'll stumble upon, which will make coming up with ideas difficult. The more you fill your mind and feed with inspiring, exciting and diverse posts, the easier it will be to fuel your own creative juices when they start to dwindle.
Blogging for Life: FAQ
Is blogging still worth it?
If you enjoy helping others, writing, pursuing your passions, and having a chance to make money doing what you love, then yes, blogging is worth it.
Wrapping Up: How Can You Make Sure You Are Blogging for Life?
When I first started blogging, seven years ago, the thought of blogging for life seemed daunting.
Now, I hope I will be blogging for life.
What changed? These strategies changed me.
To recap:
If you want to be a popular and happy blogger, follow these strategies:
Focus.
Write conversationally.
Decide on your blog's goal.
Limit paid ads.
Ignore your stats.
Read.
Once I followed these strategies, I changed from a blogger who considered abandoning her blog to a blogger who could see herself blogging for life.
Blogging is a long game. If played with patience, the long-awaited results will be worth it. The reason people say, "Blogging is a marathon, not a sprint" is because it's true.
Readers, please share, so bloggers who would like to be blogging for life discover these six blogging best practices.
What about you? I look forward to your views in the comments section. Can you see yourself blogging for life?
This post was contributed and made possible by the support of our readers.