Do you need blogger outreach?
Don't we all? The Blogosphere can be a lonely place.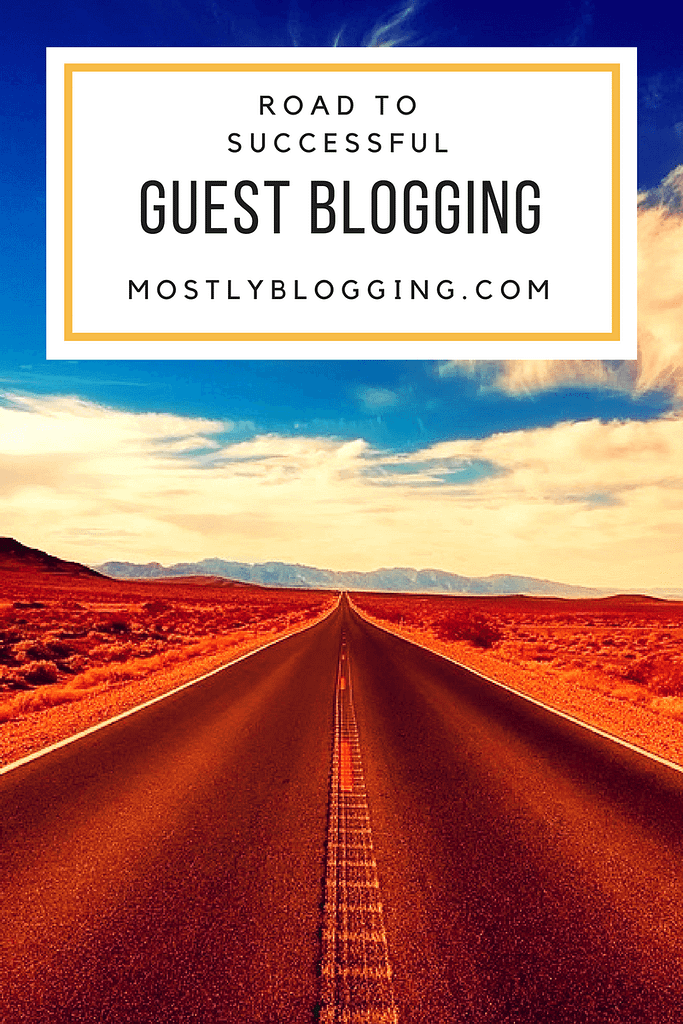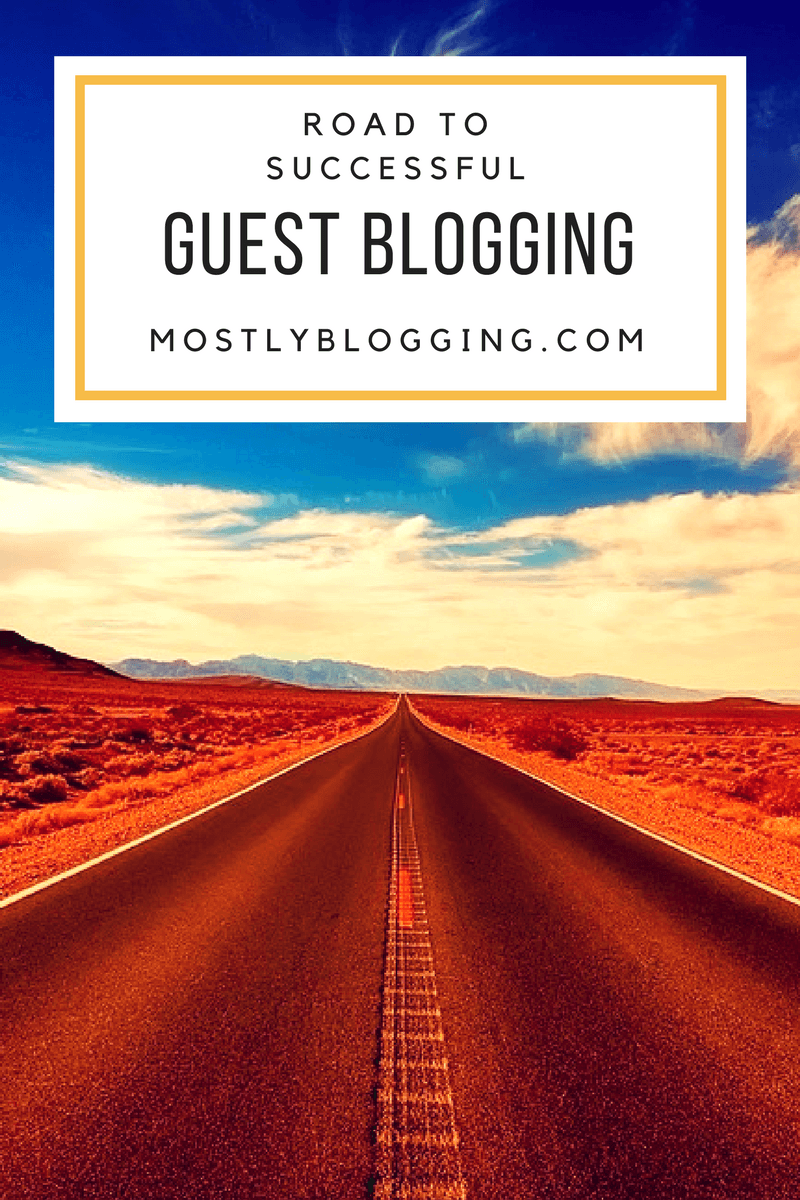 This Is the Road to a Successful Guest Blogging Campaign
by Clay Smith
Bloggers can achieve by creating a brand, be a recognition face over the blogosphere and even gain some powerful backlinks to their site. All these can be done via Guest Blogging.  Guest blogging is getting really poor quality lately since people are using it only for manipulative and spammy purposes.
That's why I want to write about some strategies that will help you to keep it high quality, and making you sure that when you're giving out content for those websites, you are not losing all the value that you might expect to get from posting your guest posts on your own blog.
Finding the Right Target
The first step for a successful campaign is trying to find good websites. The easiest way to do it is using Google search strings. Below you have some of them, just to get the idea how it rolls.
Your Keyword "submit blog post"
Your Keyword "submit your content"
Your Keyword "guest post opportunities"
Your Keyword "submit an article"
Using these type of queries can lead to different sites that do accept guest posts. Still, this depends on you and the industry you are in, being creative about what is being talked about over the industry can help a lot.
Following the road of successful people. The people who are already famous in your niche, tend to be the ones who guest post a lot. This is true, believe me.
Find an image of that person and with the right button of mouse click on it, then click on "Search Google for Image."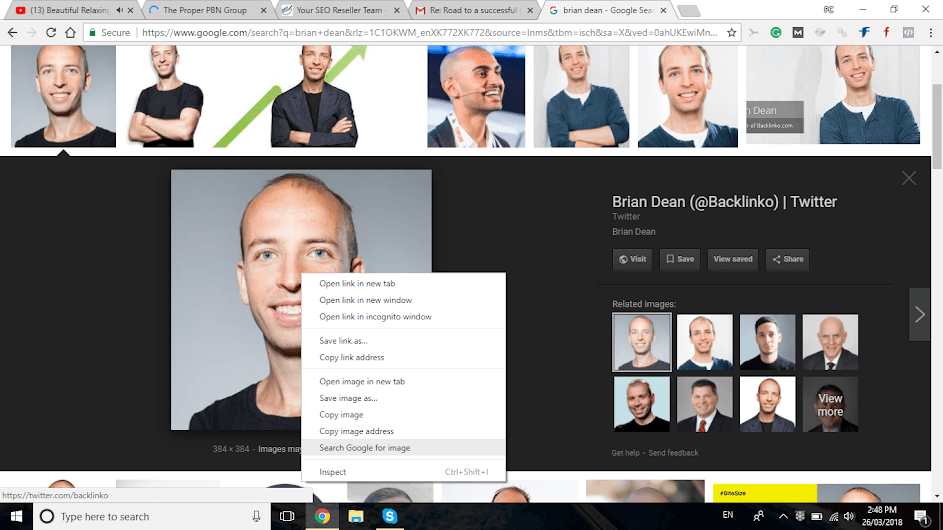 You search by image on Google as I did for Brian. Then you will see all guest posts Brian did for other blogs.
This is the method how you can find guest post opportunities. For example, if you are on fashion niche, you just search by image on Google for a fashion blogger.
Twitter Hashtags. Twitter is the most used social platform for digital marketers. Searching there for guest posting websites can lead to many great opportunities.
Blogs with no footprints of accepting guest sites.  A lot of blogs out there try to stand out in the spammy world. Typically, these are the blogs that you should aim to guest post on speaking from the quality angle. If you know blogs that are filled with content from different writers, then particularly they are accepting guest posts. Blogger outreach should be easy.
Building That Relationship
Please read it completely this step since it's not that thing you usually find on other blogs. (You won't regret this.)
This was a piece of advice that I got from a good friend of mine Grant McArthur.
Let's dive into it
If you ever want your content to be published on famous sites, you should have some kind of authority. What I recommend to gain that authority, is using the social network such as Twitter, LinkedIn, and Facebook; in some cases, Google+ can also work.
I highly recommend that you stick to blogger outreach for some weeks before sending the guest post request. Let them know more about yourself, your hobbies, and writing skills, tell them who you really are. After spending time engaging and interacting with their social media accounts, follow them on Twitter, retweeting their posts.
I also do suggest sticking to their blog, making comments and helping people who are asking for the potential host blogger's help. You should know that they approve those comments and the most interesting of them, they actually do read. Whatever option you have to interact with your potential host blogger, do it, do not hesitate.
It will be much better than going to him or her only with these words – " Hey this is a great article about blah-blah, would you please publish it?"
Let's remember ourselves that when the post is going to be published, we won't be provided with only that link.
You want that content to be useful for the community of that blog, which comes around being useful for you too. People will start to follow you on Twitter, share their tweets, and create an impression in their minds that you are an expert in that field.
Making the Perfect Content
On this step, I'm going to try to help you with some specific techniques that are going to make your guest content shareable for the audience. I highly do recommend when guest posting, aiming for a link, but if your content has many links pointing to your content, people will know that this post is a spammy one.
On the other side, you can get the value that you want, with only a link, a link that is embedded in the content and adds more information that people would love to seek more information on in that area. Even a greater idea when linking out is doing it with viral images, infographics, something that is missing in that niche.
Writing on Buzz Content. The best way to make sure that your guest post will get accepted and will go viral is writing for a topic that is already popular in that niche. There are sites that show their most popular posts on their blog sidebars. Another way to find popular content is by heading over to BuzzSumo, writing there a famous site, and seeing the results which are most shared.

[Host Blogger's Comments: As you can see, I went to Buzzsumo.com, typed my blog name in the search bar, and I was able to see my most shared content. Clay is recommending you write about your most-shared content topic in your guest post. This makes sense since people in your niche have already indicated they find this topic interesting.]
Taking care of bio links. Some sites, mostly the big ones, only accept a link back to your site in the author bio box. I know this is tough to accept, after all that hard work that you have put into that content, but you can actually get that anchor text to fit well with your branding in a clever way. I'm talking here about, putting in a short bio, that will engage people while they are reading so they click on your link. Here's a great example of that:
[Host Blogger's Comments: When Peter Nyiri guest posted, he had an engaging bio. I could see on my dashboard he was getting many clicks on his link.
Post: How To Get Your Blog On The First Page Of Google for Free
Author Bio: 
I will introduce my new website to you.
It is called FunnelXpert, and it is about funnels: sales funnels, webinar funnels and everything that goes into it to make your site or blog profitable.
If you liked what I did above, hop over. It actually demonstrates what a sales funnel is like, what it does. I'd like invite you to come over, sign up, experience it yourself, and use what you learned to build a 5-figure blog or website.
Notice: Peter did not talk about himself. He discussed what the reader would get if they clicked on his link. Also, his tone was warm and welcoming. Do you see why this would engage the reader?]
Leave the door open to guest post again on that site. Even when you finally publish your content on a popular site, it doesn't mean that you can't publish more posts on that site. What I'm trying to tell you here is make yourself the most wanted writer in the industry. You could achieve that if you ask your friends to comment on your guest post and share on social media. When the host blogger sees those shares and comments, and he finds out that your content is matched with his audience, he or she would welcome you back there.
Blogger Outreach: More Guest Posting Tips
However, I talked so much about how to find great sites to guest post on and stay near influencers, I couldn't call this post finished without giving you some Ready Made Outreach Templates.
Blogger Outreach Templates
Hello (Name),
My name is (Name) and you have probably seen me commenting on your blog posts and on your Twitter feed. I have done this since I really enjoy your content and your audience.
I recently wrote a topic (Topic's Name) where I wrote about (recap your content, very briefly). If you would like to see it and probably share with your audience, please reach me back.
Either way, keep up the good work. I will always enjoy your articles.
Regards,
(Your Name)
[
Host blogger's comments: 
If the bloggers agree, you will get a link back to your site from your content without having to write original guest posts. Links boost your SEO.
As a hostblogger, I am usually quite receptive to outreach efforts.]
Last Words
If you aren't satisfied with your blog traffic but aren't posting on other people's blogs, you don't have much to complain about. Start guest posting today, and see your influence grow.
Even after all these years, guest blogging still remains one of the best techniques for bloggers to increase their audience and get a link and what not. There are rumors that posting content on other sites is 3 times as valuable as creating that content on your own site. Whether that is true or not, it clearly tells you that guest posting is valuable.
Host blogger's comments:
Takeaways: Blogger Outreach
Although road to blogging may have its bumps, as you can see, blogging outreach is easy.
This post provided you with:
a guest post outreach template and
outreach guest blogging tips
outreach guest posts strategy
I normally don't provide the author bio, but since Clay didn't provide one, I will:
Author Bio:
My friend and SEO expert, Clay Smith, guest blogged for us today.  Expecting a post about SEO tips, I was surprised when Clay asked if he could guest post about guest blogging. I learned long ago that any tips Clay shares are valuable. Clay and his proven SEO tips can be found at pcmate.org where he blogs. Run, don't walk, and sign up for his newsletters. When you do, you'll get SEO strategies he doesn't share with anyone except for his subscribers.
Readers, I look forward to your views in the comments section.
Guest blogging is a valuable form of blogger outreach. Do you have any additional tips to enrich the value of guest blogging or blogger outreach in general? For example, do you have additional guest blog outreach tips? Have you tried guest blogger outreach? What were your experiences?
Please share, so other bloggers know the importance of this form of blogger outreach, guest posting.