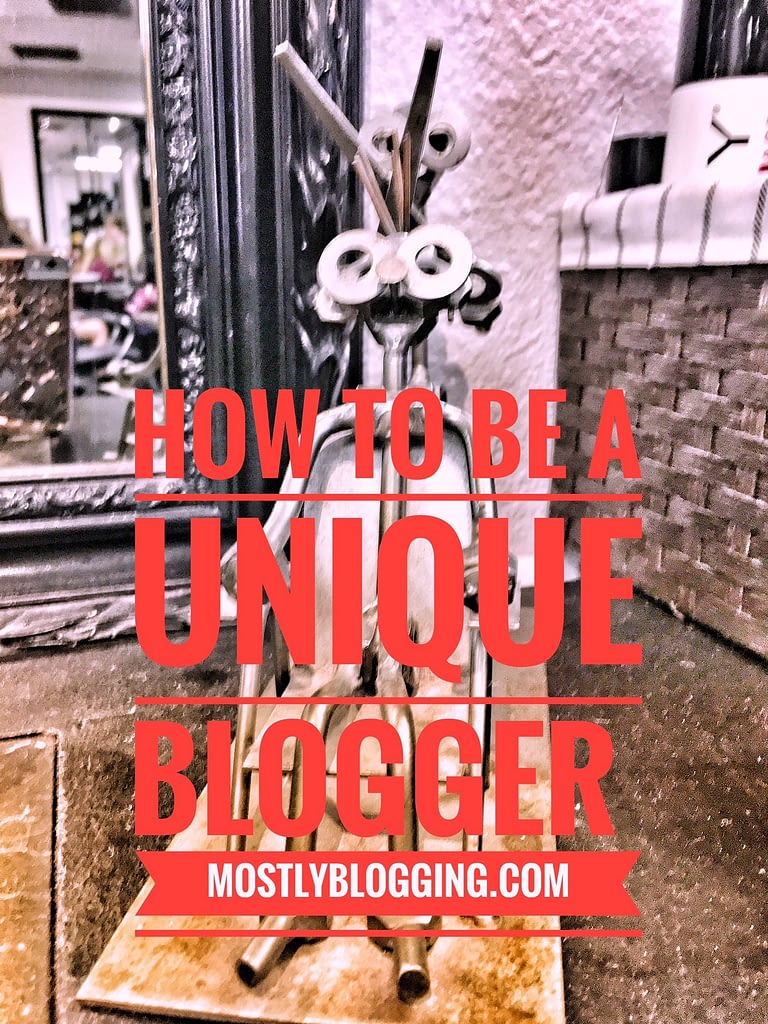 Blog Writers: You know with millions of blogs on the internet, the competition for readership is fierce.
You also know that in order to beat that competition you need to make your blog stand out.
Recently, I published You Need to Find Your Voice: How to Improve Your Writing Persona. Did you feel that post was over-the-top?
Reaction to the post was so mixed, the issue of how to make your blog stand out actually became controversial.
The guest author who wrote the post finds success in the blogging world by being so unique she writes from the point of view of a dog.
Consider these comments: "It's a pretty great feeling to feel as though you can just be yourself and that you don't have to pretend to be something you're not. All too often people think they have to pretend – but NOPE. People like REAL!"
If you agree with this commenter, this post is for you. Today's guest author Nelma Lumme explains how to stand out in the crowded internet by being a unique blogger without changing your persona.
Follow Nelma's 5 tips for being one of the unique blog writers, and you can stand out and still be yourself.
How to Be a Unique Blogger on the Web
Nelma Lumme
It's hard to become unique and do something new in today's day and age. You feel like everything has been done before and in a better way than you plan on doing it. However, becoming a unique blogger is possible if you have a good idea and are patient enough. Let's take a look at some of the tips you can implement in order to set up a unique blog that people will love to visit.
Plan in advance
The trick of doing anything worth your while is planning ahead. The same rule applies for blogging – if you have an idea about what you want to write about and how you want to do it, you are already halfway to being successful. Many people start blogging without a clear idea of what they really want to do. That's why many people don't make it as bloggers and decide to quit before they even gave it a proper chance.
Plan your area of writing, topics and niche content at least a few weeks in advance in order to have a clear mind for further creativity. Always leave room for improvisation, but never be unprepared about what to do next with your blog.
Research your topic
The trouble that most bloggers face is the lack of research and proof when it comes to their content. While being honest and straightforward with your audience is the key to success, being backed up by evidence is just as important. Writing about a topic that has been researched for years before you stepped into the ring is always a troublesome matter. Many people have existing knowledge of the topic and are looking for data evidence, trustworthy links, and sources, factual numbers, etc. If you are writing about a topic like that, conduct proper research before you write or post anything online.
The way to becoming a unique and successful blogger in today's digital world is by being honest and thorough in your writing. There are far too many bloggers and content creators out there that fail to do this and end up misleading their readers and losing followers in the process – do everything you can to avoid this.
Don't be afraid to experiment
Becoming "unique" takes more than following a certain pattern. While there are rules we have to follow like SEO optimization and the rules of the internet, other rules are yours to make. This means that you can experiment with your content as much as you want; as long as it's something you truly love doing.
By experimenting you will come closer and closer to becoming different than others, giving your audience something they never even knew they wanted. This can be a new form of video content, audio content, animations inside your blog posts, whatever you think is best for your own blog. The point of experimenting is to find what you really like about blogging and to find out what clicks with your particular audience. Once you find a balance of these two, you will be very close to being a unique blogger who is unlike anyone else on the web.
Always give credit
Being unique is also about being fair to everyone around you. In today's world where information exchange is quick and people forget about it in a matter of minutes, mentioning who inspired you or helped you create content is very important. This affects your image as a blogger and creates a buzz around you like very few things on the internet can.
You will not only point your readers and followers to other useful creators and sources, but you will also find new collaborators and friends in different content creators. Making these connections will go a long way in making you unique on the blogging playground. Just imagine all the combinations of content you can create with other bloggers if you only reach out to them by referencing their content and linking to their blogs.
Never stop improving
Once you become a unique blogger, you have to understand that this won't last forever. In order to stay relevant, you will always have to be one step ahead of your audience and follow the trends. A great way to become better at blogging is to read books and follow other bloggers.
By reading, you will not only become more creative and versatile with your vocabulary but also get new ideas about where to take your blog. The similar applies to following other blogs and learning about what "clicks" these days. The key to staying relevant and unique on the web is always being updated about what's going on and planning ahead according to that information.
Conclusion
As you can see, the key to being successful is not some ancient secret being passed down through generations. It's hard work combined with a spark of creativity and patience. There is nothing stopping you from becoming a relevant and unique blogger other than yourself. If you believe in your idea, others will follow you and believe right alongside you. Use your imagination and create content that you can be proud of – no one else can do it for you.
Author Bio: Nelma Lumme is a freelance content writer. Originally from Finland, she now lives in Chicago, IL. She now helps people with career questions, providing useful tips for recruiters and employees through her articles. Check out her professional writing services at Flashessay.com to help you out with your content.
Host Blogger's Comments:
Clearly, blog writers don't agree on how to beat the online competition for readers.
Do you agree with the guest author who insists it's okay to alter your persona to be one of the successful blog writers on the web? On the other hand, do you agree with today's guest author Nelma? She insists,
"The way to becoming a unique and successful blogger in today's digital world is by being honest and thorough in your writing. There are far too many bloggers and content creators out there that fail to do this and end up misleading their readers and losing followers in the process."
Readers, please share, so other blog writers know how to make their content unique.
How do you make your blog stand out? I look forward to your views in the comments section.