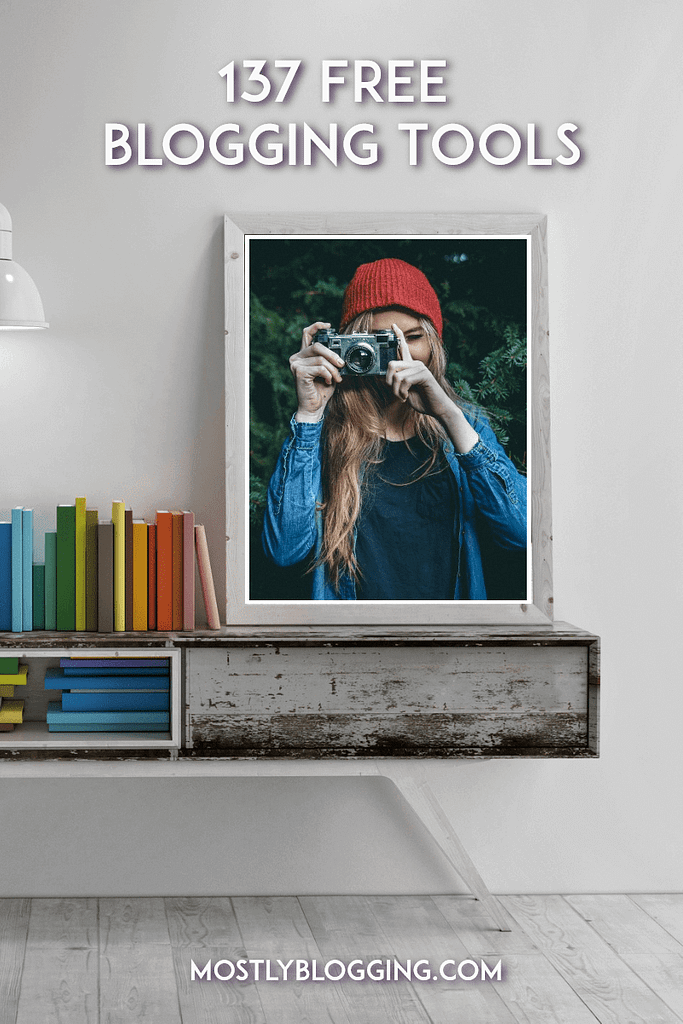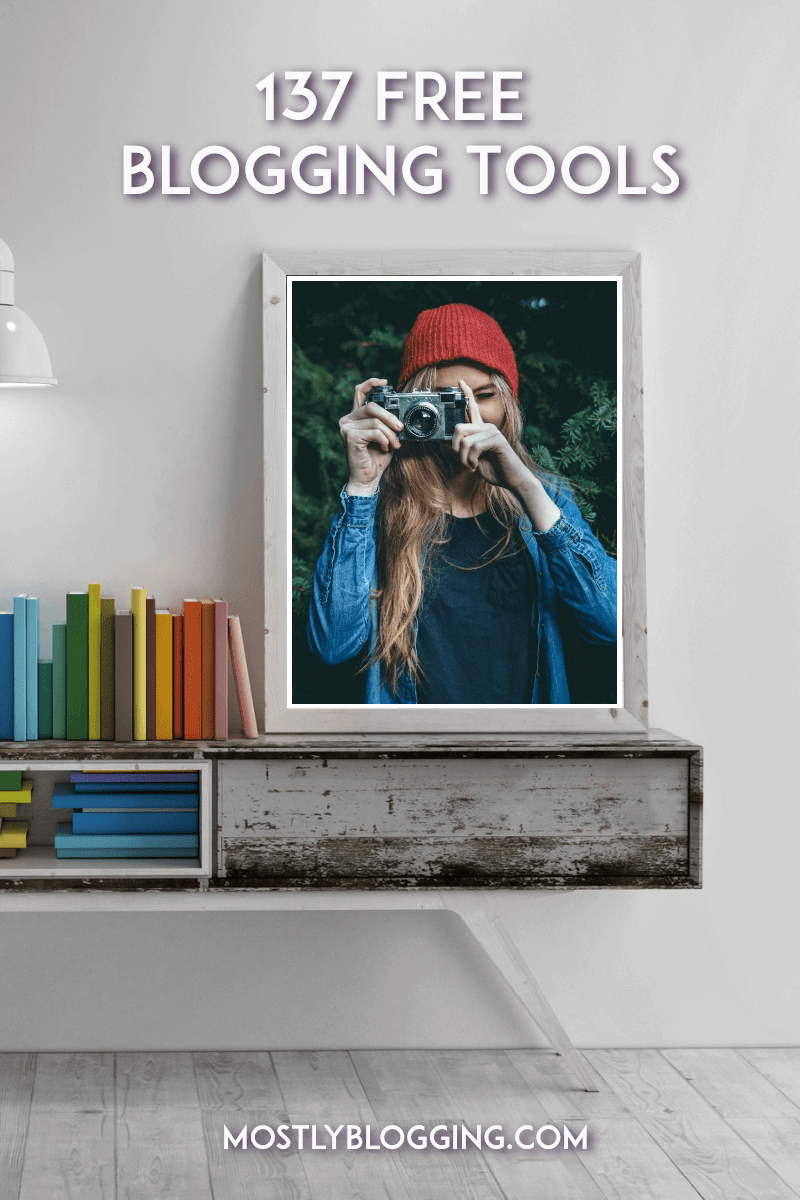 I equate blog management to having a natural childbirth.
You could forego assistance that will ease your struggles, but why would you?
No need to answer that. Just use these 137 free blogging tools and make your life as a blogger easier.
Blogging tools are as essential to a person who wants to have an easy time with blog management as pain relievers are to a woman who wants to have an easy time in labor.
I have personally used these tools and can recommend them unless otherwise stated. Although I'm sure there are many more tools out there to improve blog management, these are the tools I use. Therefore, I can recommend them based on personal experience.
Since I am an Apple iPhone user, the apps mentioned here are available for the iPhone. You can check the availability for Android users by going to Google Play.
Although there may be many uses for these apps and websites, in this post I share the way I use them.
The best part: These 137 blog management tools are all free. It costs you nothing to try them but you could lose a great deal of time by not trying them.
For your convenience, the functions of these tools are in alphabetical order.
One of the most common questions I get asked is how to find time for blogging.
Easy! I use tools to help with blog management.
Sixteen months have passed since I published my 2017 free all-purpose blogging tools resource.
In that time, many tools listed in the 2017 edition that helped with blog management have folded.
This, the 2018 free blogging tools resource, is an update of that post.
It's true! You can improve your blog management.
Bring on the tools!
Ultimate List of 137 Free Blog Management Tools
 Collaboration Tools 
Chatbots Save time and let your chatbot greet your website visitors.
Facebook Messenger Have you become friendly enough with your blogging connections to connect on Facebook? Use Facebook Messenger to message individuals or groups.
Google Docs Use Google Docs to collaborate with guest authors or co-authors. Recently, someone interviewed me using a Google Doc. [Read: 25 Ways Google Docs helps bloggers.]
Google Forms I use Google Forms to interview people. Many others I know do as well.
Google Hangouts I've been invited to collaborate this way.
Skype Communicate using Skype. Skype is a great tool for interviews.
Snapchat Snapchat is no longer just a quick messaging tool. You can make your "snaps" last. Marketers use Snapchat for advertising. [Read how Snapchat helps bloggers and marketers.]
Telegram app is used by many Instagrammers. They send the link to their Instagram posts to people in groups. If people want their posts liked and commented on, they must show reciprocation to others in the group.
Trello Trello Groups use Trello to communicate. Trello boards are like whiteboards and ease visual communication.
What's App Similar to texting but less expensive. [Read how to use What's App for blogging.]
Adobe Spark Adobe Spark is a website as well as an app. I use both to make my Instagram posts. The app is called "Spark Post."
BeFunky
Canva is a popular tool among bloggers. You can use Canva to make blog graphics, infographics, Instagram posts and Instagram stories among other projects. [Read: How to Use Canva, a Quick Guide.]
Canva app Canva is an app as well as a website. I like using the app since it makes uploading to Instagram easier.
Fotor [Here are links to my Fotor tutorials.]
Fotor app
Image Quotes I use this app among others to make my Instagram quote posts.
FotoJet [Read: 17 Ways FotoJet Will Quickly Help You Blog Better]
Nimbus Screen Capture Great for capturing screenshots.
Pablo I use Pablo when I need a graphic to place with my Twitter posts.

Piktochart A popular, easy infographic maker.

Pixlr Rosie Digout recommends Pixlr, an online photo editor. I have not personally used it.
PixTeller Lately, PixTeller has been my go-to site for blog graphics. I enjoy using their Instagram graphics as well.
Quotes Cover I use this app to make my Instagram quote posts. Go to QuotesCover.com. Click Topic. Browse through popular topics. Click on the topic you'd like a quote for.
Quotes Creator I also use this app to make my Instagram quote posts.
Snappa Codrut Turcano recommends Snappa. I have not personally used it.
Snapseed app My Snapseed tutorial generates search engine traffic so I know there's interest.

Typorama One of my favorite apps to make Instagram posts. Comes with free graphics, cool typography, and "random" quotes. The Instagram crowd loves inspirational quotes.  [Read: Do You Need an Instagram Quote Maker? Here Are 35 Free, Easy Tools]
Designhill Logo Maker [Read: How to Quickly and Easily Make a Logo to Boost Your Brand.]
NewOldStamp Email Signature I sign my Emails with my name and blog URL. It's easy to put in place under your email signature.
Podcasts You don't have to pay for all the podcast software. Some are free to use.
Google Adsense [Read: How to Make Money with Adsense.]
Akismet Spam Catcher
Broken Link Checker. Do you ever wonder how to know if you have a broken link? Broken link checker crosses out the link. When you and your visitors see the crossed out links, you'll know they're broken. This will save your visitors time and annoyance when they try to click on them.
JetPack powers my stats.
Revive Old Posts suggests relevant internal links.
TinyMCE Visual Editor enables me to have tables in my blog posts. [Read: How to Make More Money with a Pricing Table Template.]
WP Smush compresses my images so my site isn't slowed.
Yoast makes sure my posts are optimized for search engines.
Astro I've only just recently started using Astro, but I'm enjoying the help the Astro bot gives me. Astro uses artificial intelligence to know which of my contacts are important. In addition, I'm emailed about important messages and asked questions that help me be more organized. Astro is like my secretary! UPDATE: Astro was acquired by Slack and can only be used in conjunction with Slack. 
Dropbox Easily access your files anywhere. No need for a flash drive with a Dropbox account.
Evernote A popular note-taking tool. Free for two electronic devices.
Google Keep I haven't used the app in a while. However, if you feel more organized using post-it notes, you'll love Google Keep that uses virtual post-it notes.
Google Inbox Google Inbox has great potential for email organization.
Microsoft Word enables me to write blog posts offline.
Pages I like the Pages app the iPhone comes with since I can sync to the Cloud and access my notes anywhere.
Unroll.me This tool will "unroll" your emails. The tool actually unsubscribes for you if you tell it to, "rolls" your emails so they come in at once, or keeps them as they are, coming into your email individually.
Medium Using this content syndication site could draw attention to you and your blog if you link to your site in your posts.
Tumblr I use Tumblr to get quotes for my Instagram posts. Being a microblogging site, Tumblr is a perfect place to go to find something small like a quote. You can also publish on Tumblr and link back to your blog.
WordPress I've blogged at other sites and find WordPress is the best blogging platform. [Read: Why is WordPress Considered the Best for SEO?]
Google Thanks to the innovation of voice search, you can save time and dictate the questions you need to be answered in order to write your blog posts.
Google Analytics You can use Google Analytics to discover a wide-range of metrics. For example, you'll see which social media sites send you the most traffic and the best days and times to post.
Google Translate You don't even have to know the language to get the text translated. A reader wrote to me in a language I didn't recognize. Thanks to this tool, I got his letter translated.
Plagiarism Checker. I use the Plagiarisma Plagiarism Checker. Since we need to publish original content for SEO purposes, if a guest author sends you a post, this comes in handy.
Pocket by putting URL's in Pocket, I can read articles and research offline. Pocket is a content curation site you can use offline. Harsh Agrawal recommends Pocket.
Quora Although you can publish articles on Quora, I tend to use it for research. When I go to Quora, the question and answer site, I discover what questions people want to be answered in my niche. Then, I write and publish blog posts about that topic.
WordCounter Do you participate in expert interviews? You should. Links to your site help your SEO. Often, the words in the response are limited. Unless I write on Word or Google Docs and copy-paste, I don't know if I've reached the maximum or minimum word count. This tool functions well if you find yourself in that situation.
WordPress app I use the app to research my blogging stats and links to my site.
Ahrefs Although Ahrefs charges for using their keyword research tool, other helpful components of Ahrefs are free. The Site Explorer, for example, tells me my top posts. [Read how to use Ahrefs, a guide.]
Alexa.com Alexa will tell you how many websites are better than you in the world and in your country. When you go to Alexa.com, you want the number to be low. The greater the number, the greater the number of websites that are better than yours. Alexa will tell you other valuable metrics as well such as the keywords people use to find you and the websites that enabled people to find you [Read: This is What You Need to Know to Use Alexa.com].
Ask The Public shows you a web of keywords. I enjoy the ambiance. The man who greets you is funny!
Bitly Even though I've never used Bitly, I often find myself needing a link shortener. Apparently, this link shortener comes with analytics.
Google Keyword Planner If you're not familiar with this popular SEO tool, read this Google Keyword Planner tutorial.
Google Search Console Are you worried your search traffic is low because you're receiving a penalty from Google? By going to Google Search Console, you can see if you have any Google penalties against your site.
Google Suggest at the bottom of the Search Engine Results Pages. You'll see actual words used in people's queries.
Google Trends Dan Ryland, an expert in enhancing the user's experience, recommends Google Trends for both YouTube SEO and Blog Posts SEO. "For example, you could use Google Trends to decide which keywords are popular to add."
Hubshout I use Hubshout to see which pages on Google my articles rank. If I keep linking to those articles, I could move my articles higher in Google's Search Engine Results Pages (SERPS).
KWFinder I find this SEO keyword tool so easy to use, I became an affiliate! Here you will find more information on KWFinder.
Moz Keyword Explorer allows you 10 searches for keywords per month.
Link Explorer (Formerly Open Site Explorer) is Moz's tool. I used Open Site Explorer to check my Domain Authority Ranking. The higher the ranking, the easier it is for me to monetize my blog. People want links from people with high DA's and they're often willing to pay for them. I only collaborate with bloggers in my niche, blogging, and marketing. Google likes us to link to relevant content.
SEMrush is one of my favorite SEO Tools.
SiteCheckerPro Do you want to know what you're doing wrong when it comes to SEO? Check out this tool that gives you a free SEO audit.
Soovle When you enter your keyword, many keyword alternatives appear.
SpyFu Use SpyFu to check your competitors' keywords. You can check your SEO metrics as well. You need to sign up, but the account is free. A member of the Facebook White Hat SEO Group recommended SpyFu. According to research, SpyFu is not a free tool. However, I used it for free before I registered, and I used it for free after I registered. Maybe there is a limit of free uses. Even if you look at your metrics once, you'll get valuable insight. I am a SpyFu affiliate. I hope you'll sign up through my affiliate link if you register for an account.
Ubersuggest, After you type in your keyword, wading through the alternative keywords that appear will exhaust you, at least it does me. Ubersuggest is Neil Patel's tool. If you're not familiar with Ubersugest, read this Ubersuggest tutorial.
Ahalogy is a free Pinterest group board scheduler.
BizSugar allows self-promotion of your blog posts. The site offers many categories that may match your content. BizSugar has a high Domain Authority ranking. Linking to sites with a high Domain Authority ranking helps your SEO. If you're not familiar with BizSugar, read the 7 ways BizSugar will help your blogging.
Buffer is a social media scheduler. I use Buffer to schedule my Twitter tweets and my Instagram posts. In a recent interview, experts chose Buffer as their favorite social media tool. If you're not familiar with the advantages of using Buffer, read the 17 Reasons Buffer Will Blow Your Mind. Using Buffer is one of the main ways I maintain my blog management.
Click to Tweet Include a  Click to Tweet in your blog post and a welcome Email.
CommentLuv There is a free version of CommentLuv although the site is currently not being maintained. [Read: How to Use CommentLuv to Easily Get Blog Traffic.]
Commun.it I use this website to unfollow Twitter users who have unfollowed me. This site allows you to unfollow 50 people a day. Commun.iT will also email you analytics.
Crowdfire I also use the Crowdfire app to unfollow Twitter users who have unfollowed me. Blogger Ashutosh Singh recommends Crowdfire.
DrumUp You can use DrumUp to promote your articles. Since Buffer only allows me 10 prescheduled tweets, I use DrumUp's scheduler to schedule additional tweets to my Twitter feed. Also, DrumUp can draw directly from your RSS feed saving you loads of time promoting your articles.
Facebook  There were times I doubted whether my friends and family following me on Facebook would be interested in my blog content. As it turned out, they were very interested and I received blog traffic.
Facebook groups Despite the bad publicity Facebook has taken in the press lately, there is one bottom line: I could not have grown my blog to the extent I have without being able to promote in Facebook groups. These 18 Facebook groups allow daily self-promotion of your articles.
Facebook page enables you to promote without looking spammy to your Facebook followers.
Flipboard Although mass traffic from Flipboard is sporadic, I have received triple-digit traffic from Flipboard frequently. [Read: How to See a 10X Growth in Your Blog Traffic from Flipboard.]
Followers app I use the Followers app to unfollow Instagram users that have unfollowed me.
Forums These blogger forums allow "link dropping" even if it's only on occasion.
GrowthHub formerly known as Inbound.org, is a forum that allows you to leave your links to your posts.
HashtagforLikes You'll find many hashtag groupings here already assembled for you. Instagram allows up to 30 hashtags per post.
Hashtagify When I go to the site, I immediately know the popularity of the applicable hashtag and see a Word Cloud full of relevant hashtags.
Hashtags will enable people interested in your content to find you. Hashtags are helpful on Twitter, Google+, and Instagram to draw attention to your blog.
Hootsuite will schedule your social media posts for you. In a survey of 50 bloggers and marketers, Hootsuite was among the most popular tools mentioned.
IFTTT (IF This, Then That) will allow you to link your blog posts to your social media sites. Let IFTTT post your content for you! If you're not familiar with how to make connections using IFTTT, read this IFTTT tutorial.
Instagram Once you get 10,000 followers, you're allowed a live link with your content.
LinkedIn You can post original articles and network. [Read these tips for writing a strong LinkedIn post.]
LinkedIn groups Millions of people are in these groups! You'll find groups for many niches: Technology, education, social media, marketing, and mobile, just to name a few.
LinkTr.ee Since Instagram only allows me one link in my bio, I use LinkTree to link my popular blog URLs together. More bang for your buck? Definitely! (Just an expression; these tools are all free.) Instagram influencer Elaine Rau recommends LinkTr.ee.
Missinglettr Let Ben and his crew over at Missinglettr write your social media posts for you. They even supply the relevant, popular hashtags! Missinglettr provides a free service for your choice of social media site. I highly recommend Missinglettr for help with blog management.
Mix Mix is a new content curation site that replaced StumbleUpon. Blogger Hugh Roberts reports seeing Mix traffic in his stats. Use Mix to promote your content. Read this guide to using Mix.
Pinned Tweet If you go to my Twitter profile, you will see a pinned tweet. It's extremely easy to pin a tweet. Go to your Twitter profile and click the three dots under your tweet about your best article. Click "Pin to your profile page."
PinPinterest Ryan Biddulph recommends PinPinterest.com. I have not personally used it. According to Ryan, "Here, I'd like to add the best tool for Pinterest ever made. I'm using it myself for more than 7 months now, and I've gained unparalleled results both in the form of followers and revenue. It lets me schedule as many Pins as I want, and it also intelligently pins only images related to my business. It learns this every time as I keep using it. PinPinterest is free to use, based on the cloud, has a mobile ready website, works on Intelligent algorithms and sets up quick."
Pinterest Read how to use Pinterest for blog traffic and income.
Pinterest Group Boards According to Daniela Uslan, Pinterest Group Boards are the most successful form of advertising for her along with Facebook sharing threads. (Note: If you are subscribed to Mostly Blogging and would like an invitation to pin to our group board, please ask for an invitation in the comments section.)
Preview app I use the Preview app to ensure my Instagram posts look great next to each other. I try for a light, dark, light alternating pattern. Many Instagrammers opt for this "checkerboard" look. Then, Premier helps me find popular Instagram hashtags relevant to my content. Then, I use Premier to schedule my Instagram posts. Premier notifies me when it's time to post. Although it won't post for me, I still love and highly recommend the app.
Quora allows you to link drop if your article helps answer the question.
Reddit allows you to leave your link in certain subreddits.
Regrammer The Regrammer app allows you to repost other people's Instagram content.
Scoop.It is a content curation site which allows you to scoop your own articles as well as other people's articles. My articles were "scooped," and I really did receive sizable traffic. [Read this guide to using Scoop.It.]
Social Share Buttons Make sure they are enabled so people can share your articles.
TagBlender TagBlender offers you many categories of hashtags.
Top Hashtags has the same function as TagBlender but without the blender theme.
Triberr Do not blog in isolation. Let your tribes at Triberr help you extend your Twitter reach. [Read How You Can Boost Your Blog Traffic Using Triberr.]
Tweepi Since Twitter doesn't show me everyone who follows me, I use Tweepi to find out.
Twitter allows pinned tweets so you can feature your email list optin or the link to your ebook or most popular post. When you promote on Twitter, use hashtags so people interested in your content can find your links.
Twitter Cards allow you to make your graphics bigger so your content gets noticed on Twitter. Read this guide to using Twitter cards.
Twitter Lists Twitter lists are a great way to organize your Twitter connections. [Read How to Make Amazing Twitter Cards so You Can Get More Blog Traffic.]
Twitter chats help you reach a new audience using a special hashtag. Look here for the Twitter Chat schedule.
Viral Content Bee enables you to promote your writing on a variety of social media sites.
Viralwoot is a free Pinterest scheduler. Read this guide to using Viralwoot.
Wakelet I've just started using the content curation site Wakelet, but blogger Dexter Roona is a fan.
WhentoPost This app tells me when to post to my Instagram feed.
Facebook Live I have never hosted a Facebook Live video but many of my blogging friends have and recommend this technique.
Lumen 5
IGTV At the time of this writing, I've never used Instagram Television but I look forward to doing so.
Instagram Video can be used for both Stories and posts.
Periscope is used by Twitter users for Live Streaming Videos.
Renderforest Read how to use Renderforest, a guide.
YouTube Many bloggers are using the power of YouTube to draw attention to their sites. Read how you can keep your audience glued to your YouTube channel.
Advanced Marketing Institute will analyze the merit of your headline for you.
Capitalize My Title I'm a teacher and I still want to make sure my capitalization is spot-on, so I use this tool. Capitalize My Title will capitalize your headlines and subheads for you.
CoSchedule Headline Analyzer helps me write my headlines. The higher the score, the better the headline! [Read How to Write Headlines Guaranteed to Bring a Wealth of Traffic.]
Grammarly makes sure the grammar in my writing is error-free. Read this guide to using Grammarly.
HookLine Dynamic Michelle Schaeffer's tool helps with headline writing.
Linkbait Title Generator Reading controversial headlines causes people to click. If you're looking for that kind of "link bait" headline, this is the headline writing tool for you. For example, I have a post coming up about SEO Tips. Linkbait suggested, "the most incredible article about SEO Tips you'll ever read."
Portent If I'm stuck, I'll use Portent to help me with my headline.

Wrapping Up:

It's True! Improved Blog Management is Possible!

In closing, these are the free tools and websites that I use to help me with blog management. I can heartily recommend them based on the time these tools have saved me during the years I've been blogging.

I am able to have a family life, a social life, and work outside the home while I run my blog. You can too if you use these tools.

Readers, please share so other busy bloggers discover these tools for blog management.

Are there any free tools you use you can recommend that have helped you improve your blog management? I look forward to your suggestions in the comments section.

Related

How Simple Graphic Design Software Will Make You Blog Better, 5 Free Ways