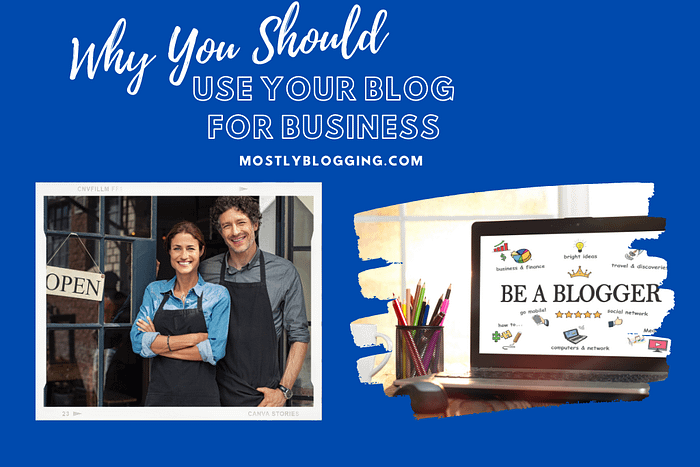 Are you here to discover how to use your blog as a marketing tool?
You often hear that blogs are good for business, but have you ever stopped to wonder why? What is the purpose of curating a blog? The answer depends on what you are trying to get out of it.
You might be blogging for fun—blogs are a great way to engage with like-minded people about the things you like. However, if you are blogging to help your business, you have to get serious about the process that happens behind the scenes.
The truth is that your blog as a marketing tool can be an effective marketing channel for your business, but that depends on the type of business you run. As readers will soon learn, blogging is great for many different kinds of companies but isn't the best use of marketing budget for others.
By reading this post, you discover why you should use your blog as a marketing tool. You will also see two examples showing you how to use your blog as a marketing tool.
You will also find out what type of business should not even consider using a blog as a marketing tool. The strategy would prove ineffective.
First, let's talk about how blogging is supposed to work as a marketing channel.
Are you ready to discover why you should use your blog as a marketing tool?
Ask Yourself: What is the Point of Your Blog?
Using your blog as a marketing tool is often an important part of a business's marketing strategy.
This is because a well-kept, regularly updated blog works to benefit your business in several ways:
Produces regular content that keeps customers, clients, and other interested parties engaged with your business
Can attract new customers who discover your business by searching for keywords that you (hopefully) rank for
Helps to build and maintain authority and reputation—both in a physical sense and online
Ideally, your blog has a bunch of content that answers questions. When people search on Google, they need something. They either have a physical lack of something—like they need a new set of earbuds—or an answer to a burning question.
For instance, this article answers the question, "Why should you use your blog as a marketing tool?"
Whether it's a good or a service they'll need, you need to produce content that provides answers to their questions. They might not even be aware that they need your good or service—they could simply be searching for solutions to their problem.
In digital marketing, this searching for solutions is called the consideration phase of the buyer's journey.
Ask Yourself: What is the Buyer's Journey?
The buyer's journey describes the path a potential customer takes toward becoming an actual customer. In business parlance, it describes the process of taking a lead and turning it into a conversion.
Though there are a few industry-specific ways to break this process down, usually, the buyer's journey is split into three parts:
Awareness
Consideration
Decision
Awareness
This is when the buyer becomes aware that they require some sort of good or service. Essentially, they become aware that they have a problem.
Consideration
The consideration stage is where the buyer starts to define their problem and formulate solutions to it. Their information-seeking becomes more targeted as they hone in on a solution.
Decision
Eventually, the buyer must make a decision. After weighing their options, they decide on a specific good or service that aligns with their budget, values, and identity.
Your Blog's Content Needs To Answer Questions Potential Customers Might Ask
Here are examples showing how to use your blog as a marketing tool.
Example 1:
Let's say you are a criminal appeals attorney running a small law firm. In this case, running a blog makes sense because you can curate a series of articles that answer the questions that potential clients might have about the appeals process.
Example 2:
We use our blog as a marketing tool in order to market our Blogging Academy courses.
Here is an example:
We offer a course in video marketing. We reviewed the TubeBuddy Extension for Chrome which people use for video marketing.
In the article, we wrote, "Before proceeding to read the guide to the TubeBuddy Extension for Chrome, if you feel you would be better served with more intensive training, check out our course in video marketing."
Do you see how we use our blog as a marketing tool?
It makes sense that clients would turn to Google to answer their questions. You want to make sure your content reaches them by knowing the types of questions your potential clients would ask.
But, how are you supposed to know what kind of questions people will ask before they ask them?
You Need to Know Who Your Customers Are In Order To Make Content That Answers Their Questions
This comes in two parts. The first part is knowing who you are—what is your business's brand. The second part is knowing who your target customers are.
This goes beyond mere data analysis, demographics, and other metrics to classify customers—which are all certainly important. But when it comes to curating content for your blog, you need to know what your customers are asking and how they are asking it.
This means getting familiar with the idea of search queries and keyword difficulty software, which are slightly different from each other, despite being used interchangeably. Search engines use keywords to sort out relevant content from irrelevant content when people conduct a search.
Your content needs to contain relevant keywords and keyword phrases so that Google knows that it is relevant to the queries that your potential customers enter into the search bar.
So, how are your potential customers asking their questions?
People Also Ask…
One straightforward (and free) way to see how people search for goods or services is to use Google's People Also Ask feature. After establishing what kind of questions potential customers might ask, you can further develop them by seeing what Google suggests as similar to those queries.
It literally compiles the most frequently asked questions real searchers ask regarding your keyword or query.
High-Quality Content Matters
You might be tempted to produce cheap, keyword-saturated content so that you can appear on the search engine results page (SERPs). However, Google bots are adept at filtering out spammy, poor-quality content.
Google uses a complex algorithm that has remained a closely-kept trade secret since 1997. It can tell the difference between poor-quality content and high-quality content.
What Have We Learned?
If you are blogging as a marketing channel for your business, you need to make sure that your content is
(1) high-quality,
(2) keyword optimized,
(3) positioned along the buyer's journey.
One important note… There are some businesses where this content model doesn't make any sense.
Blogs Aren't The Best Marketing Channel For All Businesses
Not all businesses should use a blog as a marketing tool.
If you run a moving company, your marketing budget would likely be wasted on curating a blog. Think about it—who is trying to learn about the finer points of moving an armoire? When someone needs movers, they won't turn to a blog for help.
You'd be better off spending your marketing budget on PPC or other digital marketing strategies like social media advertising—Facebook Ads or Instagram Ads.
However, if you offer goods or services that people might lack information about, your blog can be a valuable resource for them and a lead generator for you! By all means, use your blog as a marketing tool. You will find using your blog as a marketing tool is an effective monetization strategy.
In contrast, if you love blogging for blogging's sake then by all means—keep on blogging! But, if you are blogging for business, you have to do it right, or else you'll be misappropriating your marketing budget.
Blog As a Marketing Tool: FAQ
Is blogging a good marketing strategy?
Yes! You can create authority in your niche, engage interested parties, and can attract new customers.
Wrapping Up: The Effectiveness of Using Your Blog as a Marketing Tool
In closing, by reading this guide, you discovered how to use your blog as a marketing tool and why you should. You also saw two examples of business blogs that use their blog as a marketing tool. Finally, you discovered which blog should not use this strategy.
Readers, please share so business bloggers know how to use their blog as a marketing tool and whether they should even consider using this marketing strategy.
I look forward to your views in the comments section. Do you use your blog as a marketing tool? Do you find using your blog as a marketing tool an effective monetization strategy?
Author Bio:
Roni Davis is a writer, blogger, and legal assistant operating out of the greater Philadelphia area.
This post was made possible by the support of our readers.