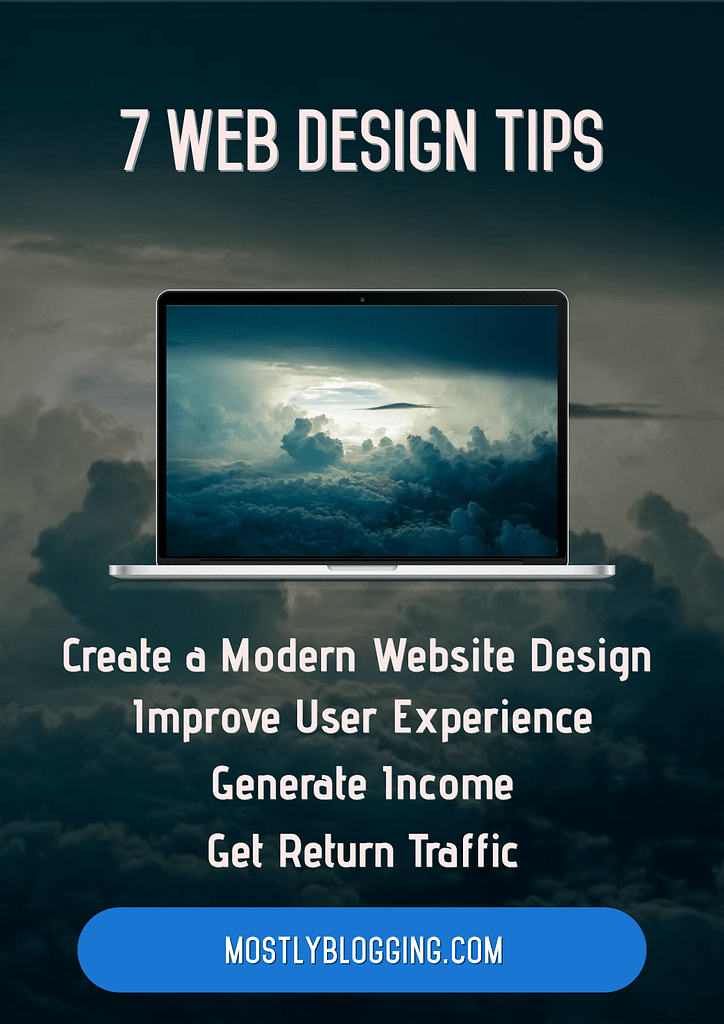 What is the best UX design?
Whether design tips help enhance graphics or the user experience at a website, they are important.
Visuals play a larger role in website design than they use to and are now part of the best UX design strategies.
For example, improvements in video are becoming make or break for many bloggers.
Also, Mostly Blogging offers many recommendations for graphic design improvements.
Today's guest author writes 7 hacks explaining how you can improve your website.
It gets better: His 7 tips explain how to have the best UX design and generate income by implementing these tips.
The Best UX Design And Its Role In Generating Income

Clyde Ray
To turn your website into a productive machine, you require nourishing it with all the essential ingredients.
When it comes to the user's experience, it has to be skillfully designed keeping the users in mind.
What is User Experience?
In layman terms, the user experience is all about a user's emotion and attitude about a product or service. The user experience covers a person's perspective about the usability or usefulness of a website.
It also relates to psychological responses and behavior that occur before, during, or after using the website.
User experience is strictly dependent on the needs of users. According to the best practices, it has been observed that users give preference to direct, brief, and dynamic content which is displayed across an attractive layout.
There are 7 factors that determine user experience: usability, findability, accessibility, credibility, desirability, value and usefulness.
Some of these factors often get ignored when developing a new website or updating an existing one. So, it is important to analyze these factors and then decide the ones that need to be prioritized. Implementing these factors in your website design will improve the overall user experience.
How to create a better user experience design process:
As they say, "Beauty is in the eye of beholders." This is why it is first important to know who your users are or who you would like them to be. To head towards a positive brand experience, it is important to make it easier for users to find or recognize you amongst the crowd.
This brings the element of "usability" in the limelight. Usability will allow users to effectively get what they need from a website. This can only be done if you have a website that is easier to navigate.
Findability is that idea which makes it easier to find a product or service. If a user fails to find a product or service on the website, they are likely not to buy from it.
Credibility is that element which fosters trust in the service being provided. Does the service provide what it should? Is the information accurate?
Credibility is acquired only when users receive relevant information. A great user experience cannot be delivered if users think that the company's credibility is compromised.
Desirability can be portrayed via branding, image, story, and aesthetics. The more desirable services are, the more word-of-mouth will work for your business.
Accessibility involves providing a user experience that can be accessed by users with an entire range of abilities. Websites should also be accessible by those who are disabled in cases of hearing loss, impaired vision, or learning impairment. Therefore, website accessibility is a legal requirement.
Last but not the least is the value; the content or services in your website should be aimed at delivering value. If the content is not valuable, there is little to no chance of success.
How UX (User Experience) Affects Website Revenue
If the content on your website is not optimized for usability, 80% of visitors will start searching for another website to accomplish the task.
Similarly, mobile users are likely to abandon the website if they do not find a website optimized for mobile.
A mobile optimized website generates more revenue by attracting visitors, compelling them to take an action and making a purchase.
63% of users use multiple devices to locate a business online.
Mobile-driven conversions take place in an hour or less. Therefore, a mobile-device approach is crucial for usability.
Common UX Mistakes To Avoid
Not performing A/B Testing: A/B testing allows you to compare two versions of a page in order to optimize a certain result. It allows testing different elements one by one and then acquires the collective information to head towards a solution that is user-friendly and goal-oriented. A/B testing allows you to target the areas where the user is the most interested. It allows you to identify those sections on your website that lead towards conversion. After A/B testing, start updating your website based on the preferences of users. This will help track user flow, thereby leading towards an increased conversion.
Not having a responsive website: These days people love to access websites on the go. Not having a website that is optimized for mobile and tablets will eliminate the chances of success. A responsive web design plays a crucial role in acquiring user's interest and increasing brand awareness. It gives an indication that you value their experience with the brand.
Having a disorganized layout: An organized layout is the one that comes with a grid system. Grids in an interactive design that offers a consistent experience across varied devices and screen sizes.
Final Gist!
No matter how much research and planning are involved, it is recommended you have a website that fulfills the needs of both the customers and the business. If you start identifying the needs of your clients, you will definitely be able to plan a user-centered design. The first step is having a goal in mind.
These days, the usability of a website is centered around the consumers. So, it is up to you to offer them a design that is easily navigable and makes it easy for them to interact. If the user experience is great, everything can be handled well and your business is likely to get repeat business. Know your audience well to provide them with an exceptional user experience.
Author-bio:
Clyde Ray is a senior Drupal web developer at PSDtoDrupalDeveloper who possesses several years of expertise in web designing and development. He is proficient and holds profound knowledge of custom Drupal development and its related topics. He is also passionate about writing informational blogs on his field of expertise. All his write-ups are well-researched and visionary.
Takeaways: 7 Best UX Design Tips

This post offered 7 ways to improve your website so users have a better experience and make purchases from your site.
This action plan for creating the best UX design covered how to improve usability, findability, accessibility, credibility, desirability, value and usefulness.
These actionable tips will help you create the best UX design for your website with an outstanding user experience for your visitors and income for you.