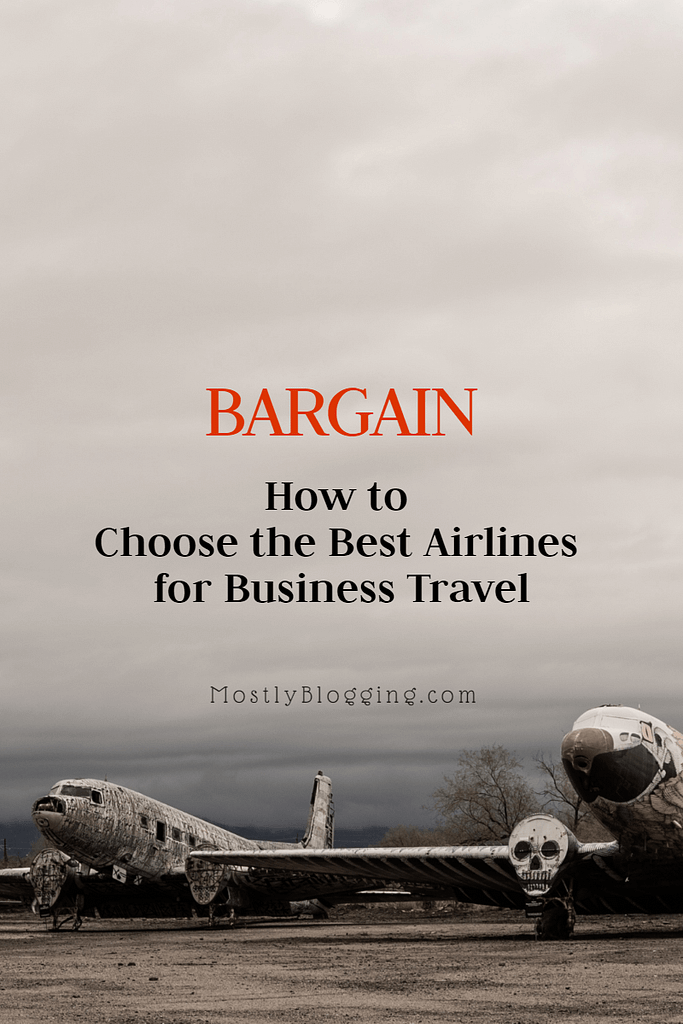 The best airlines?
When today's guest author Susan Melony first sent her guest post to me for publication, I was surprised.
After all, what does finding reasonable air travel have to do with blogging?
I'll tell you.
Many bloggers are speakers that travel worldwide. It is not a given that their airfare is paid.
I know a blogger who gave a speech overseas. Her accommodations were paid but not her airfare.
Also, Mostly Blogging has often told bloggers how to make money.
Why should saving money be any different?
This post tells you how to save money on airfare and other amenities when you travel.
During this holiday season, bloggers who might be trying to cut corners financially might find air tickets too pricey.
How can you choose the best airlines for travel?
After reading this post, you'll be a more informed flyer and possibly even have more money in your pocket instead of spending it on airline tickets.
Choosing the Best Airlines for Business Travel
Susan Melony
Air travel is an integral part of corporate and business travel. Most airlines have even moved away from calling their premium cabins "first-class" and instead refer to them as "business class."
There's a lot to consider whether you're a corporate travel manager and you're in control of the airlines your employees fly on, or you're an employee and your employer allows you to book your own flights. There are issues related to cost and travel and expense management, but there's more to it than that.
The following are some key considerations to keep in mind when it comes to choosing the best airlines for business travel.
Airline Rewards Programs
When it comes to business travel, whether you're a travel manager or an employee who books your own flights, airline rewards programs should be a primary consideration. Some of the specific features to think about when comparing airline rewards programs include earning capabilities, redemption values, additional benefits, and how available the company makes award flights.
Delta SkyMiles is often named as one of the best airlines for business travel rewards programs, and especially for passengers who frequently fly out of cities including Atlanta, Detroit, and Los Angeles. Delta partner airlines include KLM, Virgin Atlantic, and Air France.
Miles don't expire, and you can earn miles on additional things like Airbnb and hotel stays. However, you do have to spend quite a bit to achieve Delta's elite status.
Other notable programs include JetBlue's True Blue Program and American Airlines AAdvantage.
Convenience
Price and rewards are important, but so is convenience. Some of the most hated things people cite when it comes to business travel often involve inconvenient flight experiences.
When you're choosing an airline, you're going to need to think about how much coverage is available. Of course, whenever possible an airline that offers nonstop flights is going to make business travelers much happier than the alternative.
Amenities
When you're traveling for business, there are certain amenities that you don't just want but almost need in an airline. For example, if you travel on overnight flights abroad often, you're going to need an airline that offers the opportunity to have a lie-flat bed. Of course, you can survive without that but it's going to impede productivity once you land if you're not comfortable on your flight. Reliable in-flight Wi-Fi is something else to consider.
There's also the topic of airport lounges. Airport lounges are more than a place to relax. Choosing an airline that offers access to these lounges, or a business credit card for employees can go a long way. It can be a perk of the job that helps with recruiting and retention. It can also provide employees with a quiet and peaceful place to work while they're on the road.
Finally, overall reputation is important. For domestic travel, Southwest is often top-ranked among business travelers. For trans-continental travelers, JetBlue ranks well, especially since the introduction of the Mint product. If your employees are international travelers, Emirates is considered top-of-the-line as is Etihad.
Readers, please share so other people receive more information about the criteria of the best airlines.
Note: This post was made possible by the support of our readers.
The opinions contained herein reflect the views of the author and do not necessarily reflect the opinions of Janice Wald or Mostly Blogging.