Are you interested in discovering the benefits of social media marketing?
Are you wondering, "What is Social Media Marketing?" and "How have various businesses grown tremendously using social media platforms?"
Don't worry. By reading this blog, you'll get all your answers.
We will discuss social media marketing, its meaning, the benefits of social media marketing, and how you can grow your business using various social media marketing strategies.  
So, without wasting much time let's get straight to the benefits of social media marketing. 
Also Read: 84 Social Media Facts You Must Know in 2021
What is Social Media Marketing?
Social Media Marketing is the process of promoting and marketing your products and services through the use of various social media platforms and channels, such as Facebook, Instagram, etc.
With the increasing number of social media users nowadays, companies of all sizes can reap the benefits of social media marketing and reach out to their target audience effectively.
And if we talk in terms of numbers then, Facebook has over 1.5 billion active users, Instagram has around 1 billion users, Twitter has 321 million users and LinkedIn has approximately 250 million active users. Every year, the overall number of Social Media users grows, and this trend is projected to continue.
Many businesses have already started to make their presence on social media and if you're not doing it, then you're missing out on something very important.
Social media marketing has become one of the most important parts of digital marketing. 90% of businesses that use social media marketing have seen a significant rise in their exposure.
Hence in order to grow your business and make an online presence of your business, it is crucial for you to adapt these social media marketing strategies.
So let's move ahead and take a look at some top benefits of social media marketing that will help your business in its expansion and growth.
Must Read: 13+ Advantages and Disadvantages of Instagram
Top 7 Benefits of Social Media Marketing To Establish Your Online Presence
1. Create Brand Recognition
One of the most significant marketing goals for any kind of business is to gain brand recognition. This is owing to the fact that people prefer to buy brands with which they are already familiar. Thankfully, social media makes developing a brand simple and successful.
Social media has the advantage of allowing you to get your brand in front of people far more rapidly and simply than traditional media. It also draws your audience's attention to your brand even when they aren't aware of it.
Hence, social media is proven as an effective way in order to create your brand recognition.
Must Read: How To Make An Effective Social Media Marketing Plan 
2. Increases Sales
Whether you have a small business or a large business, your main motive is to earn an adequate amount of profit. And to do so you have to increase your customers, which is one of the benefits of social media marketing.
Social media has been shown to have a higher lead-to-close rate than any other type of marketing. Your business will have more opportunities to convert potential customers into actual customers as a result of the increased visibility that comes with being on social channels.
As a result, businesses can benefit greatly from the use of social media in marketing.
3. Measuring Success With Analytics
You won't be able to establish the effectiveness of your social media marketing methods until you track data.
Google Analytics is a fantastic social media marketing tool that can help you evaluate which of your social media marketing activities are most successful and which should be abandoned.
You may measure each social media site to find out which of your posts and content are the most popular among your followers.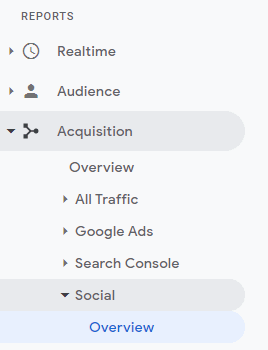 It might sound a bit complicated but once you'll start learning Google Analytics, then you'll find it very easy.
4. Cost-Effective
The most cost-effective component of an advertising strategy may be social media marketing. Almost all social networking platforms allow you to sign up and create a profile for free, and any paid promotions you want to invest in are relatively inexpensive compared to other marketing methods.
Being cost-effective is beneficial since it helps you to have a higher return on investment while still having money left over for other marketing and business needs.
Start with a small amount if you decide to employ paid social media advertising to see how it works for you. Fine-tune your strategy as your confidence grows, and experiment with raising your budget.
You can greatly enhance your conversion rates and finally obtain a return on your initial investment by simply investing a tiny amount of time and money.
5. Better Customer Satisfaction
Social media is a networking and communication platform. Giving your business a voice on these social media channels is crucial for humanizing it.
When customers post comments on your pages, they prefer to receive a personalized response rather than an automated response.
Customers become more loyal when you communicate with them on social media one-on-one. Customers who are loyal spend more money, stay longer, and tell their friends about your brand.
Even if responding to a customer complaint, a brand dedicated to customer satisfaction that takes the time to compose personal messages will be viewed favorably.
6. Increases Brand Awareness
If you want to syndicate content and increase your brand's visibility, the most cost-effective option is to leverage social media.
Each post or piece of content you share will help to introduce you to new people and networks.
You'll be able to reach out to a large number of people, offer your product or service to them, answer their questions, and keep them engaged until they convert.
Hence, social media marketing is an effective way to increase your brand awareness. 
Related: Online Reputation Management
7. Use Social Media To Remarket Your Audience
Retargeting, also known as remarketing, is an effective social media marketing strategy. In general, only 2% of visitors to your website will make a purchase on their first visit. The remaining 98 % can be reached by advertising.
Remarketing ads are one technique to accomplish this.
Remarketing works by keeping track of your site's visitors and storing anonymous "cookies" in their browsers. A retargeting service displays the advertising when they visit a social media site.
This makes your business visible to customers even when they aren't on your website.
Must Read: 10 Advantages of a Facebook Dark Post
Benefits of Social Media Marketing FAQ
Social media extends your visibility, boosts your brand, and is cost-effective.
To Conclude: Benefits of Social Media Marketing
Those were some of the top benefits of social media marketing that you can utilize in order to expand and grow your business, as well as to boost your brand's online presence and stay in touch with your target audience.
And in order to implement these social media marketing strategies, you can hire an expert or learn social media marketing by yourself and take your business to great heights.
We hope the blog was helpful and informative and you enjoyed reading it. Let us know your views in the comments below.
Please share so marketers discover these seven benefits of social media marketing.
Author's Bio


Karan Shah
Founder and CEO at IIDE

An 'Edupreneur' and the founder of IIDE – Indian Institute of Digital Education.
He is a passionate public speaker and teacher for over 10 years. He has trained over 1,00,000+ students and 25+ corporates in Digital Marketing via online and offline channels. He is a Harvard alumnus specializing in E-commerce. He is a TEDx speaker and is a visiting faculty at India's top management institutes like the IIMs.
This post was made possible by the support of our readers.