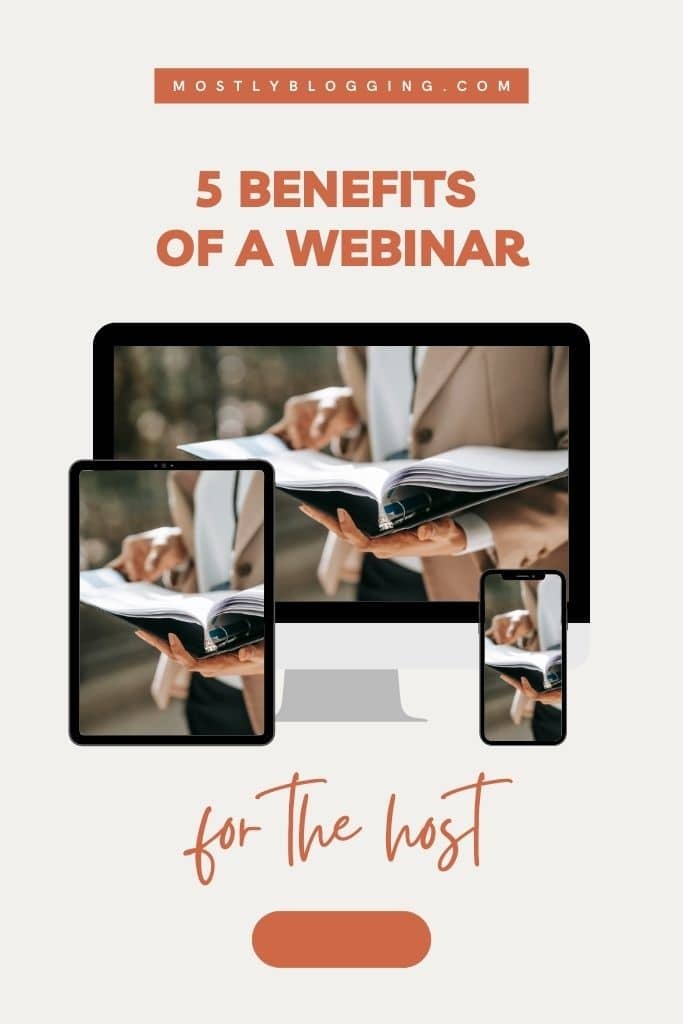 Are you here for the benefits of a webinar?
Clearly, webinar attendees learn information from attending a webinar.
There are many advantages of webinars:
Attendees discover new information.
Webinar hosts extend their reach.
Webinar hosts brand themselves as authorities in their niches.
Webinar hosts repurpose webinar content.
Of all the benefits of a webinar on this list, this A to Z guide is about the last advantage: how creators can turn webinar content into other types of marketing materials.
Let's dive in and find out about the benefits of a webinar for content creators.
5 Ways to Adapt Your Old Webinar Content
Some states might be starting to poke their heads out of quarantine but make no mistake about it, the COVID-19 pandemic isn't over yet.
Obviously, business options are limited in such an uncertain time.
That means you should suspend your digital marketing efforts for the time being to save money, right?
Wrong!
To roll over and abandon the proverbial marketing ship would be the content marketer equivalent of suicide. You can't just pull all of your content marketing efforts. Your SEO will suffer, your brand identity will fade, and your potential customers will find their needs met elsewhere by a business that didn't throw up their hands and quit.
So obviously, you should act like nothing happened and just throw money into your marketing budget to achieve your long-term content goals, right?
Also wrong.
While you can't throw in the towel due to COVID-19, you also can't go on as if nothing is happening.
Instead of giving up on all of your great ideas, you have to adapt.
Let go of those long-term ROI goals for the time being and focus on the short term.
We know that time equals money and that content creation is a time-consuming process. In fact, the time needed to create one blog has grown by more than 19% in a single year. So, what can you do to create additional content while cutting time and the costs associated with it?
Repurpose content.
You can easily take old content and make it new again. But what content should you choose?
Ideally, it should be something that you've put out there that maybe not everyone has gotten a chance to see yet.
Some of the best data to repurpose during this time is some of your old webinar content.
Why Webinars?
You've held these informational online seminars in the past, and they're chock-full of great information that hasn't appeared yet in your blog.
And even if it has, so what?
Posting repetitive topics is the opposite of a problem. Your common customer is not checking your blog every single day for updates. Sure, it's common knowledge Google hates duplicate content, but that only means they don't want to see the exact same verbiage on several pages of your site. As long as you don't copy things word for word, you're fine! It's still considered original content.
Your webinar content is a treasure trove of data ripe for the picking. It's information you already have. You don't have to waste time conducting hours upon hours of work to discover actionable insights.
So, let's say you have 10 webinars that you've conducted in the past. That means you have 10 blog posts, right?
Nope.
Try 30 or 40, maybe even 50 pieces of content!
By using the best webinar software, each of your webinars can be crafted into different content formats, appearing on your site and on social platforms like Facebook, Instagram stories, Twitter, LinkedIn, and more.
Look at how this company created a series of webinars all around the single topic of data center infrastructure:
This is excellent proof that even if your topic is niche and highly technical, the possibilities around adapting your existing content are endless.
Just follow the tips in this guide and you'll see that content repurposing should be a major part of your COVID-19 marketing strategy.
Create a Series
Your webinars have a lot of information in them. You shouldn't limit yourself to one blog article per webinar.
Most webinars are divided into sections. That means each section can be its own article in a one-topic series.
A series is a great way to push content out there. Once you hook a reader with one article, they're going to want to come back to read the rest.
For example, Deuk Spine Institute has a video series about the different types of surgeries they are operating. They divided their content into 3 categories and are inviting their readers to check all of them and learn more about their processes.

That's why it's important to make sure that all of the different articles in your series contain links to one another.
Well, that's one of the reasons it's important, anyway.
The other reason is Google. When a search engine is as powerful as Google, you're going to want to cater to its preferences. Google likes to see internal links throughout your content. A series based around one webinar topic is the perfect opportunity to create a web of links throughout your page for those Google spiders to crawl around in.
Ok, so that's an unsettling image, I admit. But trust me, it's a good thing.
Related Reading: Google First Page Guaranteed: How To Get Your Blog On The First Page Of Google [for Free in 2021]
Use the Hub and Spoke Method
What's the hub and spoke method, you ask?
It's a pretty simple concept to envision. Picture a wheel. Imagine it's one of those old-timey horse wagon wheels.
Are you picturing it? No? Ok, fine, here's a visual aid.
Now, in the center of that wheel, you have that circular area where the wheel slides onto the wagon. That's the hub.
Then, from the hub you have all of those off-shoot sections that look like slices of pie. Those are the spokes.
So, what does this have to do with repurposing your webinar content?
Valid question, I'm not just a wheel enthusiast!
Picture a content series as this wheel.
In the center hub, you have one long complex article. It should be something big and involved, covering the entirety of your series subject.
For example, this post on gifting money to godchildren is the "spoke" in a series of other articles on giving monetary gifts to children.
At the end of the article, it links out to similar articles on the topic of various familial relationships. So, in the hub, you're briefly touching on the general concept of gifting money to children. Then, you're offering the reader a more in-depth look at each topic through a link to a "spoke" article.
The hub and spoke method is one of the best ways to create a series of connected articles that all link out to one another.
So, take one of your webinars and convert it into an involved hub article. Then, take each of the topics you covered in that webinar and create smaller deep-dive articles on each individual topic.
Update Old Webinars
If you go back far enough, you'll find that you have a number of webinars with information that is outdated.
Does that mean you can never use these webinars for website content?
Of course not!
You just have to update them with more current information.
That's a great hook for people as well. By updating the information from the original webinar and releasing it on your website, you've got a reason for the people who initially took said webinar to come back and read it again.
Typically, these updates are fairly simple. Update a few statistics, talk a bit about how the industry has changed over the years, and then you're good to go.
But you can go a lot more in-depth than that.
Let's say you're writing about blogging. (Don't knock it till you've tried it!)
Perhaps you did a webinar back in 2017 on how long it takes to write a blog post. Well, back then the average time it took to construct a blog article was 3 hours and 20 minutes. Fast forward to 2019 and that figure has jumped up to 3 hours and 57 minutes.
Instead of just changing the figure and moving on, take a moment to talk about that increase. Show a visual aid, like this graph.
Now you have an entirely new section about why there has been such a steady increase in blogging time over the years.
You don't have to hide the fact that you're repurposing content. You can draw attention to it without fear of reprisal. Talk about how things change, explore the "why" and you'll be able to cover new ground that went unnoticed in your original webinar.
Change Formats
Remember when we talked about how you can take 10 webinars and turn it into 30 or 40 different pieces of content?
That all boils down to changing up the format of the types of content you create.
There's this common misconception out there that the word content only applies to written copy. Nothing could be further from the truth.
There are a number of ways that you can change up the format of your old webinars to make them into something completely new.
Written
Of course, first up you've got written blog content. Turn your online work timer on, take your old webinars, and put them into a narrative.
By creating a quality piece of written content you're able to engage the reader with a powerful hook and then pull them down the page by effortlessly taking them on a journey through both the body and the story of your page.
Remember, when writing a piece of content, you have to have a clearly defined angle so that the reader isn't left guessing as to your intentions.
While written content is some of the most common to produce, it's also probably the hardest medium to keep a prospect engaged on. It's easy for someone to tune you out when they're just reading. That's why you have to go that extra mile to keep them moving down the page.
Pro tip: when repurposing webinars into written blog posts, and once you're done, don't just dump them all at once and on the same day.
20 posts in a day won't impress anyone, neither readers nor Google, and you just blew 3-months of content worth.
Instead, use a calendar management plugin like Strive to space them out to give breathing space to your readers, and yourself publishing fodder for the time to come.
Video
When you create a YouTube video out of your old webinars, you're reaching an audience that can be easily engaged.
Remember, YouTube is the world's most popular video streaming website and the second most popular social platform after Facebook. That means everyone and their mother is trying to get attention there, so you really have to make your video stand out.
Production quality is the key to separating yourself from the pack. Add some music and some impressive visuals (you can use Biteable's free video editing tools) if you want to attract and retain an audience.
Of course, it's not all about pretty pictures and mood music. Remember, YouTube is owned by Google. That means it can be optimized with keywords much the same as a piece of written content.
Audio
Do you have a podcast?
If you do, awesome! If you don't, start one.
It's relatively cheap to do, and it's an incredible medium. What's more, you can use those old webinars as subject matter for your podcast episodes! Create a bullet-pointed list of the information contained within the webinar.
Don't script yourself, whatever you do. People can always tell when someone is reading from a piece of paper, and that's the antithesis of what podcasting is all about.
Podcasting is talk radio, and people want to hear authenticity in the podcasts they listen to. While it's a great idea to have notes, you want to discuss your information in an informal manner. That's why you definitely need to have a co-host. That back-and-forth exchange is the lifeblood of a podcast.
But how many people can you reach with podcast content?
Much like written blogs, quite a lot if you put in the work.
As you can see in the image above, the podcast industry gets bigger every year. Of course, that means you're going to have a lot of competition.
You'll need attractive podcast artwork (you can hire a graphic designer freelancer off Twine for a one-time gig, or you can get some free stock photos here, and get cracking);
and you also need to promote your show.
Social sharing is a great way to do this. Your podcast should have a social media presence. Make sure you're going on Facebook live, making an Instagram post for new episodes (use hired help if you need to), and tweeting with hashtags to promote upcoming episodes of your show.
And if you have a WordPress site, you can use a plugin like Smart Podcast Player by Pat Flynn to display podcast websites right within your WordPress site.
Here's another thing to remember about podcasting.
Whatever your subject matter is, someone else out there is also talking about it.
That's why you really have to have a dynamic personality to be a successful podcaster. You're not selling the information, you're selling yourself. You have to make listeners say, "I know I can get this information from other places, but I want to get it from here because this person entertains me."
Infographic
You can take your old webinars and create an infographic out of them using your preferred graphic design software.
This visual content can capture the attention of your audience easily. When you design an infographic, remember everything you know about your target audience. You want to appeal to them so they will in turn not only look at your content but share it on their social platforms.
After you build an infographic out of your webinar content, you need to share it around the Web. Obviously, social media is a perfect place for them, but you should also look into infographic directories.
Benefits of a Webinar Frequently Asked Questions
What is a webinar useful for?
There are many benefits of a webinar for both the webinar maker and the attendee. Benefits of a webinar for the host include branding, extending their reach, and repurposing webinar content. Benefits of a webinar for the attendee include the opportunity to expand their knowledge.
How do attendees benefit from a webinar?
The benefits of a webinar for attendees include watching and listening in order to learn more. Also, benefits from a webinar include networking.
What are the benefits of a webinar in live video streaming?
When live video is used, the benefits of a webinar are maximized. When people can network and view, they are better off. Getting their questions answered in real-time avoids confusion and User Experience is enhanced.
In Conclusion: Benefits of a Webinar
In closing, there are many benefits of a webinar for both the webinar host and the attendee.
If you are the webinar creator, no matter what type of content you prefer, there are many ways to take your old webinars and repurpose them into something brand new.
Getting new mileage out of old content is definitely one of the benefits of a webinar.
When you're writing content out of old information, remember that it's still important to make sure your work is polished and optimized for maximum exposure.
When it comes to checking for grammar and accidental plagiarism, we always recommend Grammarly.
To make sure that your content is optimized, you should consider either Clearscope or MarketMuse, depending on your budget.
Don't let COVID-19 stop your content marketing strategy. Join content marketers around the world and take some of the great content from your old webinars and spruce it up until it shines like new!
Readers, please share so other content creators discover the benefits of a webinar for repurposing content.
I look forward to your views in the comments section. Do you know more benefits of a webinar you can add to the discussion?

Janice Wald is the founder of MostlyBlogging.com and co-founder of the Mostly Blogging Academy. She is an ebook author, blogger, blogging coach, blogging judge, freelance writer, and speaker. She won the Best Internet Marketer Award and the Best Blogger Award at the 2021 Infinity Blog Awards. Wald was also nominated as 2019 Best Internet Marketer by the Infinity Blog Awards and in 2017 as the Most Informative Blogger by the London Bloggers Bash. She's been featured on Small Business Trends, the Huffington Post, and Lifehack.