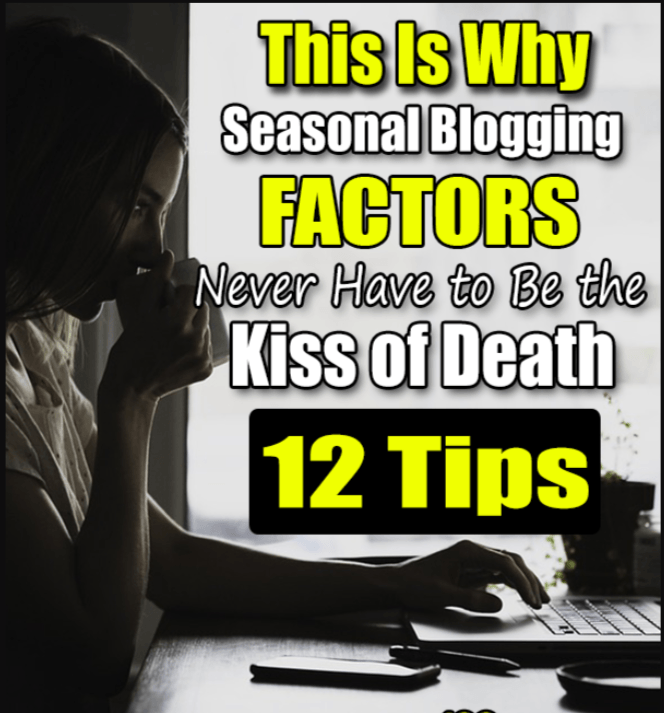 by Gary Jefferies and Janice Wald
Do you find your blog traffic takes a nose dive at certain times of the year?
I mean a sharp turn south, off-the-cliff nosedive?
So sudden and so sharp you figure there must be something wrong with the dashboard?
A glitch, of course. The thought consoles you.
If your blog dashboard, Google Analytics, and every other metric you're checking all agree, you realize these blogging horrors are not explained by a glitch or a coincidence.
The culprit must be…
Seasonal blogging changes.
Blogger and author Gary Jefferies and I have been investigating for months what could be causing these seasonal blogging changes and how you can overcome them.
This post will explain to you how to turn lemons into lemonade. Or, more to the point, how to make seasonal blogging changes work to your blog's advantage.
Consider this dialogue between Gary Jefferies and me:
Gary:  Is that seasonal? I heard a few on here asking if post hits dropped over summer months. Might be there is a blog slump in the better weather, longer days, sunshine and so on?
Me: In summer of 2016, I read many bloggers felt they were taking dramatic hits to their page views, but I didn't experience that. In summer of 2017, that is exactly what happened to me. I realize it's seasonal, but it was disheartening. It's nice to once again be experiencing the kind of page views I had become used to seeing.
On July 4, I was reading a forum discussion on that holiday's blog traffic.
One man was so concerned at his lack of website traffic he asked the group for an explanation.
When he did, he was shocked to discover others were not experiencing the same traffic dip on that holiday.
Why? Is traffic generation on holidays niche specific?
What causes traffic dips? If we know, we can try to overcome them.
What the Research Shows
Gary spent months polling bloggers.
We'd like to thank the Big Up Your Blog Facebook Group members for their participation and Suzie, the admin of the group, for running the poll.
Here is what his research showed regarding seasonal blogging trends for bloggers:
Big Up Your Blog Facebook Group responses:
Gary asked, "During which times of the year do you experience significant drops in blog traffic?"
Responses:
Not around to blog               15
September                            15
July                                        8
June                                       5
February                                 5
April                                       4
No change                              2
New Years and January          2
December                               2
October                                  2
November                              1
March                                    1
May                                       0
Gary's analysis of the data:
"The Facebook poll, I think, represents NEW bloggers rather than established ones. They, I feel, are more susceptible to numbers and disillusionment. Established bloggers probably get hits even if they have short breaks because external sites still refer.
For example, Me: No posts at all for 6 weeks due to writing. Referrals from Pinterest actually grew from nothing to around 30 a day as an average. I expect that to grow more over the next few months too. That is with no new content at all.
StumbleUpon still refers too although that is responsive to my input there."
Do affluence and education play a part?
Gary continued, "In fact, you can draw conclusions from Pinterest. Constant input there expands growth. The dynamics are also interesting from a selling point too. The majority of Pinterest users are above average earners, have higher education levels, and are actively seeking content.
As for poll data: I think it says, for new bloggers, that posts, where the readers are asked to give input, are necessary to drive stats. Small view numbers are volatile guides. Just posting is unlikely to do much given the huge number of blogs. Engagement is key and so is perseverance."
Do other demographics have an impact?
Gary explained, "Obviously, I have focused mostly on parents. I think this is because they will be the biggest skew factors because school terms run their lives. It dictates family holidays and rules your free time. Clearly, not everyone falls into that demographic. But if you want empirical evidence, then look at tourism. There's a reason that prices skyrocket outside school terms…. the demand rises exponentially. I will wager those prices rising and dropping mirror blog impact. We have their equivalent of on and off-peak demand. Plot curves showing holiday prices versus school terms and overlay that with blog stat variation and I bet you can match the two up."
Does the month matter?
According to Gary, "With reference to September: That could be because, in the polled group, a lot of bloggers are parents and school terms start so time is less virtual and more real. They have little choice but to sort school out first and then find the routine again that lets blogging pick up again. These other commitments hugely impact new bloggers when numbers and referrals are either small or non-existent. The Not Around to Blog stat shows the same correlation."
Does the weather matter?
Gary theorized, "June and July might see dips as the weather is better so blogging might take a backseat to sun and vacations.  In warmer weather, light at night, sunny… I don't spend half as much time online… and I blog!"
Does the time of the day matter?
Gary explained, "Winter sees nights draw in and colder weather so there is "more" time to write posts.
I've already seen growth again here now it's going dark at 6.30 pm. The cycle I read about seems dependent on daylight hours…. could that be the real influencer? Lighter nights and it's generally warmer, people might sit outside, feel less needy of going online, more socializing maybe? In darker months with curtains shut many will turn to the Internet to pass the time.
Research has already shown the younger generation (grown up with the internet) spends more hours online than watching TV and they are the audience using Instagram, Pinterest, and YouTube."
Gary's analysis:
"There are certain times of the day to publish and capturing the pinch points in the day to post. Many blogs are suited to a time of day. For example, parenting and food blogs may well pick up around school runs. I read that Facebook gets spikes from parent demographics after morning school runs, just before the afternoon school pick up and again after that. Likewise, people returning from work have time after evening meals. It's one reason I drop posts at
7pm
our time."
If you want to see the times that readers are on your site so you know which times of various days to publish, go to Google Analytics where you will find these metrics.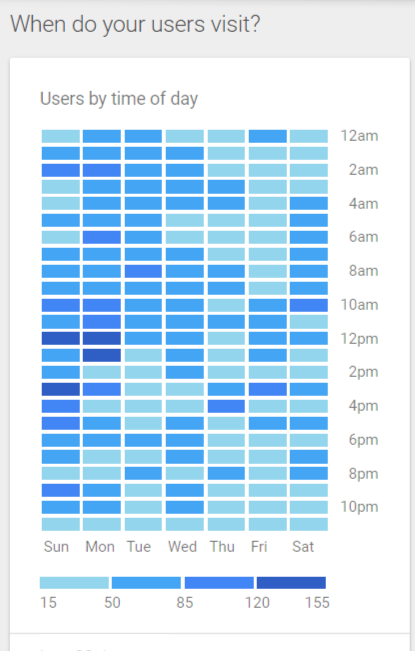 It is important to know if seasons affect these numbers, coincidentally captured during the holiday season.
Fortunately, you are able to change the view to other times of the year. 

Look at the date range drop down. You can change your view when the seasons change.
Does the day of the week play a part?
Days of the week:
Monday:
People's email inboxes are inundated with everything that came in over the weekend. They are less likely to read your posts.
Wednesday:
Known as Hump Day, people have to get over the rest of the work week. They're only halfway there or over the hump.
Friday:
People are finishing up at the office and tying up loose ends for the week and avoid reading posts on Friday. They feel they can wait until Saturday which is just one day away.
Lidy Wilks originally told me Friday is slow in the blogosphere, and she was right.
Sunday:
People could be in church in the morning and not on their devices reading your blog posts.
 Do seasons and holidays matter?
This past 4th of July, a holiday in the United States, I entered a forum where everyone was discussing how slow it was. People speculated it was due to the members being at grills barbecuing.
According to Gary, "I'm of the opinion that cycle of behavior is affected seasonally. When schools out, the first obvious cycles change. That can impact summer, Easter, Christmas, half terms (here) and any breaks where kids are at home. If the working people are taken out by a vacation in the same periods, then that's bound to cause a huge dip in readers and views."
Do social media use and blogging niche matter? 
Gary: Nowadays my own posts pick up hits over several days. The impact of social media referrals is one way to boost slower months, but that creates more work. I do think certain blog topics might feel more impact too.
How does the newer blogger's mindset hurt their chances for the very traffic they are depressed about not having?
Gary observed, "I suspect low follower number blogs really find it demoralizing as a 10% dip, on a good day, will have a disproportionate impact on their stats. Go higher than that and it will be like watching tumbleweed drift past."
12 Beginner Blogging Tips Effective All-Year
Days of the week:
Tuesday: 
Publish Tuesday. People are done plowing through the mountain of emails that came in over the weekend.
Wednesday:
Publish Wednesday even though it's "Hump Day." I know people who publish on Wednesday. They wouldn't continue if their stats were low. According to Google Analytics, Wednesdays are one of my frequented days of the work week.
Sunday:
Publish Sunday even though many people are churchgoers. People read when they first wake up over coffee and when they return home over lunch.
Months:
January:
Promote your blog in January. People want to start the year fresh. Don't fret that people might do their email box spring cleaning in January, and your newsletter won't make the cut. Why not? Just like they unfollow blogs to start the year anew, they start following new blogs. It's true: Yours could be one of them.
June and July:
Publish during the summer. Thanks to blogging tools that enable you to schedule your posts in advance, staying high-profile on social media and promoting your posts is a breeze. The good news is that many of these scheduling tools are free. My personal favorites are Buffer and IFTTT but many bloggers prefer Hootsuite. Missinglettr provides a free social media promotion service.
[Read:
17 Reasons Buffer Will Blow Your Mind; 
Missinglettr: How to Boost Traffic & Save Time with This Amazing Automation Tool
IFTTT: 27 Ways to Use This Amazing Free App That Will Make You a Happy Blogger]
August and September
 Use Pinterest throughout the year. This way, your posts are available on this popular content curation site when traffic is otherwise low.
Gary reported, "Over here [England] summer holidays end at the beginning of September. Schools reopen and routines are shifted. Many take vacations prior to that point so it's possible they are readjusting to daily life again, back to work, kids at school and such. I would expect blog productivity for parents to dip toward the end of August and into September. I'm guessing viewing stats lag slightly behind as site visits will stay up until visits back start showing inactivity. I think that's when you see the benefit of Pinterest as back referrals to old posts stay up. I'm seeing that on mine now."
The last two weeks of December:
Typically so slow the blogosphere is considered dead.  The blogosphere is traditionally slow since people focus on holiday activities.
How to Generate Blog Traffic When the Internet is Slow:
Repurpose old content. Get new eyes on your old content. You won't have to go to the effort of creating new content and can still expose new audiences to your information.
Publish during these normally slow traffic times. Many people are home from work and might be around to read your posts. My most popular post of all time was published Thanksgiving week.
Do not stop blogging even if you save your posts in draft form! Your articles could find an audience in search engines when the holidays are over.
Create blog post topics around the time of year. People will be searching for posts about holiday parties, recipes, invitations, and decorations at this time.

As you can see from the screenshot, my traffic picked up at the end of the year. My lull came in the summer when I stopped blogging due to vacation plans.
Plan accordingly. My publisher once told me she didn't think people would read my content at the beach. Was I offended? No. I planned accordingly. Since I travel in the summer, I host guest authors or FAQ format posts without creating new content.
Since people are often outside when the weather is warm and not on their computers, one summer I experimented with publishing a Frequently Asked Question post, a format not usually found on my blog! I was actually on a cruise ship at the time when many people wrote to tell me they loved the new format. I was happily surprised at all the attention the post received.
What is the explanation if blog readers are outside and not on their computers? Warm weather wouldn't stop blog readers who can take their phones and tablets to the beach and other places outdoors with them.
Do not let yourself become discouraged. Your disillusionment could be contributing to the very problems you are disillusioned about having. Many ways exist for you to still be a successful blogger when you are disillusioned about your blog.
 Problems with the research:
We tried to get a variety of respondents, but polling on Twitter proved fruitless.
While we felt the 500 bloggers of the Big Up Your Blog Facebook group constituted a decent sampling of respondents, many of the members are new bloggers. They admitted they didn't feel they were blogging long enough to have a say.
Many in the group indicated they were new bloggers who had only been blogging for a year. We questioned the relevance of their answers. We felt seasoned bloggers might make a better sampling.
As a matter of fact, Gary received comments from two veteran bloggers on Twitter who reported they saw little change in traffic statistics throughout the year.
Takeaways
The blogger's educational and level of affluence affects whether they'll experience traffic drops. Both these demographics use Pinterest where traffic to a post can remain high for years.
The blogger's demographics affect whether they'll experience traffic drops. For example, parents busy with "back to school activities" won't have as much time to promote their content or create new content to generate page views for them.
The blogger's use of social media affects whether they'll have social media drops. For example, Pinterest's posts have a long shelf life lasting for years. Those posts can generate traffic during the seasonal blog traffic lulls.
The blogger's use of collaborative groups affects whether they'll experience traffic drops. For example, if you are a member of a StumbleUpon group and let the other members stumble your posts, you have the potential to experience massive traffic from StumbleUpon regardless of the time of year.
The blogger's experience level affects whether they'll experience traffic drops to the degree of the inexperienced blogger. This makes sense. For example, after blogging for over three years, I have almost 850 blog posts at the time of this writing. Those articles are still bound to get some page views during times when traffic is normally low coming from search engines, for example. Newer bloggers don't have that cushion.
The bottom line: Hope exists for newer bloggers. Newer bloggers don't have the need to feel the disillusionment that is so overpowering most new blogs go abandoned within nine months of inception.
Instead of abandoning the blog, new bloggers should try harder to engage their readers and create new, quality content that could eventually drive search traffic.
Important: New bloggers should remember that veteran bloggers were once new also. They won't be new to blogging forever. Time is on your side. Spend the first year with razor-sharp focus. Make engagement a priority. Before you know it, you'll be a veteran blogger reflecting on your challenging early first days which will be long behind you.
Further Research
Gary's suggestions for further research:
"The real validity of our first concept might need power bloggers with larger data sets to see fluctuations. Having said that, those very same people might not be that bothered by it because they focus on consistency and content throughput. They may only really get bothered if 10k views suddenly dropped to under 1k.
My guesstimate is a lot of BUYB people are from over here and have kids, some are teachers too. That may fit into the profiling above. It would be interesting to hang the data over parents and see if there is a pattern around term time."
Wrapping Up
I look forward to your views in the comments section: What is your website traffic report? Does your traffic vary by the season, month, or time of day? If not, what is your niche? Do you feel seasonal variability in blog traffic is related to blogging niche? What beginner blogging tips can you recommend to stop new bloggers from feeling disillusionment?
Readers, please share so bloggers, especially newer bloggers, can experience hope instead of disillusionment during periods when traffic generation is difficult.