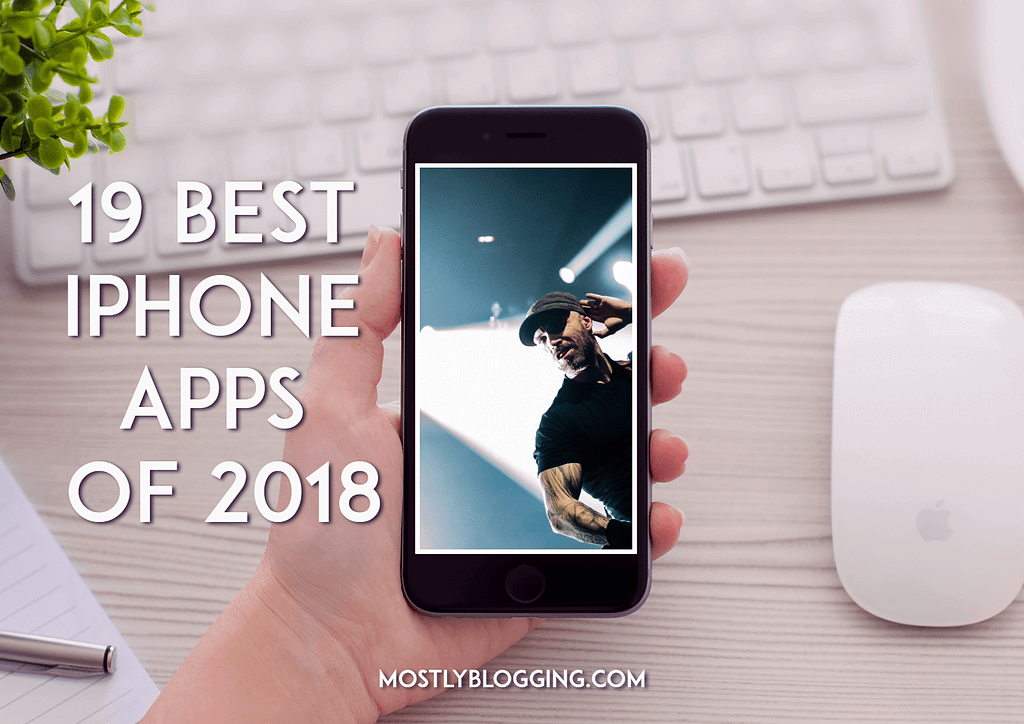 Are you ready to do an App Store search?
Have you done one lately?
Lucky.
My reaction to discovering the Fall 2018 issue of iPad and iPhone Life magazine full of the best apps of the year.
After all, we should do an App Store search because apps save us time.
Isn't that what bloggers need in hot commodity? Time?
Mostly Blogging recommends tools for bloggers so this post will describe the best apps of 2018 and how bloggers can benefit from using them.
However, anyone can use these amazing iPhone apps.
If you want to see if these Apple apps for Android users, check the Google Play Store.
Apple users can get these apps at the iOS App Store. Just do an App Store search.
These apps are free unless otherwise noted.
Note: Some of these apps are not yet available but will soon be available on the iOS 12 scheduled to be released in September of 2018.
This post will describe the app and how the tool can benefit you as a blogger.
Make sure you read to the end since this post has a bonus tip.
The Best iPhone Apps of 2018 for Bloggers
When you do an App Store search, make sure you look for these apps: 
1. How to Write Notes Directly from the Lock Screen on Your Phone
This app saves you the time it takes to unlock your device.
I use the Notes app constantly. Paper? What's paper?
However, in order to use the Notes app, I have to unlock my phone to see the icon.
No longer.
You can keep all sorts of reminders like to do lists and grocery lists. If an idea for a blog post strikes you, or you suddenly hit upon the perfect graphic idea while your phone is locked, this app will be helpful.
After all, you don't want to risk forgetting your brainstorm while you're unlocking your phone.
Not only can you take the notes but also you can read them, all without unlocking your phone.
2. Screen Time
A commenter wrote me today reporting she was addicted to Instagram.
Coincidentally, (or maybe not-so-coincidentally), Donna Cleveland, the editor-in-chief of iPhone Life magazine chose Screen Time as the app she's the most excited about.
I know of browser extensions that limit your time on the internet. People opt to use it if surfing the web causes them to be unproductive.
Now there's an app, Screen Time, with a similar function.
Screen Time limits the time you spend on various iPhone activities like browsing through Instagram.
Who sets the time allotment? Why you do, of course.
What if you're not sure if you need this kind of intervention?
Screen time will clock how long you spend using your social media apps.
Then you'll know proof positive if you need this app.
3. Manage Smartphone Addiction & Digital Health
When it comes to addicting Internet habits, developers of this soon-to-be-released app realize iPhone use comes with dangers.
These dangers include poor posture, impaired vision, and dangers to children.
This new app comes with a "Do Not Disturb" sign and parental controls among other perks.
Apple's iPhone 12 will also include many of these bells and whistles.
4. Do Not Disturb
The Do Not Disturb app will silence notifications for you. You set the time each day when you don't want to receive notifications.
For example, you need to focus while you're blogging, don't you? Whether you blog or work outside the home, both are perfect times to use the Do Not Disturb app.
You don't even have to remember to turn it off when you're done with the activity that required your concentration. The app turns the Do Not Disturb off for you.
At the time of this writing, Apple's latest iOS is 11.4.1. iOS 12 should have this feature built-in better than ever before.
5. Smart Notifications
Do you use Push Notifications?
Push notifications can break your concentration.
You might need your phone for help while blogging but don't want to see the notifications that arrive on your phone while you're trying to concentrate.
This app has a feature called "Instant Tuning" that allows the notifications to come in without making a noise.
6. Photos App 
Do you use your iPhone Photos to take pictures for your blog? I do.
The designers over at Apple have designed a new tab for the app called "For You."
They actually choose your best photos for you!
Other functions of the improved app designed for iOS 12 include the app reminding you to share your photos with the people in your shot.
7. Google Maps
The very popular app, Google Maps, made iPhone Life's Best of 2018 issue.
Why did I choose Google Maps as being helpful for bloggers?
You're a busy blogger! Do you have time to get lost? No!
According to iPhone Life magazine, you can even save your destination and use Google Maps when you're offline.
8. Babbel
Are you a travel blogger?
If so, you may need to communicate in languages you're not familiar with.
For $12.95 a month, Babbel can help you be minimally fluent, at least according to iPhone Life magazine.
9. Google Translate
If you don't want to spring for Babbel, you can download Google Translate for free.
This app will translate menus and signs and other writing you may need help understanding.
10. Darkroom
Have you recently returned from vacation full of potential blog photos?
Darkroom will help you share your photos. All bloggers, especially travel bloggers, can benefit.
Many other photography tips exist for using your vacation photos.
11. Facetune 2
Although I've never used Facetune, according to the magazine, this app is "wildly popular."
The app has several functions.
For example, after taking selfies, it will airbrush your face for you. You can also use the app to put your photo in front of creative backgrounds.
12. TouchRetouch
Did someone "photobomb" your perfect shot?
(This happened to me on vacation. My perfect family shot was spoiled by a photo crasher.)
The TouchRetouch app will remove distractions that mar the look of your photo.
Price: $1.99
13. Chatbooks
Are any of the photos you've put on social media so amazing, you'd like to display them in your house?
Chatbooks will print your photos and deliver them to your door.
Note: I've never used the app, but the iPhone Life magazine claims this service is free.
14. Cameo
Are you posting your content in the form of a video?
If so, Cameo can help you.
It takes your photos and edits them together, has professional filters, and no ads.
15. Productivity
The Productivity app will track your activities and enable you to set an action plan to get more tasks accomplished.
16. Productive
Of all the suggestions made by iPhone Life, the first app I will try is Productive. It tells you what you're doing wrong. Then, you can make changes and get more done.
17. Done: Simple Habit Tracker
This app has the same functions as the other productivity apps described at Numbers 15 and 16. However, according to the magazine, this app motivates you to be more productive.
18. Amazon Kindle
You need to research so your tips stay current.
Did you download any blogging books to read on your summer vacation?
I did and plan on downloading more.
We definitely need the Amazon Kindle.
19. Instapaper
Although I'm not familiar with Instapaper, I'm surprised it made iPhone Life's Best Apps Selection.
I'm a huge fan of the Pocket app and they seem to have the same functions.
For example, if you save articles for later reading, both apps enable you to read offline.
This is definitely a big help to me when I take my summer cruise without free internet access.
Bonus Tip: Gobudi Earbudi (This is not an app.)
Do you attend online webinars? I do.
Clearly, bloggers need earphones.
How inconvenient if your earphones fall out while you're listening to a live streaming video or webinar.
Gobudi clips onto the earphones that come with your iPhone. Bingo! The day of earphones falling out is over.
They won't even conflict with your glasses.
Price: Gobudi costs $9.99 at Gobudi.com.
Wrapping Up: App Store Search Priorities
In closing, now you know what to look for when you do an App Store search.
The iOS 12, previewed in this post, solves many pain points to help all iPhone users, especially bloggers.
The improvements enable you to save time.
For example, the iPhone 12 will run faster than previous iPhones.
Also, the iPhone 6 Plus will load apps twice as fast.
Next, the camera will open for you without you needing to take the time to unlock the phone.
This eliminates the risk of you losing the perfect shot.
Even notifications, which come in individually, will reach you in groups based on the functions of your apps.
Also, even security features will work faster. Does it take you time to punch in your password or put your thumbprint on your phone? Apple is fazing out the password and replacing it with facial recognition instead.
Is time a pain point for bloggers?
Absolutely!
This post covered apps available now and in the near future to help you with your blogging.
After September of 2018, you should be able to do an app store search to find all of them.
Are there any iPhone apps you recommend? I look forward to your views.
Please share so other bloggers know what apps to look for the next time they do an App Store Search.
Source

Janice Wald is the founder of MostlyBlogging.com and co-founder of the Mostly Blogging Academy. She is an ebook author, blogger, blogging coach, blogging judge, freelance writer, and speaker. She won the Best Internet Marketer Award and the Best Blogger Award at the 2021 Infinity Blog Awards. Wald was also nominated as 2019 Best Internet Marketer by the Infinity Blog Awards and in 2017 as the Most Informative Blogger by the London Bloggers Bash. She's been featured on Small Business Trends, the Huffington Post, and Lifehack.