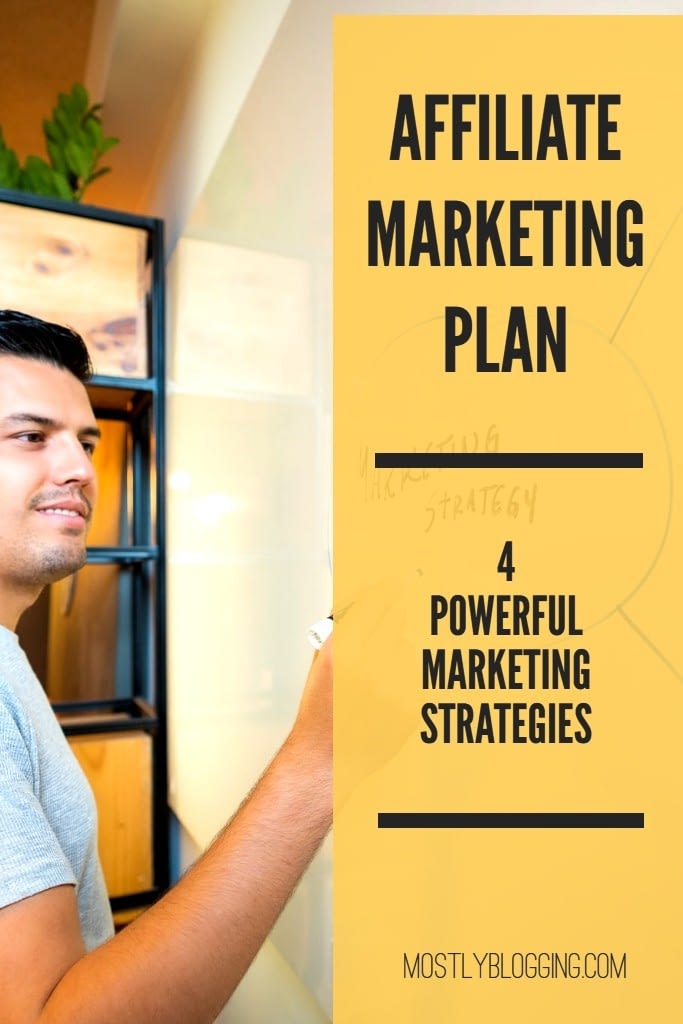 Do you need an affiliate marketing plan?
This guide offers you an effective affiliate marketing plan for during a crisis.
Stay updated on trends.
Pivot.
Try new traffic generation methods.
Be sensitive.
The reality is the affiliate marketing plan offered in this article is helpful whether or not there is a crisis.
By reading this post, you receive an effective 4-step action plan for affiliate marketing. These are actionable strategies now and in the event of a crisis.
It can be challenging to be an affiliate nowadays.
Some affiliate networks are cutting referral commissions for some or all product categories, leaving many websites with a drastic decrease in revenue.
Then there's the issue of how to go about promoting. With so much going on in ordinary consumers' lives, being too aggressive in pushing products can make you come across as inadvertently insensitive.
On the other hand, if you don't promote those affiliate products and services enough, you won't get the results – and commissions – you're after.
So how exactly should you manage your affiliate hustle during a crisis (not necessarily only during the COVID-19 crisis, but any other future situations that might arise?).
In this article, let's look at a few ways. But first, let's discuss why you should stick to affiliate marketing even during times of crisis.
Why Stick to Affiliate Marketing During a Crisis
Affiliate marketing thrives even when there's a crisis. That holds for both the merchant, or the company that creates the products, and the affiliate.
When times are bad, merchants can rely on affiliate marketing's risk-reduced business model that sees them paying commissions to affiliates only after a sale. Affiliate marketing also gives them excellent opportunities to expand sales and marketing activities online without coming across as insensitive to the plight of crisis-affected consumers.
For affiliates, it's affiliate marketing's flexible model that helps. When times are tough, and only certain products are selling, affiliates can quickly pivot or diversify (more on this later). They can promptly join other affiliate programs that offer incentives on those items that sell.
Related Reading: The 5 Best Strategies for Now and After 2021 explains how to pivot during a crisis.
In other words, even when the going gets tough, for both the merchant and the affiliate, affiliate marketing makes money.
How to Manage Your Affiliate Hustle In Bad Times
In this section, you see a powerful affiliate marketing plan.
Let's look at what affiliates should do to ensure that their affiliate marketing business continues to give them those commissions even during challenging times:
Stay Updated On Industry Trends
To stay in the affiliate marketing game when times are tough, you need to keep abreast of industry trends. When you know where affiliate marketing is going, you can be among the first to adjust and take advantage.
How do you stay on top of these trends? Here are some steps you can take:
Keep in touch with your affiliate manager. Affiliate managers want you to succeed because if you do, they do, too.
Subscribe to an affiliate marketing newsletter: These newsletters can give a bird's eye view of how the industry is changing.
Network. There are affiliate communities you can join. Try STM, AffiliateFix, and affLIFT.
Join relevant Facebook groups. Google Ad Buyers, MRKTHUB, and Facebook Ad Buyers are examples.
Attend conferences for affiliates, whether physically, if you can, or virtually. iGB Affiliate Conference, Affiliate World, Affiliate Summit, and TES are some examples.
Google. You can research anything online now. Just cross-reference whatever you find with other sources to avoid misinformation
This year, according to Outbrain, some of those affiliate marketing trends include the rise of TikTok and seasonal campaigns, increasing B2B campaigns, and localization. You'll have a different list the next year so make sure you do your due diligence and get all the data you need.
Pivot When Necessary
You need to be flexible as an affiliate. When times are tough and affiliate sales are down, you have to take a step back and assess what you can do to change that.
In this case, there's an obvious solution: Pivot.
If the travel and hospitality industry takes a significant hit because of a crisis, it probably doesn't make sense to promote products related to those anymore. You'd end up exerting a lot of effort without producing results. You might even end up losing money.
So pick another niche or niches that offer products that are more likely to sell.
Let's take the current health crisis as an example:
According to Financial Management, even amid the COVID-19 pandemic, these business categories are still booming:
Remote working tools and software. Because of the need to reduce physical contact, more businesses are investing in these products 
E-learning. Physical school and university closures have prompted educational institutions to shift to distance learning 
Entertainment. Home entertainment products are a direct beneficiary of the lockdowns and travel bans imposed worldwide.
Virtual reality. VR is booming as an entertainment medium.
Pharmaceutical and medical devices. Professionals and individuals alike are investing in these products to ensure good health 
Logistics. The increase in food deliveries and online shopping gave this business category a boost
Virtual healthcare.
Contactless technology. These include automatic sanitizers, voice-activated technologies, and contactless payment solutions.
Gig economy. Freelancers are in high demand right now, as are the technologies and solutions that connect them with companies.
Given this data, an affiliate working amid the COVID-19 pandemic might set aside promoting travel tours and promote any of the products in these categories instead. When choosing an affiliate program to pivot, they should pick one that offers incentives for those products and services.
Once the crisis is over, you can still go back to promoting your original affiliate products that did well if you want to. The point is, you need to assess your surroundings, know what consumers are buying, and make the necessary adjustments to keep those affiliate commissions coming in.
Look For New Traffic Sources
Affiliate marketing during a crisis is all about being resourceful. Rather than just promoting your affiliate products on your website, look for other platforms that you can leverage to reach consumers during a crisis. The medium you choose should depend on where your target consumers are.
Social media platforms are an excellent option as long as you identify the right one(s) for your target audience.
Here's a quick breakdown of user demographics for each platform according to Classy:
Facebook: Facebook users cut across all age brackets; women are more likely to use Facebook than men.
Twitter: Most Twitter users are 18- to 29-year-olds; women are slightly more likely to use the platform than men.
Instagram: Most Instagram users are young, in the 18- to the 29-year-old bracket; women are more likely to use the platform than men.
LinkedIn: mostly used by professionals; men and women use the platform at roughly equal rates.
YouTube: Its users are mostly 18- to 49-year-olds; more men comprise YouTube's user base than women.
Pinterest: More popular among rural and suburban populations; women are more likely to use Pinterest than men
Let's look at an example of how you might use a different platform to source affiliate marketing traffic.
Let's say you had to pivot and are now selling virtual reality solutions.
Apart from LinkedIn, where companies interested in virtual reality are likely to be, YouTube can also be a great traffic source.
It's a broadcast medium, which means you can easily demonstrate how your affiliate product works to attract leads, clicks, and even get sales. The demographic most interested in virtual reality is male adults, who also comprise YouTube's biggest user base. 
This affiliate, for example, made a video about the best VR headsets for 2020:
Source: Dintalks
And then, in the video description, the affiliate made a list of the products featured in the video with their respective affiliate links:
So when someone clicks on any of those links and makes a purchase, the affiliate gets a commission.
You can even find other ways to make money off the new traffic sources you choose. For example, you can make money on YouTube in other ways, including sponsorship deals and advertising revenue, once you have a sufficiently large audience.
The sky should be the limit when it comes to picking traffic sources, as long as you can manage all these traffic sources properly and you pick them based on existing data. After all, you can never have too many people visiting your website and clicking those affiliate links!
Get The Message Right
For affiliates, the only way to get results is to get the message right. As it is, when there's no crisis, that's already a difficult thing to do. When there's a crisis, it's even harder.
When times are hard, the consumers you're trying to persuade to make a purchase are the same ones who might be struggling financially. That means you need to exercise a greater degree of sensitivity when promoting affiliate products. You don't want to set the wrong tone and come across as a callous individual who puts profits above people.
The golden rule in marketing is all the more true when you're promoting products in difficult times: You need to communicate value. But you should do that while empathizing with the consumers you're trying to get to take action. 
So whether you're implementing an email marketing campaign, creating a blog post, or introducing your newest video, make sure you communicate value to your audience with empathy. 
Here's a great example. This one is a marketing email sent by CodeAcademy to its subscribers:
Source: Wordstream
When you read the email, you don't get a sense CodeAcademy is just trying to sell its courses. You get the feeling the company wants to help its subscribers and contribute amid the ongoing crisis.
Pro tip: Ensure that you use an email verifier when implementing your email campaign.
Communicating value with empathy might mean you have to ease up on the scarcity-driven and excitement-inducing copy, too. So avoid calls-to-action such as "Book Now!", "Buy Now!" or "Don't Miss Out!" Those will only end up annoying people, and you will surely come across as insensitive. Remember, nothing is more urgent than the crisis at that time.
Make sure the content you're creating is also grammatically correct. There are lots of tools like Grammarly that will help you catch spelling and grammar mistakes.
Affiliate Marketing Plan: People Also Ask
How Do I Create An Affiliate Marketing Plan?
You don't have to create an affiliate marketing plan. We created one for you: Stay updated on trends, pivot, look for new traffic sources, be compassionate.
What Is An Affiliate Marketing Strategy?
An effective affiliate marketing strategy follows an affiliate marketing plan that will work during both a challenging economy and a thriving economy.
Wrapping Up: Affiliate Marketing Plan During a Crisis
Affiliate marketing can still be lucrative during a crisis, whether we're talking about COVID-19 or any other situation that might arise in the future.
For merchants, it can provide a great opportunity to grow online sales and marketing activities without coming across as callous to the plight of affected consumers. When times are tough, affiliate marketing's risk-reduced model sees merchants shelling out commissions to affiliates only when they deliver.
For affiliates, affiliate marketing's model that allows for flexibility is a plus. Affiliates can easily pivot and promote affiliate products that sell at the moment if their original offerings no longer generate commissions.
Naturally, if you want to see results, you'll still have to do the work. During a crisis, affiliates need to keep building on their existing knowledge and keep up to date with industry trends.
This will allow them to immediately leverage these insights to generate results. Smart affiliates will also look for new traffic sources to ensure that they reach the right audience with their affiliate products. 
Equally importantly, affiliates need to exercise empathy when promoting affiliate products to consumers at every stage of the sales funnel. The key is communicating value with empathy so consumers feel you're really all about contributing to society, not making a quick profit.
When there's a crisis, don't fret. Follow all these tips, invest some time, and put in the work. And the next time you enter your commissions in your accounting software, you'll feel that great sense of accomplishment.
Readers, please share this affiliate marketing plan so affiliates learn these strategies.
I look forward to your views in the comments section. Are you an affiliate? What strategy would you add to an effective affiliate marketing plan?
This affiliate marketing plan was contributed and made possible by the support of our readers.