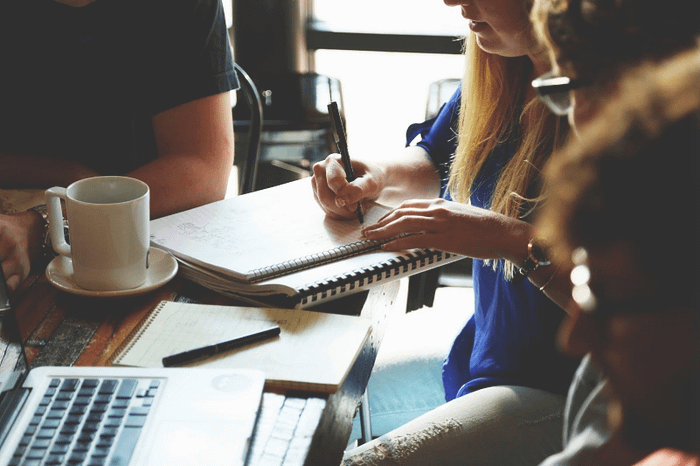 Advantages of website building.
Do you know what they are?
Guest author George Thompson discusses the advantages of website building.
By the time you're done reading this post, you'll know how to use blogging to boost your skills in writing, technology, analysis, design, and communication.
In an interesting twist, George blames the university system for the failure of bloggers to learn writing, technology, analysis, design, and communication prior to becoming bloggers while still in college.
He even blames schools for the failure of blogs to get off the ground.
George starts with the advantages of website building.
Are you ready?
Why Are Blogs the Perfect Learning Environment?
George Thompson
We cannot deny that our recent years in school were reduced to writing essays and research papers.
Teachers' expectations:
We need not only to be able to research the topic and remember facts but to select words beautifully and correctly in order to formulate and format documents.
Unfortunately, this is not a skill that most students have, so it comes down to the fact that we must first develop these skills.
By the time you're done reading this post, you'll know the advantages of website writing, thinking, design, and communication skills.
Advantages of Website Writing
Your writing skills improve
The advantages of website building include improving your writing skills.
How to develop writing skills:
You can get good grades by hiring a decent essay writing service.
Or you can try to improve your skills yourself.
Did you know William Shakespeare is one of the most famous writers of all time, yet he never had formal training?
How to learn to write and improve your skills and become more successful:
Blogging can be incredibly useful.
Bloggers become the best analysts because, in order to write a strong text, you need to understand the scope of what you write and formulate thoughts more accurately.
How blogging improves writing skills
While some people believe that writing is an entirely creative process, we insist on the fact that it is mostly the skill that can be developed. We are all able to write sentences and can express our thoughts.
So the only thing that defines a great writer is that he can write more cohesively and logically. Hence, you need to enhance some skills on the way to becoming a skilled writer yourself.
Write better by writing more often. Make a plan and write and search for new words and their meaning on a daily basis. Over time, you will get the hang of picking out clearer words and expressions by using sources such as Thesaurus.com or online dictionaries; you will be able to write better.
To do this, you need to read a little more, not be afraid to look for the meaning of words, in order to understand better what to use in what situation.
Eloquence will help you to be more convincing, which is useful in both training and career.
Your technology skills improve
There are many advantages to website building.
The advantages to blogging include:
If you have a blog, you are motivated to keep abreast of the latest technology developments.
For example, you become familiar with Google Trends to search for new topics so that there is something to write about.
This is incredibly helpful in finding resources for blog post articles.
In addition, you become familiar with social networks for blog promotion.
Your analysis improves
Often bloggers are faced with criticism and opposing ideas.
Readers will comment, support, or deny your ideas. It can be quite difficult at the beginning, but if you use your blog as a platform to improve your discussion skills, you can get the most out of blogging even with hate comments.
Again, this will improve your analytical skills and help you consider the full range of opinions about a particular topic.
Organizes independent search activities
Training is the search and analysis of a large layer of information. Without this, you cannot provide a convincing idea or hypothesis that will lure smart audiences.
You will learn to avoid subjective, unconfirmed ideas; your text will become more analytical and logically laid out.
Do you use data in your blog posts?
You should. Empirical evidence makes your posts more convincing. Data also improves your branding since the result is a boost in your credibility.
Provides the ability to integrate knowledge
With experience, you can compare concepts, your knowledge will increase, and you will be able to see patterns in any area of ​​life.
Once you see patterns in your data, you can report on them to your blog readers so they can more effectively follow your tips.
Your website design improves
You will learn to write in more detail, put lists, and logically divide the text. People always carefully read what is listed.
So, if part of your story can be presented in the form of a bulleted or numbered list, make sure you pay careful attention to formatting: the result will be more visually attractive.
Your ability to conduct a discussion improves
As indicated above, if you get negative comments, you need to figure out how to repond.
In addition, you need to be able to formulate a response without looking wounded.
As the head of your blogging community, you need to keep a stiff upper lip and a thick skin.
Host Blogger's Comments:
George, the guest author, finds it odd that the communication needed to respond to your website commenters isn't taught in the universities.
He writes:
"Unfortunately, university teachers rarely use blog technology in training, despite the fact that the basis for working on a blog is the possibility of implementing three-way interaction.
It is communication between writer and reader in a text format. This communication significantly enriches the practice of electronic text communication of potential bloggers and motivates them to approach the blogging process with greater responsibility.
Also, the use of blogs gives students the right to participate in social processes. In the process of blogging, students quickly realize that not only teachers but also classmates can read their posts."
This makes them more open to putting their writing out on the internet, a process many potential bloggers might find daunting.
If they are intimidated before they start, their bogs will never see the light of day and get published.
George continues:
Blogs take assignments beyond the scope of the educational process and the teacher-student relationship, allowing everyone to evaluate and comment on student work. Blogging allows each student to participate in the discussion, which opens up new perspectives for learning.
Wrapping Up: Advantages of Website Building
Takeaways:
Thanks to blogging, your skills in many areas improve:
writing
technology
analysis
design
communication
I look forward to your views in the comment section:
Do you agree with George that the universities are to blame for bloggers not learning these skills in the university?
According to George, bloggers learned these skills as a result of having a website and not before.
Readers, please share so people considering blogging discover the advantages of website building.
This post was made possible by the support of our readers.