Did you know there are advantages of Instagram blogging?
There are many advantages of using Instagram, and Instagram blogging is one of them.
This guide is about the advantages of using Instagram for bloggers and marketers.
This post will offer 17 advantages of Instagram blogging and actionable strategies to blog successfully on Instagram.
There are many advantages of social media for business. According to recent data, over 70% of B2B purchase decision-makers use social media to help them make buying decisions (Dell Report).
However, many businesses still largely neglect their social media presence for these reasons:
They don't know what to say or what to share.
They don't feel they can set aside the time needed to write, curate, and share the content.
Or they've tried and didn't feel like they were getting the results to justify the time spent.
Ideally, by reading this guide, you will discover some new Instagram secrets. Let's dive in and learn about the advantages of Instagram blogging.
Not So Fast
These advantages of Instagram are helpful for blogging and content marketing.
However, before we begin, the Business.com blog has an important reminder regarding Instagram marketing best practices:
"Instagram marketing strategies vary from business to business. Although the following Instagram marketing tips have been effective for select brands, you should cater each tip to your unique audience and sales offerings."
What is Instagram?
Instagram is a popular social media site which is owned by Facebook. At the time of this writing, Instagram has more than one billion users.
This makes Instagram the second most popular social media site after Facebook.
Next, Instagram is an image-sharing site. Over time, Instagram has evolved so you don't need to share photos or videos. Instagrammers chat in the DM's without the need to post videos or photos since Instagram is one of the most popular social chat sites.
Also, Instagram is a playground for marketers and all creatives.
Originally, Instagram was meant to be used only as an app, but over time, desktop tools for publishing to Instagram have become available. See this Mostly Blogging post about how to get an Instagram viewer for PC.
Instagram Data: Instagram first became available to download in 2010. Instagram saw a growth in user base in the Western part of the world in 2020 (Source).
Despite these encouraging statistics, Instagram users have been taking to Reddit to complain that engagement is down.
For instance, according to the Instagram Stories podcast, hashtags and location tags are no longer effective in growing your Instagram account.
Therefore, knowing these best Instagram strategies are timely tips.
17 Best Instagram Blogging Strategies
Strategy 1: Use the Countdown Sticker
You can use the Countdown Sticker to launch an event or a new product.
I find many people turn on the CountDown Sticker which puts them in your funnel. Since you can use Instagram as one of your social chat sites, you can follow up with a DM (Direct Message) to provide more information. Instagram tells you who turned on the CountDown reminder.
Strategy 2: Provide a Call to Action
With over 10,000 followers, you get a Swipe Up link. Give a CTA in a Story and include the link to where people can follow your Call to Action.
One of the advantages of Instagram is by examining your insights, you can see if people are following your CTA.
For instance, you can ask people to share your Stories. Does your Call to Action work? Are your Stories being shared? Your insights tell you.
Note: You access your insights with an Instagram Business Account.
The EAskMe Blog offers effective Calls to Action:
"Click the link in bio to learn more about…"

"Read the latest post at the link in Instagram Bio…"

"For more details, visit the link in the bio…"
Use these CTAs in your Instagram Stories and Instagram captions.
Strategy 3: Hold Giveaways
People have giveaways to create hype about a new product or new blog post.
I have held giveaways and advertised them on Instagram in Stories using the Swipe Up link to take people to where they can enter the contest.
In fact, at the time of this writing, I am ready to host a giveaway in collaboration with the Agorapulse social media company.
Strategy 4: Use Polls and Quizzes
These interactive Instagram Stickers generate interest.
I followed a tip that said in the poll use "Yes" and "Send me the link" as the poll options, not "yes" and "no." I had over 30 people ask for the link in just a few hours.
Having people engage with your polls and quizzes tells Instagram your account is engaging and the algorithms will make sure your visibility increases.
If you want people to answer your polls and quizzes, you need to engage with other Instagrammers who ask you to participate. A social media site like Instagram works best when it's about reciprocity.
Strategy 5: Pay to Play
You can pay to promote your content which will boost your visibility.
Instagram Ad Pricing
According to the WebFX blog,
"On average, Instagram advertising costs between $0.20 to $6.70, depending on the bidding model. For CPC or cost-per-click, advertisers pay $0.20 to $2 per click. For CPM, or cost-per-impressions, advertisers pay $6.70 per 1000 impressions."
Note: I have not purchased an Instagram ad, so I cannot report as to the effectiveness first-hand.
Strategy 6: Incorporate User Generated Content
Ask for user testimonials and show them on Instagram along with the Call to Action and the Swipe Up link.
Look:
For a time-saving strategy, you can cross-promotion these testimonials.
For instance, I can put this testimonial I received on Twitter both on my Instagram account, my Facebook Business Page, and my blog.
Strategy 7: Use Instagram Story Templates
Many apps like Story Art provide collage templates where you can market several products or services with one template.
Look:
This template came from the Unfold app. I advertised two of my ebooks with one Instagram Story.
Here you will find more templates and tools to make Instagram quote posts.
Strategy 8: Use Linktree
Instagram only allows you one live link in your bio, but Linktree will give you many live links. In your bio, put your Linktree link which connects your other links. Linktree is a free service.
The Business.com blog recommends Linktree:
"There are quite a few link tools available, but one of the most effective and widely used is Linktree. When you set up and add Linktree to your Instagram profile, users who click the link are directed to the Linktree page that shows all of the links you have added."
This way, you can combine many live links to the place where Instagrammers can purchase what you are marketing.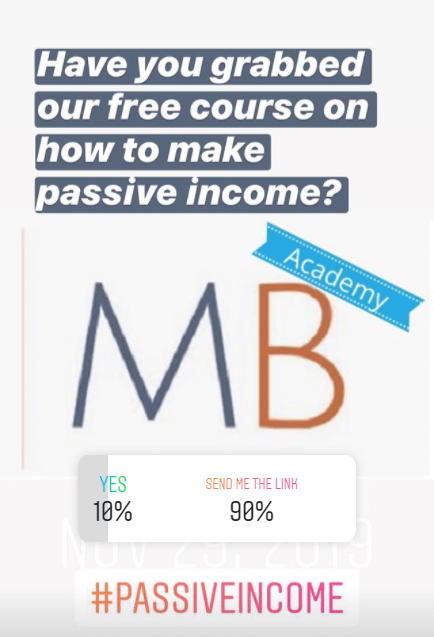 You can entice people to "swipe up" to where your live link will work with polls in Instagram Stories like the kind seen here. I sent my Blogging Academy link to those who clicked "Send Me The Link."
In addition to this method of getting people into your sales funnel, you can keep the link to your products and services by having one Linktree link to where Instagrammers can buy at Linktree.
Think of Linktree as a tree, and your live links are the branches. Linktree is a popular service among Instagram marketers.
As you can see, there are many advantages to Instagram blogging. Let's learn more Instagram blogging strategies.
Strategy 9: Use Instagram for Traffic Generation
Will Using Instagram Help Your SEO?
The connection between SEO and social media on Google is speculative.
We know Google likes active blogs. Social shares are signs of active blogs. Also, there are rumors that Google takes into account social shares.
However, the connection between SEO and the Bing Search Engine is not guesswork. Bing definitely considers social shares, so even if you don't generate Google traffic, you can still generate search engine traffic.
Include a live link to your website content.
Instagram allows you to put a live link in an Instagram Story if you have over 10,000 followers. To generate growth to your Instagram account, follow this Instagram Cheat Sheet.
Instagram also allows a live link in your Instagram bio. See this Mostly Blogging article about how to write your Instagram bio to get followers.
Strategy 10: Use Instagram for Branding
Boosting your social media presence boosts your brand.
Due to my being active on Instagram, the Infinity Blog Awards became aware of my social media marketing efforts.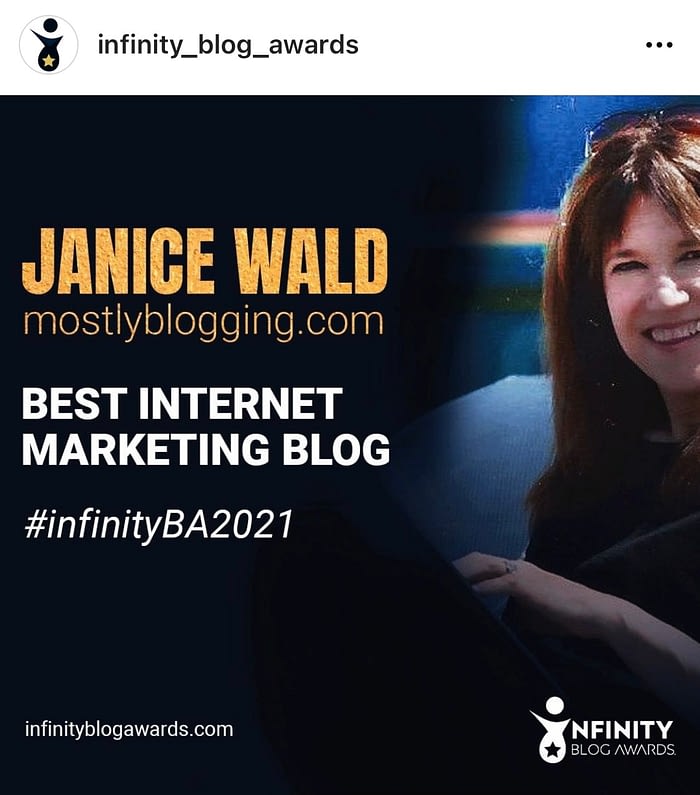 For the last two years, I was nominated as the Best Internet Marketer. I was actually the first marketer ever to be nominated for this prestigious award.
I can use the nomination to market my brand.
Using social media as an effective tool for social change also boosts your brand.
I participated in causes using Instagram's Story stickers. For instance, on my relevant Stories, I posted #BLM Stickers, and I took part in the Black and White Photo Challenge.
These show I support diversity which is important for my brand. Using Instagram definitely helps brand perception. Timely stickers are usually found at the top of the Instagram Story stickers.
Strategy 11 Use Instagram for Networking
I make new friends on Instagram. I also strengthen friendships I make on my blog and in other places on the Internet.
One of the joys of using social media is to be social, after all.
On Instagram, you can network by commenting on people's posts. You can also comment in Direct Message areas. Participate in group chats you are invited to through DMs. You can comment on Stories. Of course, if you don't want to comment with words, use emojis.
Strategy 12 Use Instagram Blogging for Research
Have you ever bookmarked content you found on Instagram? I frequently do.
People in my niche put content on Instagram I may want to reference in later blog posts, So I use the bookmark feature.
On Instagram, you can save posts by tapping the bookmark symbol on the right side of the post. To return, go to your profile and click the three lines at the top of the screen. Click Saved to return to your saved posts.
Who knew there were so many advantages of Instagram blogging? Let's keep going.
Strategy 13: Show You Are a Real Person
Of course you are a real person. However, on your blog people don't get to see the layers that make you, well, you.
For instance, over the summer I used Instagram Stories to support opposition to racial injustice.
Also, in December, I shared my most played song list Spotify sent me.
Your blogging and social media communities are able to learn more about you when you are Instagram blogging.
According to the real estate marketing firm, Century 21, when you are Instagram blogging,
"A personal, visual, and appealing brand comes to life. You may be interested in developing your own personal brand. You can use your Instagram biography, website section, and stories to show what makes your brand or business unique and personal."
The blog recommends using Instagram filters to make your brand more personal.
One of the advantages of Instagram blogging is the ability to network with your audience away from your blog.
Instagram blogging provides the perfect opportunity for your audience to see you as a real person.
Strategy 14: Blog on Instagram
Your ability to write a blog post on Instagram is one of the advantages of Instagram blogging.
First, there is no maximum caption length. You can put a whole blog post in the captions section if you want.
Next, you don't need to worry about keywords, spam, or SEO. Just have fun writing.
Strategy 15: Be Consistent
Be consistent in how often you publish. Whether it's three times a day or three times a week, it doesn't matter. The When to Post App tells you the optimal times to publish.
Be consistent in your grid plan and colors as well.
The Century 21 blog recommends using a cohesive theme across your Instagram photos and your Instagram captions.
Strategy 16: Market on Instagram
You can market your products, services, and content on Instagram.
According to data, 81% of people use Instagram to research products and services.
People find you and offer you opportunities in your Direct Messages (DM).
People lose money if they don't use social media for marketing.
Social media boosts your online brand, so when people are ready to buy, they remember you.
One of the advantages of Instagram blogging includes tools to help you market. Using the Swipe Up sticker, people can go to Amazon and purchase. I use Instagram to market my products, services, blogging courses, and email list. These are all free tips that don't require a budget.
Your competitors are marketing on Instagram, so you should be too.
Also, not all marketers have blogs. Instagram blogging may be the best option for you. Although today, most businesses have blogs, not all do. You can let people know your products and services solve their problems in other ways such as on Instagram.
When you sell your products, you can add the Product Sticker and make a Shoppable Post.
Avoid spamming the DM box. Be such a valuable content creator people seek out your services. Sound like a person, not a business.
Use Instagram for Lead Generation
The Century 21 blog offers assurances you can use Instagram for lead generation. For instance, the company recommends engaging with local businesses and profiles if you have a local business.
In order to extend your reach, repurpose your Instagram content. For instance, if you make an Instagram Story, save it to your photo library and share it a Twitter Fleet (a Twitter Story).
The blog also recommends tailoring your images to the profile of your target buyer.
Make sure your contact information is available in your Instagram profile so people who want to consume your content or buy your products can do so.
Strategy 17: Ignore the Instagram Algorithm
People in the Instagram Reddit subReddit complain the Instagram algorithm is against them. The best thing to do: Ignore the Instagram algorithm.
If you stress about Instagram unfollowers and the degree of engagement your Instagram content brings, you won't enjoy the site. If you don't have fun, you'll abandon Instagram, a site with tremendous potential for you.
Note: What if you don't want to ignore the Instagram algorithm? Social media sites give visibility to users who try their new features.
What's new on Instagram? At the time of this writing, Instagram Reels are new. Post them and see their effectiveness.
Advantages of Instagram Blogging Frequently Asked Questions
Is Instagram good for blogging?
Yes. You get to network with your audience off your blog. Since so many people spend their time at Instagram, networking with your readers on Instagram makes sense. You can also blog on Instagram without the concerns running a website brings.
What is the difference between blogging and Instagram?
Bloggers who are self-hosted focus on choices such as which plugins and keywords to use. Instagrammers can blog on Instagram but don't make those choices. Self-hosted bloggers are in control of their websites. However, Facebook owns Instagram, not the blogger.
Wrapping Up: The Advantages of Instagram Blogging
You now know the advantages of Instagram blogging along with tools and methods to help you be a more successful blogger on Instagram.
This post offered seventeen tips for successful Instagram blogging. Clearly, there are many advantages of Instagram or one billion people wouldn't use the site.
Don't use these in isolation. As you saw, these strategies overlap. The more strategies you use for Instagram blogging, the greater the odds for your success.
Readers, please share so bloggers learn successful Instagram blogging is possible.
I look forward to your views in the comments section. Do you have suggestions for effective Instagram blogging you can add to the list?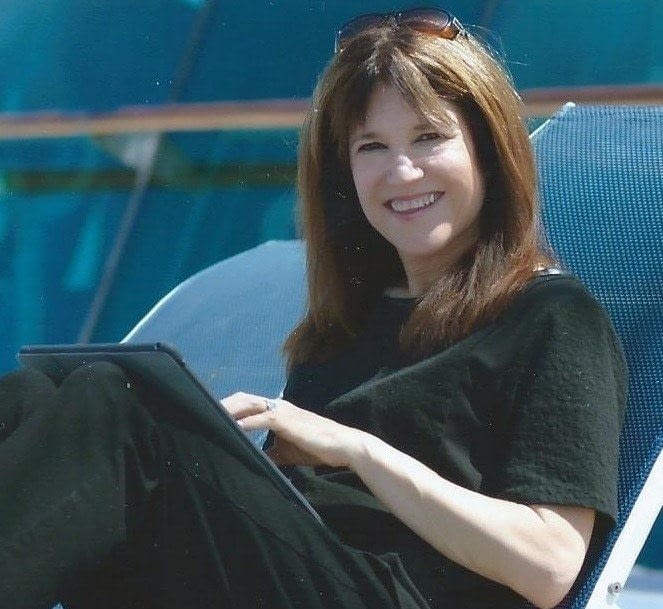 Janice Wald is the founder of MostlyBlogging.com. She is an ebook author, blogger, blogging coach, blogging judge, freelance writer, and speaker. She was nominated as the 2021 and 2019 Best Internet Marketer by the Infinity Blog Awards and in 2017 as the Most Informative Blogger by the London Bloggers Bash. She's been featured on Small Business Trends, the Huffington Post, and Lifehack.