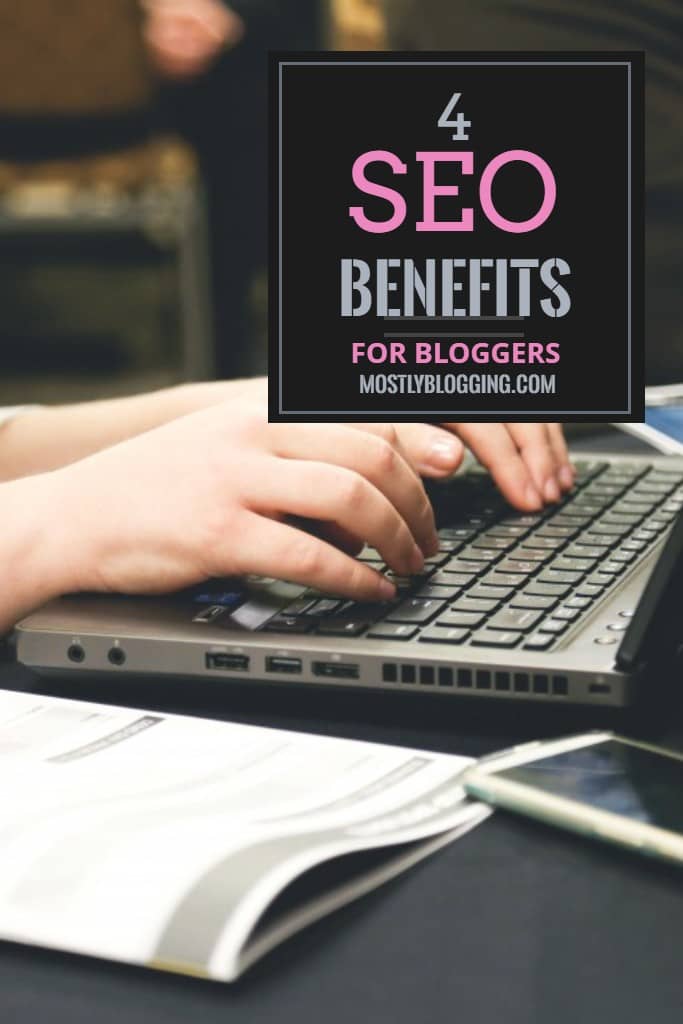 Do you know the advantages of blogging?
Do you want to improve your website's Google rankings? This is where a search engine optimization or SEO strategy is going to be your best friend. Creating the right strategy for your website will allow a traffic boost, plus leapfrogging your competition on Google results pages.
In particular, there is a lot you can do with blogging. It can be an effective way to boost your rankings and allow you to get the ball rolling with your SEO strategy.
From blog posts being a place for keywords to helping you have a lot of internal links, this guide will take a look at the SEO benefits of having a blog.
Although many blogging tips posts are written from the point of view of the blog visitor, this article shares the advantages of blogging for the blogger.
Let's get started examining the advantages of blogging.
SEO Advantages of Blogging
By reading this post, you discover the SEO advantages that come from internal linking and keyword research.
You also learn the SEO benefits of frequently publishing content.
For those of you who prefer to watch than read information, you will also find SEO advantages of blogging here:
The video includes how to boost your Google rankings.
Advantages of Blogging on WordPress
Where do you blog?
Blogging platforms are referred to as CMS which stands for "Content Management Systems."
Does the CMS matter if you want SEO benefits?
Yes!
According to Fool.com, in "The 8 Best Content Management Systems for SEO," the best CMS is WordPress if you want your blog to receive SEO benefits.
Advantages of Blogging
Enjoy a Variety of Visitors
When you are blogging, you are going to be creating new content for people to read. This means that you can boost the number of visitors you have to your website, which is exactly what SEO is all about.
The more blog posts you write, the more opportunities there are for people to find the answers they are looking for. You want to write on a range of topics to appeal to a variety of different people.
Just make sure that you are always concentrating on creating quality content. This is something that is important for SEO.
If you want to see an example of what a good blog looks like, check out this blog all about SEO. Not only can you learn some tips, but you can also gain a better idea of what a popular blog looks like and this can give you some inspiration for shaping yours.
Rank for Keywords
We all know keyword stuffing is a bad practice. Indeed, it can have negative effects when it comes to SEO.
But, you should still be aiming to use keywords in your content as long as they occur naturally and in a way that is beneficial to readers. When you have a blog, you have a good way to rank for keywords.
You can also take the help of a company offering local business SEO services.
For example, you can create topics that are based on certain keywords you want to focus on. This is going to allow people to find what they are looking for and it will be a long-term way to improve your ranking.
Again, just make sure that you are using the keywords naturally, as well as not overusing them. This will keep Google happy, as well as your readers.
Editor's Note: MozBar, the SEO toolbar by Moz, is a free keyword tool you can use for research.
Fresh Content for Indexing
With a blog, you constantly have to be adding new content. This includes giving your readers advice, sharing your opinions on certain topics, and even covering trending news and stories.
After all, you want people to like your blog and keep coming back. With each new post you create, this is an opportunity to publish fresh content to Google. As a consequence, they are going to be indexing and looking at your website more often. This can mean you can improve your website ranking.
In many ways, the easiest place to create new content is on a blog. You can discuss a range of relevant topics that are helpful to readers. Google loves new content and you are going to be rewarded for this.
Opportunities for Internal Links
When it comes to SEO, you want to make sure there are internal links. This is something that Google is going to take into account when it comes to ranking.
The great thing about blogging is that there are going to be plenty of opportunities for introducing internal links. This is also going to help readers find something that they may be looking for.
Since you should be creating new content on a regular basis, you can create prompts for internal links a lot easier. Just make sure that they are in a natural way and help your audience in the process.
Let's look at more advantages of blogging.
A Better User Experience
Let's not forget that when it comes to SEO, user experience is important. You want to ensure that your audience is able to enjoy time on your site, finding everything they need. Indeed, having a blog that is updating regular content and discussing important and relevant topics is going to be a way to do this.
A lot of people want to do more than simply buy a product or service. They also want to be educated and this can include learning more about a certain industry or trending matter. Your blog gives you the opportunity to discuss everything a user may want to know. They will get a lot more out of your website.
Advantages of Blogging: FAQ
What are the three benefits of a blog?
I will give you four advantages of blogging: Your visitors learn from you. Also, internal links, keywords, and more indexing opportunities boost your SEO.
Wrapping Up: Advantages of Blogging
Editor's Note:
In closing, this post shared the advantages of blogging for the blogger.
Is your idea of a dream blog one that makes money?
Did you notice the contributing author never mentioned making money as one of the advantages of blogging?
Experience these other benefits first, and then the money won't just come, it will flow.
Please share so bloggers and people considering blogging learn the advantages of blogging.
I look forward to your views in the comments section. This post shared four advantages of blogging. Can you suggest others?
Authors: Janice Wald and a Contributing Author

Janice Wald is the founder of MostlyBlogging.com and co-founder of the Mostly Blogging Academy. She is an ebook author, blogger, blogging coach, blogging judge, freelance writer, and speaker. She won the Best Internet Marketer Award and the Best Blogger Award at the 2021 Infinity Blog Awards. Wald was also nominated as 2019 Best Internet Marketer by the Infinity Blog Awards and in 2017 as the Most Informative Blogger by the London Bloggers Bash. She's been featured on Small Business Trends, the Huffington Post, and Lifehack.
This post was contributed.