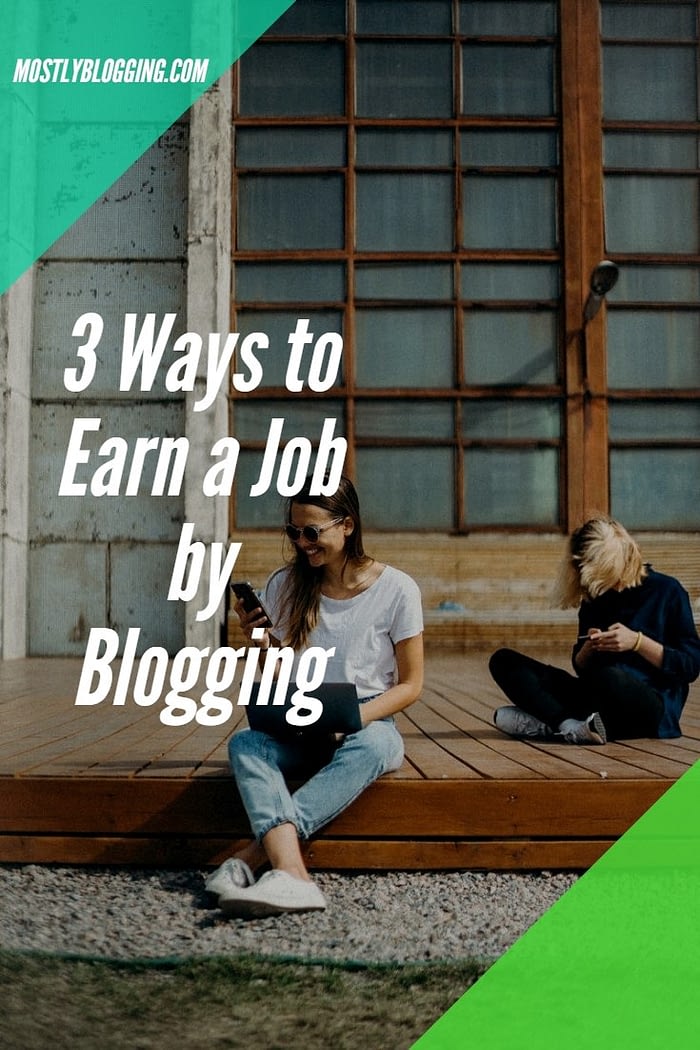 Do you know the advantages of a website?
Guest author Ann Schmidt is here to explain 3 ways blogging can help you get hired for your dream job.
How Blogging Can Increase Your Career Prospects
Ann Schmidt

It doesn't matter if you got out of a job that you hated but had to endure to pay the bills, or if you're entirely looking to change careers, blogging is your chance to show the world what you've got.
It's rare for somebody to get the opportunity to showcase their talents to company owners or talent scouts personally, so it's high time to be proactive in getting yourself noticed.

Senior managers and talent scouts set stricter standards because they have to justify the expenditure related to adding another staff. With the bar set high for screening candidates, the job seekers need to step up.
But getting an interview is only one part of the challenge. Even the best-crafted CV that shows outstanding skills, experiences, and qualifications is not enough to land you a ticket straight to the interview panel.
This is where your blogs add value. It will help you get yourself heard above the din.
Aside from adding value, here are other advantages of a website you don't want to miss.
Advantages of a Website
A podium to tell everyone about your credentials
Blogging allows you to show how wide your credentials and know-how are in your chosen field. You can make every post a reflection of the depth and breadth of your understanding of the market and industry in detail. Since you can't discuss and show this in your CV, you can persuade them in your blog. Displaying your credentials is definitely one of the advantages of a website. And most importantly, it's not hard to build a website.

For example, if you are applying as an online marketing consultant for a gaming company, you can write about topics such as influencer marketing and how it can increase your conversion rate or ways to find the best influencers in every platform in your blog. If you make your blog so informational that it will make you look like an expert on the topic, it's easy for you to arouse the interest of your possible employer.

Aside from the content of the blog, you can also add information on your relevant qualifications at the bottom part of the page. You can even include logos of the industry-relevant groups you are a member of. Once your blog site is already established, you can also explore writing guest posts for websites that share your niche. This can improve your credibility even further.

If part of your credentials is making high-quality videos or other content forms in different mediums, you can add it to your blog, too.
Make your blog site your opportunity to showcase as many skills as you have. If you can create detailed guides about freelancing or even other topics and causes you are passionate about, it will not be hard for you to stand out if you have competitors for job posts that you are applying for.
Show them that you mean business
The best way to convince a headhunter or potential employer that you're worth their time is by showing them that you mean business. You can do that if before you apply, you've already groomed yourself to be the best candidate for the job. And how do you do that? It would be best if you spent time building your online portfolio.

One way of building your portfolio is by taking your blogs seriously. Regularly update your blog with fresh, relevant, unique, and high-quality content. Make sure only to post niche-relevant posts, too.
Going back to the example above, if you're an online marketer, only write anything about online marketing. As much as you're tempted to write about your penchant for cats or beer, leave that for other blog sites.
Impress them with your personality
A blog post is a simple, conversational, self-published opinion piece that's posted and shared online. Being an opinion piece, it's an expression of the author's take on a specific topic or issue.
In this case, you can say that a blog is the best chance you can show that certain aspects of your personality that your future employer is looking for.
Instead of merely telling your employer during the interview that you're an easy-going and fun-loving person, why not show it by injecting intelligent humor into your blogs?
Instead of claiming that you're a person who knows how to empathize, write it in your blogs. And instead of claiming that you're passionate about your advocacies, write about them in your blog.
This is the way to persuade them that what you say is who you really are. It's easier to convince your headhunters about what you're claiming if you take the time to show them instead.
Wrapping Up: Advantages of a Website

Every employee who got hired can confirm the fact that the hiring process is no joke. Aside from the stringent standards and seemingly impossible hiring criteria, you also have to beat hundreds or thousands of applicants.
The situation gets even tougher if there are hundreds of applicants vying for a single position. In that case, you have to step up your game, and you have to do it well. Otherwise, you might just need to give up any chance of landing that dream job.
Readers, please share so bloggers discover the advantages of a website.
I look forward to your views in the comments section. Can you mention any additional advantages of a website?
This post was made possible by the support of our readers.