Contributed Post
Are you seeking a video to MP3 converter?
Why would anyone want to extract audio from a video?
There could be many reasons.
For example, suppose you're not interested in watching the video, then 5kPlayer, the video to MP3 converter, is perfect for you.
The tool removes the audio from your video and sends it to your Music library.
If you need to go from video to MP3, you've come to the right place.
By the time you're done reading this post, you'll know how to remove audio from videos.
This tutorial will tell you how to use 5KPlayer, the video to MP3 converter.
What is 5KPlayer?
5KPlayer is essentially a media player that has a variety of features.
You can download and play movie videos from over 300 various platforms.
Also, 5KPlayer can supplement you with tools and features. Use these features to perform a variety of tasks including file conversion, wireless streaming, as well as audio grabbing.
[
Host blogger's comments:
Audio grabbing allows you to grab audio and music from your desktop computer and microphone.}
5KPlayer, arguably, is one of the best easy tools when it comes to extracting audio from video files, regardless of whether you are a beginner or an expert.
For beginners, 5KPlayer has ensured that the interface is intuitive to navigate and utilize to the best of its capabilities, and for experts, it is loaded with a plethora of features and advanced tools that allow you to cut and extract audio with precision.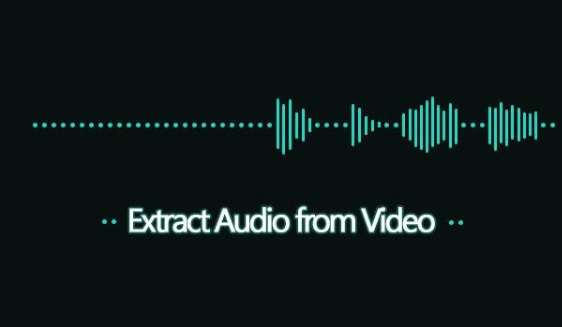 Guide to Extract Audio from Video with 5KPlayer
One of the best parts about using 5KPlayer is the fact that it is extremely straightforward and easy to use.
5KPlayer Video to MP3 Converter Tutorial
Here are a few steps you need to follow in order to convert any video content into an audio or MP3/AAC file:
● Go to your video playlist in your library.
● Click on the video that you wish to extract audio from.
● You will see a list of options as shown below. Click on Convert Video to MP3/AAC depending on your requirements.
● The conversion will take place and the audio file will be transferred to your Music playlist.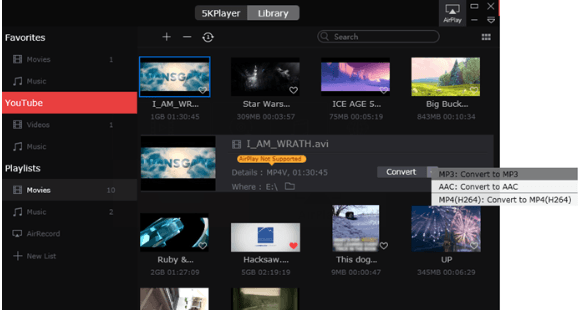 5KPlayer Additional Supplementary Features
The story with 5KPlayer does not end at simple audio extraction from videos.
In fact, there is so much more that you can do with this UHD player (Ultra High Definition) if you know all that you can do with it.
To begin with, the software is a simple, easy to understand, and stable solution that is available for use offline. This means that you do not need a constant internet connection to perform the audio extraction and can do it on your own time independent of the connection status.
Other than that, you can also use the 5K video to MP3 converter to convert any video to MP3 or AAC format to turn it into an audio file or skip the steps and directly save any online video in music or song form only.
The interface also gives you the necessary tools needed to modify the audio such as cutting certain parts of it and editing it to your liking. You can also modify the volume as well as the playback speed of the audio file among other things.
If you are looking for a tool to use which you can extract high quality audio from video content, download 5KPlayer for Windows or Mac today, and we can guarantee that you will not be disappointed with the results.
Readers, please share so people needing to extract audio from video learn about 5KPlayer, the video to MP3 converter.
This post was made possible by the support of our readers.
Related Reading
Why WonderFox HD Video Converter Factory Pro Is the Best